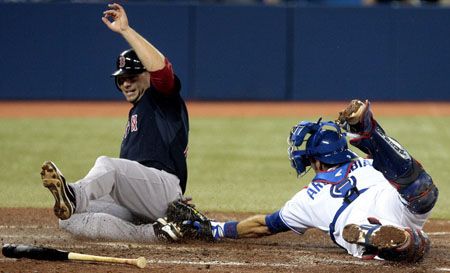 Mom, you're going to need to make up another bed in the basement because we have company.
After beating the Toronto Blue Jays 7-2 last night, the Boston Red Sox are now tied with the Blue Jays in 4th place in the AL East with both teams sitting at 27-25. They are just three games out of first, two games out of second and 1.5 games out of third.
With the offense pounding out 15 hits last night, you would have thought the offense was the story of the game. It was only half of it.
The other half was the outstanding effort by Clay Buchholz on the Rogers Centre mound.
While he did give up two solo home runs on changeups up in the zone, his stuff was nasty. His fastball consistently sat at 94-95 MPH and his changeup, other than those two home runs was outstanding.
To me, he got stronger as the game went on. He had trouble establishing his curveball early on but he found it later on. He used that curve to make two of the Blue Jays best hitters, Jose Bautista and Edwin Encarnacion, look silly as they watched two of them go for strike three in the 6th inning.
And oh by the way, he struck out Colby Rasmus looking to finish off that 6th inning.
All told, the outing by Buchholz resulted in seven strikeouts to go with two walks. The quality start was good enough to raise his record to 5-2 and lower his ERA from 7.19 to 6.58.
Daniel Nava isn't going to take the job of Carl Crawford whenever he returns. But what Nava is doing is opening up some eyes with his play.
He had four hits last night, including three doubles to raise his average up to .314. But what stands out to me is Nava's OBP of .444.
Folks, he's getting on-base almost 50% of the time, he's at the plate. And with that happening, good things usually happen. You could also say that he's been part of the resurgence by the Red Sox.
Adrian Gonzalez had three hits on the night as well with two RBIs. David Ortiz and Ryan Sweeney added two hits. The only member of the starting nine without a hit was Jarrod Saltalamacchia.
A win today gets the Red Sox out of the basement which would be a welcome sight here in Red Sox Nation.
Click on the read more button below to see today's lineups, batter/pitcher matchups and links from the day if you're on the home page.
After winning last night 7-2, the Boston Red Sox look to seal the series in the second game of a three-game set with the Toronto Blue Jays at Rogers Centre in Toronto, Ontario, Canada this afternoon.
First pitch is scheduled for 1:07 p.m. and the game will be broadcast on NESN in the Red Sox television market. If you live in the Blue Jays television market, you can catch the game on SportsNet or TVA Sports (French language broadcast). And if you live outside of the Red Sox and Blue Jays television markets, you are in luck as MLB Network will have coverage of the game as well. If you can't catch the television broadcast, you can always listen to it on the Red Sox radio network.
Felix Doubront will toe the Rogers Centre mound for the second time this season in his 11th start. In his previous 10 starts, Doubront is 5-2 with a 3.86 ERA. His only career start against the Blue Jays came earlier this season when he took a no decision after allowing two runs in five innings of work. He's made six career appearances (one start) against the Jays and is 1-0 with a 3.48 ERA. Three of those appearances (one start) have come at Rogers Centre where he is 1-0 with a 5.14 ERA.
Kyle Drabek makes his 11th start of 2012 as he looks to keep the Jays out of the basement. In his previous 10 starts, Drabek is 4-5 with a 4.55 ERA. He picked up his first win of the season back on April 10th when he allowed one run in 5.1 innings of work to beat the Red Sox. He's made three career starts against the Red Sox and is 1-1 with an 8.16 ERA.
Here are today's lineups:
And here is how the hitters have fared against today's starting pitchers: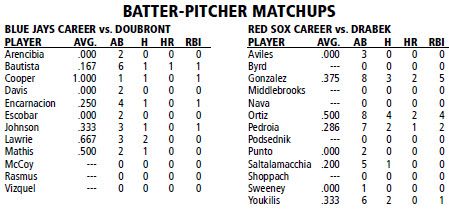 NOTES:

REFRESH OR CHECK BACK OFTEN AS MORE LINKS WILL BE ADDED BEFORE GAMETIME IF/WHEN THEY BECOME AVAILABLE AND WILL BE BOLDED
To open the links up in a new tab or window, use Control+click
Nava remains in the swing as Sox beat Blue Jays [Boston Globe]
Buchholz has arrived [Boston Globe]
Ross and Pedroia closer to returning [Boston Globe]
Clay Buchholz goes 8 to top Jays [Boston Herald]
Plenty of pop when David Ortiz visits Toronto [Boston Herald]
Nava: Sox' surprise spark [Boston Herald]
Pedroia to take BP [Clubhouse Insider]
The very latest on Dustin Pedroia [Clubhouse Insider]
Nava, Buchholz pace Sox past Jays [CSN New England]
Buchholz finally puts it all together [CSN New England]
Cuban OF Soler becomes free agent [CSN New England]
SoxProspects: Best and worst of May [ESPN Boston]
Pedroia takes his cuts [Extra Bases]
Can they find the next Cy guy? A look at the history of Red Sox' 2012 draft picks [Full Count]
Closing Time: Red Sox, Clay Buchholz take another step forward against Blue Jays [Full Count]
Clay Buchholz's Growing Confidence in Pitches Showing With Continued Success (Video) [NESN.com]
Should TV Networks Show Fans Running Onto the Field During Games? [NESN.com]
Daniel Nava, Scott Podsednik, Marlon Byrd Among Early Gifts for Bobby Valentine's First Christmas [NESN.com]
Daniel Nava's 'Terrific Brand of Baseball' Could Earn Him Starting Role When Jacoby Ellsbury, Cody Ross Return [NESN.com]
David Ortiz, Daniel Nava Continue Hot Seasons Against Blue Jays in Toronto [NESN.com]
Youkilis unfazed by swirling trade rumors [RedSox.com]
Dedicated Podsednik giving Red Sox a boost [RedSox.com]
Ross declares himself nearly ready to return [RedSox.com]
Buchholz hitting stride at same time as Red Sox [RedSox.com]
Red Sox expect more good things from Doubront [RedSox.com]
Scouting Scratch: Greenville first impressions [SoxProspects.com]
For more slices of Red Sox goodness, head over to the Boston Globe, Boston Herald, CSN New England, ESPN Boston, NESN, Providence Journal, RedSox.com and WEEI websites.
And if you must check out the enemy news, head over to the Toronto Star and Toronto Sun websites.
Follow Ian on Twitter @soxanddawgs. And be sure to like us on Facebook as well.
photo credit: Getty Images, Getty Images, Reuters Pictures