After falling for the fourth straight game last night 4-1, the Boston Red Sox look to get back on track in the middle game of a three-game set with the Miami Marlins at Marlins Park in the little Havana section of Miami.
First pitch is scheduled for 7:10 p.m. and the game will be broadcast on NESN in the Red Sox television market. If you live in the Marlins television market, you can catch the game on Fox Sports Florida. And if you don't live in either market, the MLB Network will have coverage of the game (not in Red Sox or Marlins television markets). If you can't catch the television broadcast, you can always listen to it on the Red Sox radio network.
Clay Buchholz looks to continue his recent run of good pitching tonight in his 13th start of 2012. In his previous 12 starts, Buchholz is 6-2 with a 5.77 ERA. Tonight marks his first career start against the Marlins.
After 12 years with the Chicago White Sox, Mark Buehrle makes his 13th start of 2012 with the Marlins. In his previous 12 starts, Buehrle is 5-6 with a 3.49 ERA. He picked up a no decision in his only start of 2011 against the Red Sox when he allowed two runs in six innings of work. Buehrle has made 17 career appearances (16 starts) against the visiting nine and is 6-6 with a 4.49 ERA.
Click on the read more button below to see today's lineups, batter/pitcher matchups and links from the overnight and day if you're on the home page.
Here are today's lineups:
And here is how the hitters have fared against today's starting pitchers: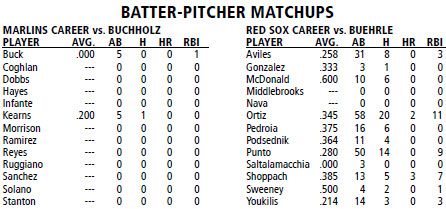 NOTES: After being desiginated for assignment on Saturday, the Red Sox have released Marlon Byrd.

REFRESH OR CHECK BACK OFTEN AS MORE LINKS WILL BE ADDED BEFORE GAMETIME IF/WHEN THEY BECOME AVAILABLE AND WILL BE BOLDED
To open the links up in a new tab or window, use Control+click
Cody Ross ready for minors Friday [Boston Herald]
Kevin Youkilis: Umpire was 'showing he doesn't like me at all' [Clubhouse Insider]
Hovering around .500 [CSN New England]
Hill frustrated — and relieved — at latest setback [CSN New England]
Red Sox taking advantage of Podsednik's good health [CSN New England]
Marlon Byrd released by Red Sox [CSN New England]
Buchholz gets his turn to right Red Sox's ship [ESPN Boston]
Video: Red Sox numbers don't lie [ESPN Boston]
Notes: Podsednik right place, right time [ESPN Boston]
Which way should the Red Sox go? [Extra Bases]
Podcast: Theo, umpires, and slumping hitters [Extra Bases]
Red Sox close to deal with Taiwanese shortstop [Extra Bases]
Hill relieved after getting his elbow checked [Extra Bases]
Red Sox agree to deal with J.B. Wendelken, pitcher from 'Reddick U.' [Full Count]
Josh Beckett, Mickey Mantle on Opposite Sides of Athleticism in Baseball [NESN.com]
Scott Podsednik Continues to Be Pleasant Surprise for Red Sox Since Being Recalled [NESN.com]
Will Major League Baseball Ever Use Robot Umpires? [NESN.com]
Mike Aviles Knows Getting Right Amount of Sleep Is Crucial to Staying Alert [NESN.com]
Ortiz gets night off as infield shuffle continues [Projo Sox Blog]
Hill expecting to miss six weeks [Projo Sox Blog]
Nava still out with hand injury [Projo Sox Blog]
Punto: "Pride gets involved" [Projo Sox Blog]
Buchholz aims to help Red Sox even series [RedSox.com]
Follow Ian on Twitter @soxanddawgs. And be sure to like us on Facebook as well.
photo credits: Getty Images, AP Photo