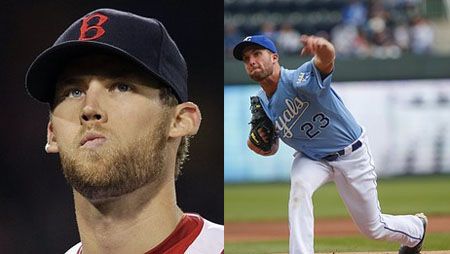 After winning 11-5 last night, the Boston Red Sox look to take the series in the second game of a three-game set against the Kansas City Royals at Kauffman Stadium in Kansas City, MO.
First pitch is scheduled for 8:10 p.m. and the game will be broadcast on NESN in the Red Sox television market. If you live in the Royals television market, you can catch the game on Fox Sports Kansas City. If you can't catch the television broadcast, you can always listen to it on the Red Sox radio network.
Daniel Bard looks to even up his record in his sixth appearance (fifth start) of 2012. In his previous five appearances (four starts), Bard is 2-3 with a 4.38 ERA. He made three appearances against the Royals in 2011 and had no record with 0.00 ERA (0 ER/4 IP). He's made nine career appearances against the Royals and is 0-2 with a 2.61 ERA (3 ER/10.1 IP). Five of those appearances have come at the home of the 2012 MLB All-Star Game where he is 0-2 with a 5.40 ERA (3 ER/5 IP).
Danny Duffy makes his fifth start of 2012 for the struggling Royals. In his previous four starts, Duffy is 2-2 with a 3.57 ERA. His only two career starts against the Red Sox came last year when he went 0-1 with a 7.45 ERA (8 ER/9.2 IP). The loss came in his only start against the Red Sox at home when he allowed two runs in six innings of work on August 21, 2011.
Click on the read more button below to see today's lineups, batter/pitcher matchups and links from the day if you're on the home page.
Here are today's lineups:
And here is how the hitters have fared against today's starting pitchers:
REFRESH OR CHECK BACK OFTEN AS MORE LINKS WILL BE ADDED BEFORE GAMETIME IF/WHEN THEY BECOME AVAILABLE AND WILL BE BOLDED
To open the links up in a new tab or window, use Control+click
Sox hope time heals Clay Buchholz [Boston Herald]
Sox 'tossed around' Middlebrooks in OF [Rob Bradford – WEEI.com]
Cherington: Middlebrooks' success didn't happen overnight [Clubhouse Insider]
Will Middlebrooks not worried about receiving Bryce Harper treatment [Clubhouse Insider]
Red Sox on pace for historic struggles at home [CSN New England]
Red Sox' Ortiz, Hawks' Horford a couple of pals [CSN New England]
Ellsbury: I'm making 'great progress' [CSN New England]
Left is right for Papi [CSN New England]
Cherington: Youkilis will play third upon return [CSN New England]
Ellsbury goes through agility drills [CSN New England]
Pregame notes: Youk rehab on schedule [ESPN Boston]
On Pedroia, Gonzalez and perceptions [Extra Bases]
Podcast: Competition at third base? [Extra Bases]
Ask Nick: Does Youkilis get his job back? [Extra Bases]
Red Sox contemplate using Will Middlebrooks in outfield [Extra Bases]
Reactions to Middlebrooks on Twitter [45 Miles From Fenway]
Buchholz, BoSox need to right ship [FoxSports.com]
The secret behind David Ortiz hitting lefties [Full Count]
Mike Gonzalez will not be returning to the Red Sox organization [Full Count]
Mike Aviles Rewards Faith of Ben Cherington, Returns to Kansas City as Big Piece of Red Sox Offense [NESN.com]
Will Mike Moustakas or Will Middlebrooks Have a Better Major League Career? [NESN.com]
Dustin Pedroia Swinging Red-Hot Bat, As He Quietly Continues to Have Stellar Start to Season [NESN.com]
Kevin Youkilis, Nick Punto Among Red Sox Who Rely on All Types of Walking to Help Game, Fitness [NESN.com]
Vicente Padilla Steps Up for Red Sox in Bullpen, Pays Debt to Felix Doubront [NESN.com]
Will Middlebrooks May Play Outfield Once Kevin Youkilis Returns to Red Sox Lineup [NESN.com]
David Ortiz Looking Like He Could Be Poised to Make Push for 40 Home Runs This Season [Don Orsillo – NESN.com]
Don't pigeonhole Wilson as a reliever, PawSox pitching coach warns [Projo Sox Blog]
Buchholz to start Friday [Projo Sox Blog]
Sox discuss Middlebrooks in the OF [Projo Sox Blog]
Valentine doesn't want pitchers whining about umps [Projo Sox Blog]
Sweeney may get first start against southpaw [Projo Sox Blog]
Facing Royals, Bard seeking consistency [RedSox.com]
Baseball world teams up to strike out epilepsy [RedSox.com]
Greenville pitchers combine for first no-hitter in franchise history [SoxProspects.com]
Follow Ian on Twitter @soxanddawgs. And be sure to like us on Facebook as well.
Photo credits: AP Photo, Getty Images