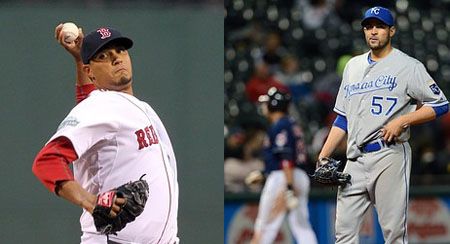 After being swept at home by the AL East leading Baltimore Orioles, the Boston Red Sox head back out on the road for a brief three-game road trip to Kansas City, MO. There, they'll take on the Kansas City Royals in the first of the three-game set tonight at Kauffman Stadium.
First pitch is scheduled for 8:10 p.m. and the game will be broadcast on NESN in the Red Sox television market. If you live in the Royals television market, you can catch the game on Fox Sports Kansas City. If you can't catch the television broadcast, you can always listen to it on the Red Sox radio network.
With the bullpen being taxed over the weekend, the Red Sox will need Felix Doubront to be efficient and go at least 7-8 innings in his sixth start of 2012. In his previous five starts, Doubront is 1-1 with a 5.19 ERA. He has never faced the Royals in his career.
Jonathan Sanchez will look to continue the slide for the Red Sox in his sixth start of 2012. In his previous five starts, Sanchez is 1-1 with a 5.24 ERA. He last faced the Red Sox in 2010 as a member of the San Francisco Giants when he picked up the win after allowing three runs in 5.1 innings of work. He's made two appearances (one start) against the Red Sox in his career and is 1-0 with a 5.68 ERA (4 ER/6.1 IP). Sanchez will be the first of three straight lefties the Red Sox will face in this series.
Click on the read more button below to see today's lineups, batter/pitcher matchups and links from the day if you're on the home page.
Here are today's lineups:
And here is how the hitters have fared against today's starting pitchers: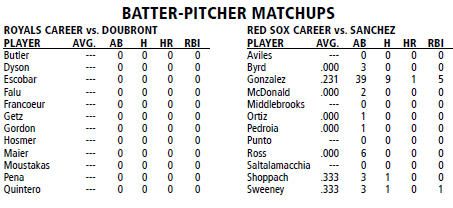 REFRESH OR CHECK BACK OFTEN AS MORE LINKS WILL BE ADDED BEFORE GAMETIME IF/WHEN THEY BECOME AVAILABLE AND WILL BE BOLDED
To open the links up in a new tab or window, use Control+click
Ticked off about the Red Sox? Let them know about it [Boston Herald]
Red Sox' lack of offseason moves proving costly [Boston Sports Media Watch]
Red Sox decide not to call up a reliever to help tired bullpen [Clubhouse Insider]
McClure: Clay Buchholz may be thinking about last season's back injury [Clubhouse Insider]
Sox should bid McDonald a farewell to arms [CSN New England]
Aviles happy to return to baseball home in Kansas City [CSN New England]
Beckett set to make return to mound Thursday [CSN New England]
Breaking down the numbers on Adrian Gonzalez [Extra Bases]
Josh Beckett set to start on Thursday [Extra Bases]
Gonzalez: My numbers will get there [Extra Bases]
Trying to uncover the differences in Adrian Gonzalez' at-bats this season [Full Count]
Mike Moustakas Brings Hot Bat Into Series Against Red Sox, While Eric Hosmer's Struggles Continue [NESN.com]
Red Sox Need Someone (Anyone) to Step Up and Other Thoughts From the Week in Baseball [NESN.com]
Rich Hill's Surgically Repaired Elbow Feels Fine Despite Heavy Workload Upon His Return [NESN.com]
Red Sox Decline To Recall Reliever After Taxing Bullpen in Sunday's 17 Innings [NESN.com]
A Series Matter: Red Sox-Royals and Rubber Series [Projo Sox Blog]
Swihart learning the grind of pro ball [Projo Sox Blog]
High praise for Bryce Harper from PawSox's Beyeler [Projo Sox Blog]
Mark Melancon: 'I felt like it was something I probably should have caught a lot earlier' [Projo Sox Blog]
PawSox not overly impressed by Andy Pettitte [Projo Sox Blog]
Sox decide against bullpen reinforcements [Projo Sox Blog]
Aviles always happy to come back to KC [Projo Sox Blog]
Aviles eager to reunite with former 'mates in KC [RedSox.com]
Lavarnway making progress behind the plate [RedSox.com]
What's going on with Adrian Gonzalez? [Touching All The Bases]
Follow Ian on Twitter @soxanddawgs. And be sure to like us on Facebook as well.
Photo credits: Getty Images, Getty Images