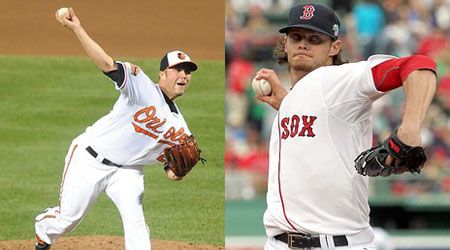 After being cooked yesterday afternoon, the Boston Red Sox look to salvage the finale of a three-game set with the Baltimore Orioles this afternoon at Historic Fenway Park.
First pitch is scheduled for 1:35 p.m. and the game will be broadcast on NESN in the Red Sox television market. If you live in the Orioles television market, you can catch the game on MASN. If you can't catch the television broadcast, you can always listen to it on the Red Sox radio network.
Clay Buchholz looks to turn around his struggles in his sixth start of 2012. Despite his trials this season, Buchholz is 3-1 with a 8.89 ERA in his five starts. He took the loss in his only start against the Orioles in 2011 when he allowed four runs in 6.2 innings of work. Overall in his career, Buchholz has made 10 appearances (nine starts) against the O's and is 5-3 with a 3.26 ERA.
Tommy Hunter is making his sixth start of the season for the vastly improved Orioles. In his previous five starts, Hunter is 2-1 with a 4.26 ERA. He made two starts against the Red Sox in 2011 and picked up two no decisions to go along with a 3.86 ERA. Overall in his career, Hunter has made six starts against the local nine and is 2-1 with a 6.52 ERA. Three of those starts have come at the Fens where he is 1-1 with a 9.00 ERA.
Click on the read more button below to see today's lineups, batter/pitcher matchups and links from the overnight and day if you're on the home page.
Here are today's lineups:
And here is how the hitters have fared against today's starting pitchers: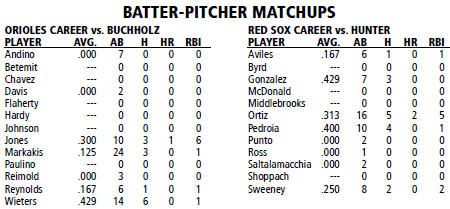 Notes: After suffering a nasty knee gash on his knee yesterday, Aaron Cook has been placed on the 15-day DL. Andrew Miller was activated from the 15-day DL to take Cook's place on the 25-man roster.
REFRESH OR CHECK BACK OFTEN AS MORE LINKS WILL BE ADDED BEFORE GAMETIME IF/WHEN THEY BECOME AVAILABLE AND WILL BE BOLDED
To open the links up in a new tab or window, use Control+click
Red Sox drop fourth in a row [Boston Globe]
Aaron Cook got roughed up by Orioles [Boston Globe]
Compounding the error [Boston Globe]
Bullpen a bright spot for Red Sox in loss [Boston Globe]
Mariano Rivera's injury throws curve at AL East teams [Boston Globe]
Sox can't stop bleeding [Boston Herald]
Hammel's most beloved park [Boston Herald]
A good start, in relief [Boston Herald]
Middlebrooks left hamstrung [Boston Herald]
Bunch of softies [Boston Herald]
Aaron Cook on receiving 11 stitches in knee: 'My leg was kind of numb' [Boston Herald]
Royal pain [Boston Herald]
April powers [Boston Herald]
How the Red Sox can repeat last season's comeback [Rob Bradford – WEEI.com]
It's Miller time at Fenway [Clubhouse Insider]
Hammel, Orioles shut down Sox 8-2 [CSN New England]
Fluke injury dooms Cook's first outing [CSN New England]
Red Sox offense continues to struggle [CSN New England]
Aaron Cook (knee) to the disabled list [CSN New England]
Youkilis will not travel with Sox to Kansas City [CSN New England]
Rapid Reaction: Orioles 8, Red Sox 2 [ESPN Boston]
Aaron Cook's ugly, painful debut buries Sox [ESPN Boston]
Mortensen strong after cleaning up mess [ESPN Boston]
Roster in need of fresh reinforcements? [ESPN Boston]
Sox activate LHP Miller, place Cook on DL [ESPN Boston]
Sox say child struck by bat Saturday is OK [ESPN Boston]
Aaron Cook to DL, Andrew Miller activated [Extra Bases]
Closing Time: Orioles spoil Cook's debut, extend Red Sox losing streak [Full Count]
With Aaron Cook on the DL, Andrew Miller gets his opportunity in Red Sox bullpen [Full Count]
Jon Lester's Gem Against Jake Peavy, White Sox Leads to Amica Pitcher of the Week Honors [NESN.com]
Aaron Cook's Laceration Just Another Bump in Career Plagued by Rare Injuries [NESN.com]
Latest Boston Loss Shows Return of Luck, Karma and Curses for Red Sox [NESN.com]
Red Sox Can't Pinpoint Reason for Home Woes After Losing Nine of 10 Games at Fenway [NESN.com]
Adrian Gonzalez Starting to Get Back on Track After Some Struggles at the Plate [NESN.com]
Aaron Cook Placed on Disabled List After Suffering Cut That Required 11 Stitches [NESN.com]
Red Sox Recall Andrew Miller, Who Will Provide Left-Handed Arm Out of Bullpen [NESN.com]
Is Red Sox' Slow Start the Most Surprising in the Majors? [NESN.com]
Cook to disabled list, Miller activated [Projo Sox Blog]
First-rounder Barnes continues to impress [RedSox.com]
Byrd aims to prove he's not on the decline [RedSox.com]
Valentine not buying Fenway struggles [RedSox.com]
Buchholz hoping to find groove in finale with O's [RedSox.com]
Youk making progress; return date still uncertain [RedSox.com]
Cook placed on DL after tough start, collision [RedSox.com]
For more slices of Red Sox goodness, head over to the Boston Globe, Boston Herald, CSN New England, ESPN Boston, NESN, Providence Journal, RedSox.com and WEEI websites.
And if you must check out the enemy news, be sure to head over to the Baltimore Sun and MASN websites. Also be sure to check out our Bloguin brother the Oriole Post for all of your Orioles needs.
Follow Ian on Twitter @soxanddawgs. And be sure to like us on Facebook as well.
Photo credits: Getty Images, Getty Images