4-8 at Fenway Park is pretty pathetic if you ask me. And no, I haven't been to Historic Fenway Park yet this year so you can't blame me for the Boston Red Sox record at home so far in 2012.
The Red Sox were facing a rookie pitcher again who they had never seen before and for once they did a pretty good job. They were able to get four runs off of Baltimore Orioles starter Wei-Yin Chen but it still wasn't good enough for a Red Sox victory.
This game came down to the bullpens and last night, the Orioles bullpen was better. Actually, their bullpen has been one of the best in baseball in this young 2012 season.
After Chen allowed five hits over five innings of work, five pitchers out of the Orioles bullpen allowed just three hits and two walks over the next eight innings. On the contrary, six members of the Red Sox bullpen allowed five hits three walks over the final seven innings after Jon Lester gave them six decent innings.. But more importantly, the local nine's bullpen allowed three runs.
I say decent innings for Lester because he wasn't at his best nor his worst. His innings were servicable. His problem was that each time the Red Sox gave him the lead, he would give it right back.
After Cody Ross scored on a passed ball in the 2nd, Mark Reynolds tied it up in the 3rd with a solo home run. After the Red Sox got two in the 3rd, the Orioles got them right back in the 4th. Lester did however leave the game with a 4-3 lead. Vicente Padilla made sure Lester's career mark of 14-0 against the Orioles stayed in tact when he allowed the tying run in the 7th.
While Franklin Morales didn't pitch all that badly, he was the one in the bullpen who gave up the two runs. But to me, the start of the Red Sox bullpen was their closer Alfredo Aceves.
He ended up going 2.2 innings and allowing two hits while striking out six. At one point, he had struck out five straight guys and ended up with all six strikeouts in his first two innings. He did exactly what a closer is supposed to do at home when entering the game tied. He kept them in it.
But with the Orioles bullpen pitching as well as it did, the Red Sox offense couldn't get a thing done.
Adrian Gonzalez broke out of his 0-for-17 slump with a three hit effort. Dustin Pedroia added two hits and an RBI. Cody Ross added a hit and a RBI while Darnell McDonald also knocked in a run. Will Middlebrooks and pinch-hitter Ryan Sweeney had the other hits for the Red Sox.
This is definitely a much improved Orioles team from years past. They aren't the team that will roll over and play dead like they have in the past. This is a team that has the best bullpen in baseball (numbers wise) right now and there offense is getting the timely hits. That's why they're sitting closer to first place than the Red Sox are.
With last night's game going 13 innings, both teams will be tired.
Hopefully, it's the Orioles who ended up being a little more lethargic than the Red Sox and we see the three-game losing streak come to an end.
To see today's lineups, batter/pitcher matchups and links from the overnight as well as the morning by clicking on the read more button below if you're on the home page.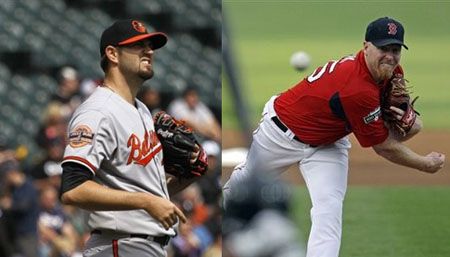 After falling last night 6-4 in 13 innings, the Boston Red Sox look to end their three-game losing streak in the middle game of a three-game set with the Baltimore Orioles at Historic Fenway Park this afternoon.
First pitch is scheduled for 1:10 p.m. and the game will be broadcast on NESN in the Red Sox television market. If you live in the Orioles television market, you can catch the game on MASN 2. If you can't catch the television broadcast, you can always listen to it on the Red Sox radio network.
Aaron Cook gets the start in place of Josh Beckett who is having his start skipped because of a sore lat muscle. Cook has spent the beginning of the 2012 season where he was 3-0 with a 1.89 ERA in five starts. Cook has never faced the Orioles in his career.
Jason Hammel makes his sixth start of the season and fourth on the road for the surprising Orioles. In his previous five starts, Hammel is 3-1 with a 1.97 ERA. He has not faced the Red Sox snce the 2010 season when he was a member of the Colorado Rockies. In that start, he picked up a no decision after allowing four runs in four innings of work. Hammel has made nine career appearances (three starts) against the Red Sox in his career and is 0-2 with a 6.14 ERA. Six of those appearances (one start) have come at the Fens where he is 0-1 with a 6.94 ERA.
Here are today's lineups:
And here is how the hitters have fared against today's starting pitchers: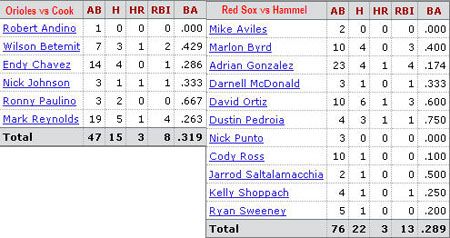 Notes: Will Middlebrooks was scratched from the lineup with left hamstring tightness. He was replaced in the lineup by Punto.
REFRESH OR CHECK BACK OFTEN AS MORE LINKS WILL BE ADDED BEFORE GAMETIME IF/WHEN THEY BECOME AVAILABLE AND WILL BE BOLDED
To open the links up in a new tab or window, use Control+click
Sox run out of steam in the 13th [Boston Globe]
Beckett regrets pitching hurt [Boston Globe]
Rivera vows to return [Boston Globe]
Baltimore once again vexes Sox [Boston Herald]
Trying to flip the birds [Boston Herald]
Rivera has fan in Bailey [Boston Herald]
Josh Beckett: Lat soreness existed before his last start [Boston Herald]
Sox fall in unlucky number 13 [CSN New England]
Bullpen not good enough against Orioles [CSN New England]
Frustration gets to Lester [CSN New England]
Haggs & Felger: Sox sellout streak is joke [CSN New England]
Beckett: Soreness before last start, feeling better [CSN New England]
Valentine not discouraged by home record [CSN New England]
Rapid reaction: Orioles 6, Red Sox 4 [ESPN Boston]
Closing Time: Orioles hand Red Sox third straight loss in 13 innings [Full Count]
Aaron Cook Open To Pitching in the Bullpen, Doesn't Know Team's Plans Beyond Saturday [NESN.com]
Orioles Continue To Be Thorns In the Red Sox' Side In Similar Fashion As Last Season [NESN.com]
Alfredo Aceves Exhibiting Leadership Through Dominance for Red Sox Bullpen [NESN.com]
Bobby Valentine Still Trying to Build Winning Machine Despite Red Sox' Moving Parts [NESN.com]
How Many Home Runs Will David Ortiz Hit This Year? [NESN.com]
Nick Punto Makes Mechanical Adjustment at the Plate, Envisions Better Results Going Forward [NESN.com]
Will Middlebrooks Scratched From Red Sox Lineup With Hamstring Tightness, Expects to Be Back Sunday [NESN.com]
Dustin Pedroia Continues to Demonstrate Offensive Consistency for Red Sox [NESN.com]
Like AFL teammates Harper and Trout, Middlebrooks making immediate impact [Projo Sox Blog]
Red Sox may be in a pinch with 13 pitchers [RedSox.com]
Cook to make Red Sox debut vs. Orioles [RedSox.com]
Red Sox convey concern, respect for Rivera [RedSox.com]
Cook excited to be in Boston for first start [RedSox.com]
Dice-K's rehab start rescheduled for Monday [RedSox.com]
Beckett expects to miss only one start [RedSox.com]
Outlier: Why Aaron Cook is a pitcher like few others [Alex Speier – WEEI.com]
For more slices of Red Sox goodness, head over to the Boston Globe, Boston Herald, CSN New England, ESPN Boston, NESN, Providence Journal, RedSox.com and WEEI websites.
And if you must check out the enemy news, be sure to head over to the Baltimore Sun and MASN websites. Also be sure to check out our Bloguin brother the Oriole Post for all of your Orioles needs.
Follow Ian on Twitter @soxanddawgs. And be sure to like us on Facebook as well.
photo credit: Getty Images, AP Photo, AP Photo