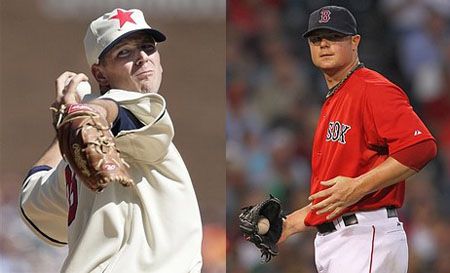 After taking their last two games to get over .500, the Boston Red Sox look to seal a series win tonight in the third game of a four-game set with the Detroit Tigers at Historic Fenway Park.
First pitch is scheduled for 7:10 p.m. and the game will be broadcast on NESN in the Red Sox television market. If you live in the Tigers television market, you can catch the game on Fox Sports Detroit. If you can't catch the television broadcast, you can always listen to it on the Red Sox radio network.
Jon Lester gets the pelota for skipper Bobby Valentine tonight in his 11th start of 2012. In his previous 10 starts, Lester is 3-4 with a 4.29 ERA. He made the Opening Day start against the Tigers and took a no decision after allowing one run in seven innings of work. He's made four career starts against the Tigers and is 0-2 with a 4.62 ERA. They are the only AL club that Lester has not defeated.
Drew Smyly makes his 10th start of 2012 and of his career tonight for Jim Leyland. In his previous nine starts, Smyly is 2-1 with a 3.14 ERA. He has not faced the Red Sox in his brief career.
Click on the read more button below to see today's lineups, batter/pitcher matchups and links from the overnight and day if you're on the home page.
Here are today's lineups:
And here is how the hitters have fared against today's starting pitchers:
NOTES:

REFRESH OR CHECK BACK OFTEN AS MORE LINKS WILL BE ADDED BEFORE GAMETIME IF/WHEN THEY BECOME AVAILABLE AND WILL BE BOLDED
To open the links up in a new tab or window, use Control+click
Will a customized thumb brace keep Dustin Pedroia from the DL? [Clubhouse Insider]
Valentine: Salty has turned 'into an All-Star' [CSN New England]
Atchison gives Sox the best relief in baseball [CSN New England]
Nava to lead off against Tigers [CSN New England]
Dear Terry Francona, Please Stop Emailing Photos Of Yourself Half-Naked In A Towel To My Girlfriend [Deadspin.com]
If no Pedroia, then what? [ESPN Boston]
ESPN's Bowden touts Middlebrooks' future [ESPN Boston]
Pedroia remains day to day [ESPN Boston]
Pedroia's status remains day to day [Extra Bases]
Jerry Remy on D&C: Daniel Nava can't take Carl Crawford's job [Full Count]
Buster Olney on M&M: Bobby Valentine is 'big-picture' guy, will let Dustin Pedroia rest [Full Count]
Time to call up Jose Iglesias [Full Count]
Bobby Valentine on The Big Show: Dustin Pedroia will be back 'a lot sooner than projected' [Full Count]
To their credit, Red Sox turn things around [Tony Massarotti – Boston Globe]
Angels, Red Sox Deal With Injuries, Inconsistency in Parallel Seasons [NESN.com]
David Ortiz Remains Hot at Plate, Red Sox Must Cool Off Streaking Prince Fielder [NESN.com]
Kelly Shoppach, Jarrod Saltalamacchia Could Be Options to Back Up Nick Punto at Second Base [NESN.com]
Carl Crawford Makes Mechanical Adjustment to Throwing Technique, Plans to Test Out Troublesome Elbow in Nine Days [NESN.com]
Red Sox May Be Less Likely to Make Deal for Starter With Lackluster Market, New Playoff Format [Don Orsillo – NESN.com]
Back problems keep Iglesias on bench [Projo Sox Blog]
Pedroia "day-to-day" with thumb injury [Projo Sox Blog]
McDonald remains in Boston for treatment [Projo Sox Blog]
Saltalamacchia fine after Tuesday's "illness" [Projo Sox Blog]
Lester seeking bounce-back outing vs. Tigers [RedSox.com]
Red Sox must do what's right for Pedroia [Touching All the Bases]
Follow Ian on Twitter @soxanddawgs. And be sure to like us on Facebook as well.
photo credit: AP Photo, Getty Images