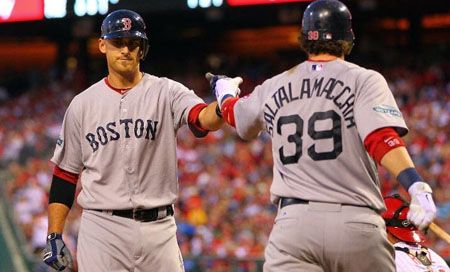 If you were one of the many out there that thought Jarrod Saltalamacchia would end up on the disabled list after getting 12 stitches in his ear after Friday's game, you were thinking like me. And guess what, we were totally wrong.
Instead, Salty found himself behind the plate for the second straight night. But it wasn't what he did behind it, rather what he did at it.
Supposedly, Salty texted Bobby Valentine and said he'd be ready for the game last night and that he had a bomb in. Even if that's not true, Salty did deliver a home run, one of the solo variety in the 4th that came one at bat after Will Middlebrooks launched his 5th of the season. All told on the night Salty was 3-for-4 at the plate falling a triple short of the cycle.
Mike Aviles got only one hit on the evening but it was a lead-off home run to start the game off of Joe Blanton. David Ortiz got the start at first base and showed why the NL should abolish the pitcher hitting in interleague games as he went 2-for-4 including a monstrous two-run homer.
Ironically enough, it wasn't what Adrian Gonzalez did at the plate (0-for-4) but what he did in the outfield. While he was the only starter without a hit not including the pitcher's spot, he made two great catches in right field.
We all had high hopes for Jon Lester after his complete game effort last time out. But this time around, he wasn't all that good. He found himself in trouble for the latter part of his start. He threw mostly fastballs and at times during his outing, you couldn't tell the difference between his fastball and cutter. And when that happens good things aren't going to happen.
He did get the win despite allowing four runs in six innings of work on eight hits and a walk. This was the fourth time this season where he finished with three or less strikeouts (he had three).
The bullpen was pretty solid although Vicente Padilla was charged with allowing one run. And honestly if it weren't for this spectacular catch by Ryan Sweeney, the outcome of this game could have been quite different. Rich Hill did his job by getting the only batter he faced.
Alfredo Aceves was asked to get a four-out save and did exactly that while making it interesting as usual.
On a night where Lester wasn't at his best, the Red Sox offense did the job and the bullpen helped out. It was nice to see that even when one part wasn't working that the other two facets of the game got the job done. When all three are on, we know the Red Sox are a great team.
But you take what you can get on a nightly basis. Fortunately, this was one ended up in a Red Sox win.
Click on the read more button below to see today's lineups, batter/pitcher matchups and links from the day if you're on the home page.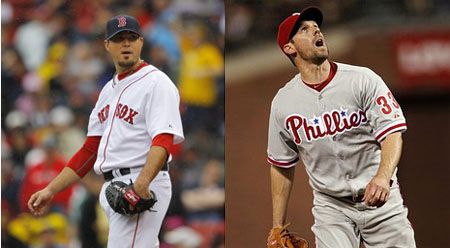 After winning 7-5 last night, the Boston Red Sox look to leave the City of Brotherly Love with a series win in the rubber game of a three-game set with the Philadelphia Phillies at Citizens Bank Park.
First pitch is scheduled for 1:35 p.m. and the game will be broadcast on NESN in the Red Sox television market. If you live in the Phillies television market, you can catch the game on Philadelphia 17. And if you don't live in either market you're in luck as TBS will have national coverage of the game outside of the Red Sox and Phillies markets. If you can't catch the television broadcast, you can always listen to it on the Red Sox radio network.
One of the better hitting pitchers the Red Sox have, Josh Beckett, gets the ball for the eighth time this season. In his previous seven starts, Beckett is 3-4 with a 4.97 ERA. He took the loss in his only start against the Phillies in 2011 when he allowed five runs in six innings of work. Beckett has made 20 career appearances (18 starts) against the Phillies and is 8-5 with a 4.18 ERA. He's made four of those career starts as a member of the Red Sox and is 2-2 with a 5.33 ERA. Beckett has made nine career appearances (eight starts) in the City of Brotherly Love and is 2-4 with a 5.17 ERA. Five of those starts have come at Citizens Bank Park where he is 2-3 with a 6.52 ERA.
After missing some time with an oblique injury, Cliff Lee will make just his sixth start of 2012. In his previous five starts, Lee is 0-1 with a 1.95 ERA. He picked up the win after throwing a complete game shutout in his only start against the Red Sox last season. Overall in his career, Lee is 3-4 with a 3.56 ERA in 11 career starts against the visiting nine.
Here are today's lineups:
And here is how the hitters have fared against today's starting pitchers: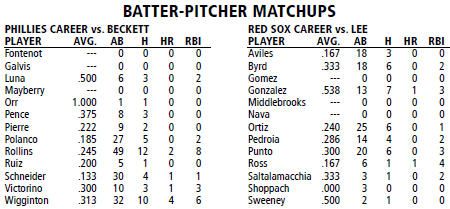 Notes: With the Red Sox short on outfielders right now, they have recalled Che-Hsuan Lin from Triple-A Pawtucket. To make room for him on the 25-man roster, they optioned Mauro Gomez to the PawSox.
REFRESH OR CHECK BACK OFTEN AS MORE LINKS WILL BE ADDED BEFORE GAMETIME IF/WHEN THEY BECOME AVAILABLE AND WILL BE BOLDED
To open the links up in a new tab or window, use Control+click
Red Sox piece it together in Philly [Boston Globe]
Sweeney grabs attention [Boston Globe]
Pitching decision: Try to save games or save the money? [Boston Globe]
Ross dealing with left foot injury [Boston Globe]
This is the last place they want to be [Boston Globe]
Veteran jogs to aid injured comrades [Boston Globe]
Take it to the Bank [Boston Herald]
Jarrod Saltalamacchia right back in there [Boston Herald]
Cody Ross limps out of already-thin outfield [Boston Herald]
Ryan Sweeney on center stage [Boston Herald]
Sox putting new spin on rotation [Boston Herald]
Source: Lavarnway was in Philadelphia [Rob Bradford – WEEI.com]
Ortiz back at 1B, Gonzalez in RF for banged up Red Sox [Clubhouse Insider]
Why Gonzalez owns Cliff Lee [Clubhouse Insider]
Bobby V on Saltalamacchia: 'We might as well ride that horse' [Clubhouse Insider]
Sox flex muscles, down Phils, 7-5 [CSN New England]
Saltalamacchia returns to lineup with a vengeance [CSN New England]
Defensive gems save Red Sox [CSN New England]
Report: Red Sox held 'heated' meeting May 11 [CSN New England]
Gonzalez to RF, Ortiz to 1B for depleted Sox [CSN New England]
Jim Kaat's take on Daniel Bard [ESPN Boston]
Rapid Reaction: Red Sox 7, Phillies 5 [ESPN Boston]
Boston Red Sox's unlikely OF trio of Daniel Nava, Ryan Sweeney, Adrian Gonzalez save the day [ESPN Boston]
Sox remain short on OF, add Lin [ESPN Boston]
Saltalamacchia gets the call again [ESPN Boston]
Red Sox call up Lin, option Gomez [Extra Bases]
Jarrod Saltalamacchia, the sluggingest catcher in the American League [Full Count]
Adrian Gonzalez, David Ortiz Play Flawless Defense Despite Position Changes [NESN.com]
Ryan Sweeney's Spectacular Diving Catch Proved to Be Game-Saving Play for Red Sox [NESN.com]
Bobby Valentine Remains Confident in Adrian Gonzalez' Abilities in Outfield as David Ortiz Starts at First Base [NESN.com]
Bobby Valentine's Lineup Choices Help Red Sox Find Power, Confidence on Offense [NESN.com]
Rich Hill Gives Teammate's Perspective on Great Career of Kerry Wood (Video) [NESN.com]
Jarrod Saltalamacchia Will Try to Make Big Night Spill Over Into Series Finale Against Phillies [NESN.com]
Cody Ross Relieved There Aren't Broken Bones in His Foot, Expects to Avoid Disabled List [NESN.com]
Ryan Sweeney Undergoes Concussion Tests, Could Be Candidate for MLB's New Seven-Day Disabled List [NESN.com]
Hamden's Joe Castiglione enjoying a storied career as Red Sox broadcaster [New Haven Register]
With Ross and Sweeney questionable, Lin called up [Projo Sox Blog]
Britton recovering from rocky start this time around [Projo Sox Blog]
With Ross and Sweeney questionable, Lin called up [Projo Sox Blog]
Valentine reflects on first ejection with Sox [RedSox.com]
Cook nears rehab stint; Dice-K's next start iffy [RedSox.com]
Youk few games from return, says Valentine [RedSox.com]
Salty takes licking, but back in lineup Saturday [RedSox.com]
Ross sits; Sweeney, Papi banged up in win [RedSox.com]
Adrian, Papi both in lineup; Sweeney, Ross sit [RedSox.com]
For more slices of Red Sox goodness, head over to the Boston Globe, Boston Herald, CSN New England, ESPN Boston, NESN, Providence Journal, RedSox.com and WEEI websites.
And if you must check out the enemy news, head over to the Philadelphia Daily News and Philadelphia Inquirer websites. You can also check out out Bloguin brother Macho Row.
Follow Ian on Twitter @soxanddawgs. And be sure to like us on Facebook as well.
photo credit: Getty Images, Reuters Pictures, Reuters Pictures