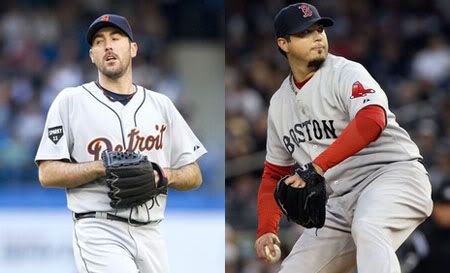 After the Boston Red Sox squeaked out a 1-0 win last night, it will be a battle of pitching heavyweights in the finale of a two-game set with the Detroit Tigers tonight at Fenway Park.
Tonight's game is scheduled to begin at 7:10 p.m. (weather permitting) and will be televised on NESN in the Red Sox television market. If you live in the Tigers television market, you can catch the game on FoxSports Detroit. If you don't live in either market, you're in luck as well as the MLB Network will have coverage of the game. And if you can't catch the television broadcast, you can always listen to the game on the 2011 Red Sox Radio Network.
Josh Beckett puts his 18.1 inning scoreless streak on the line tonight in his ninth start of 2011. In his previous eight outings, Beckett is 3-1 with a 1.75 ERA. He did not pitch against Detroit in 2010 and is 3-1 with a 2.60 ERA in four career starts against them. Two of those starts have come at the Fens where he is 1-1 with a 4.85 ERA.
Justin Verlander has also been hot as of late firing a no-hitter two starts ago. In nine starts in 2011, Verlander is 4-3 with a 2.91 ERA. He made one start against the Red Sox in 2010 receiving a no decision after allowing three runs in seven innings of work back on August 1st. He's made five career starts against the Red Sox and is 2-2 with a 3.89 ERA. Four of those starts have come at the Fens where he is 2-1 with a 3.14 ERA.
Click on the read more button below to see today's lineups, batter/pitcher matchups and links from the day if you're on the home page.
Here are tonight's lineups:
And here is how the hitters have fared against tonight's starting pitchers:
Check back and/or refresh often as more links will be added if/when they become available before game time.
To open the links up in a new tab or window, use Control+click
For a Third Time, MLB on FOX Screws Red Sox Fans in Connecticut [SOX & Dawgs]
Papelbon's a relief for Red Sox [CSNNE.com]
Buchholz feels fine after record pitch count [CSNNE.com]
Video: Previewing tonight's pitching matchup [ESPN Boston]
Sox, Cubs to wear 1918 throwbacks Saturday [ESPN Boston]
With Beckett-Verlander, no hit parade tonight [ESPN Boston]
Tito: Dice-K undecided about second opinion [ESPN Boston]
Run to Home Base draws 2,000; fans welcome at Fenway Park on Sunday [Extra Bases]
Galarraga is not a realistic solution [Extra Bases]
All of a sudden the Sox are right in the mix [Extra Bases]
Red Sox to `turn back the clock' on Saturday against the Cubs [Extra Bases]
Game 43: Red Sox vs. Tigers pregame chatter [Extra Bases]
Buchholz continues Sox' march to history [Full Count]
Pregame notes: Matsuzaka yet to seek second opinion [Full Count]
Fenway Park vs. Wrigley Field [Hartford Courant]
Jon Lester's No-Hitter Anniversary, Chasing Ted Williams and Seven Other Red Sox Thoughts [NESN.com]
NESN to Televise Eight Red Sox Minor League Baseball Games Starting With Pawtucket-Toledo on May 22 [NESN.com]
Red Sox, Cubs to Celebrate Chicago's First Trip to Fenway Park Since 1918 World Series [NESN.com]
Should Aceves or Wakefield be starting on Friday instead? [Projo Sox Blog]
Matsuzaka hasn't sought second opinion [Projo Sox Blog]
Sox aim for sixth straight win behind Beckett [RedSox.com]
Preparations for I-93 Fast14 Crossover continue [RedSox.com]
Network anoints '75 Series epic as top game [RedSox.com]
Photo credits: Reuters Pictures, Getty Images