After going 3-3 on the six game road trip, the Boston Red Sox return to Fenway Park for six games in seven days. Tonight, they'll kick it off with the first game of a three-game set with the Detroit Tigers in a rematch of the 2013 ALCS.
First pitch, weather permitting, is scheduled for 7:10 p.m. The game will be broadcast on NESN in the Red Sox television market. If you live in the Tigers television market, you can catch the game on Fox Sports Detroit. If you don't live in either market you're in luck as the MLB Network will have coverage of the game (outside of Red Sox and Tigers television markets). And if you can't catch the game on television, you can always listen on the 2014 Red Sox Radio Network.
Jon Lester gets the ball for the Red Sox tonight in his ninth start of 2014. In his previous eight starts, free agent to be Lester, is 4-4 with a 2.75 ERA. He made two starts against the Tigers in 2013 and was 2-0 with a 4.26 ERA (6 ER/12.2 IP). He's made seven career starts against them and is 2-2 with a 4.63 ERA. Lester was 1-1 in the 2013 ALCS with a 2.31 ERA against them.
Max Scherzer, the reigning AL Cy Young winner and free agent to be as well, makes his ninth start as well. In his previous eight starts, Scherzer is 5-1 with a 2.04 ERA.  In two starts against the Red Sox in 2013, he was 1-1 with a 2.57 ERA (4 ER/14 IP). He's made eight career starts against the local nine and is 2-4 with a 7.02 ERA. Four of those starts have come at the Fens where he is 1-2 with a 3.86 ERA. He was 0-1 with a 2.70 ERA in two starts during the 2013 ALCS.
NOTES:
Here is how the hitters have fared against the starting pitchers during the regular season over their careers.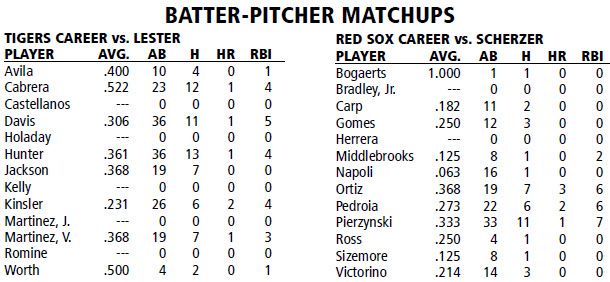 More links (bolded) will be added if/when they become available so please check back often.
To open the links up in a new tab or window, use Control+click
Manny Ramirez to make his return to Fenway Park on May 28 [sox & dawgs]
Leveling the playing field: How increased information, defensive shifts have led to American League parity [rob bradford – weei]
Red Sox look forward to 'fun series' vs. Tigers [csn new england]
Taking stock of the Red Sox at the quarter pole [csn new england]
Victorino (knee) getting MRI, out vs. Tigers [csn new england]
Lester vs. Scherzer makes for one heck of a matchup [csn new england]
Notes: Carp back at it for second straight game [csn new england]
Sox face Scherzer in ALCS rematch vs. Tigers [espn boston]
Victorino ailing; Lester, Scherzer set to duel [espn boston]
Nine to Know: Red Sox vs. Tigers [extra bases]
Jackie Bradley Jr. on The Bradfo Show: 'They want to see the 'fro' [full count]
Red Sox-Tigers series preview [full count]
Shane Victorino to receive MRI on 'bothersome' left knee [full count]
Boston Red Sox: What You Need To Know In Wake Of Bruins' Playoff Exit [nesn]
Rich Hill's Opt-Out Date Passes; Reliever Remains With Boston Red Sox [nesn]
A Series Matter: Red Sox-Tigers and Adaptation [providence journal]
Following playoff disappointment, Tigers retooled with Red Sox's approach in mind [providence journal]
Tigers pitcher Robbie Ray has seen Mookie Betts' potential since high school [providence journal]
Shane Victorino to get MRI on left knee [providence journal]
David Ross gets another start with Jon Lester on the mound [providence journal]
Lester faces Scherzer, Tigers in rematch of ALCS [red sox]
Breslow's Sip Happens fundraiser set for Monday [red sox]
photo credits: getty images, getty images