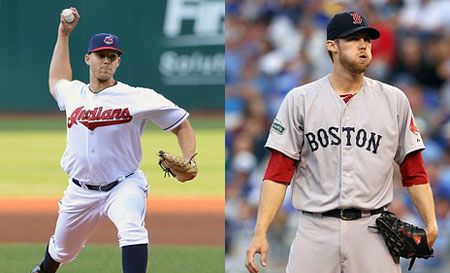 After winning 4-1 last night, the Boston Red Sox look to avoid a split of their four-game set with the Cleveland Indians this afternoon at Historic Fenway Park.
First pitch is scheduled for 1:35 p.m. and the game will be broadcast on NESN in the Red Sox television market. If you live in the Indians television market, you can catch the game on SportsTime Ohio (STO). If you can't catch the television broadcast, you can always listen to it on the Red Sox radio network.
Daniel Bard makes his seventh appearance (sixth start) of 2012 for the Red Sox. In his previous six appearances (five starts), Bard is 2-4 with a 4.83 ERA. He made four appearances against the Indians in 2011 going 0-3 with a 16.88 ERA (5 ER/2.2 IP). Bard has made 11 career appearances against the Tribe and is 0-4 with an 8.64 ERA (8 ER/8.1 IP).
Former Red Sox pitcher Justin Masterson makes his 8th start of 2012. In his previous seven starts, Masterson is 1-2 with a 4.89 ERA. He made two starts against his former club in 2011 going 1-0 with a 3.29 ERA (5 ER/13.2 IP). Masterson has made four career starts and has had some good success as he is 3-0 with a 1.95 ERA (6 ER/27.2 IP). He's made 38 career appearances (10 starts) at the Fens and is 10-2 with a 3.57 ERA.
Click on the read more button below to see today's lineups, batter/pitcher matchups and links from the day if you're on the home page.
Here are today's lineups:
And here is how the hitters have fared against today's starting pitchers: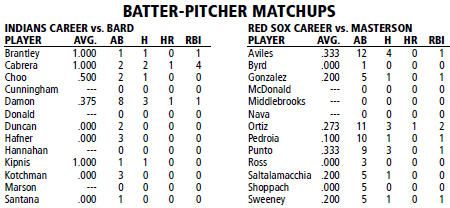 The Red Sox have placed OF Darnell McDonald on the 15-day disabled list with an oblique injury. Taking his place on the 25-man roster is Mauro Gomez who was recalled from Triple-A Pawtucket. To make room on the 40-man roster for Gomez, Jacoby Ellsbury was moved to the 60-day DL.
REFRESH OR CHECK BACK OFTEN AS MORE LINKS WILL BE ADDED BEFORE GAMETIME IF/WHEN THEY BECOME AVAILABLE AND WILL BE BOLDED
To open the links up in a new tab or window, use Control+click
Doubront sets Sox on right course [Boston Globe]
10 winning skippers who endure [Boston Globe]
Celtics giving their all, as Fenway draws boobirds [Boston Globe]
Why are Red Sox pitchers struggling? [Boston Globe]
Matsuzaka shaky in start for PawSox [Boston Globe]
Bailey is making progress [Boston Globe]
Time for the Red Sox to toughen up [Boston Globe]
Felix Doubront delivers [Boston Herald]
Daniel Nava brings new outlook [Boston Herald]
Open and close cases are relief [Boston Herald]
Interleague dilemma in road ahead for Red Sox, David Ortiz [Boston Herald]
John Henry: 'I believe we will' contend [Rob Bradford – WEEI.com]
Red Sox place outfielder Darnell McDonald on disabled list [Clubhouse Insider]
Dice-K will make two more rehab starts to hone mechanics [Clubhouse Insider]
Masterful Doubront leads Sox past Tribe [CSN New England]
Dice-K roughed up in Triple-A outing [CSN New England]
Sox bullpen finding its identity [CSN New England]
Sox hope Doubront's pitching is contagious [CSN New England]
Red Sox prepare for interleague play [CSN New England]
McDonald (oblique) to the DL; Gomez called up [CSN New England]
Matsuzaka struggles in latest rehab start [CSN New England]
Youkilis (back) expected to make strides today [CSN New England]
MacMullan: Beckett at 'point of no return' [ESPN Boston]
Rapid reaction: Red Sox 4, Indians 1 [ESPN Boston]
Felix Doubront gives Boston Red Sox just what they need [ESPN Boston]
Bard tries to pitch Red Sox to 3rd straight win [ESPN Boston]
McDonald to DL; 1B Gomez called up [ESPN Boston]
Matsuzaka set for two more rehab starts [ESPN Boston]
Game 34: Pregame notes [Extra Bases]
Closing Time: Felix Doubront helps hand Red Sox rare home win streak [Full Count]
The Red Sox may have found a late-inning reliever in Andrew Miller [Full Count]
Why Cody Ross hates his bat-flip, but can't stop doing it [Full Count]
Dustin Pedroia Approaches Hitting Streak as Business as Usual, Showing He's Dialed In at the Plate [NESN.com]
Alfredo Aceves Says 'We Need to Win, Win, Win,' Denies Trying to Break Adrian Gonzalez's Hand (Video) [NESN.com]
Daisuke Matsuzaka Makes Rehab Start, Stoking Questions of Six-Man Rotation (Video) [NESN.com]
Bobby Valentine, Red Sox Fans Will 'Still Wonder' About Bullpen Until Relievers Give Them Reasons Not To [NESN.com]
Johnny Damon Forges One-of-a-Kind Path Through 18-Year Career Among American League Teams (Video) [NESN.com]
Felix Doubront Earning Respect as Legitimate Starter From Umpires and Teammates [NESN.com]
Mother's Day Even Exciting for Dad When Red Sox, Steaks Added to Equation [NESN.com]
Dustin Pedroia Sizzling As Red Sox, Indians Close Out Four-Game Series at Fenway Park [NESN.com]
Vicente Padilla, Marlon Byrd Happy to Patch Up Their Differences After Controversial End to Texas Tenure [NESN.com]
Red Sox Call Up Powerful Mauro Gomez With Darnell McDonald Headed to Disabled List [NESN.com]
Red Sox Players Send Along Special Messages to Mom on Mother's Day (Video) [NESN.com]
Why Mark Melancon is still with the PawSox [Projo Sox Blog]
With Bard starting, Sox hope quality comes in threes [RedSox.com]
Sore heel doesn't keep Papi from playing [RedSox.com]
Boston blessed with bullpen depth in Minors [RedSox.com]
Red Sox have quality athlete in Middlebrooks [RedSox.com]
Public memorial for Beane set for Wednesday [RedSox.com]
Dice-K allows five runs in fourth rehab outing [RedSox.com]
Bradley gets five hits on perfect night [RedSox.com]
For more slices of Red Sox goodness, head over to the Boston Globe, Boston Herald, CSN New England, ESPN Boston, NESN, Providence Journal, RedSox.com and WEEI websites.
And if you must check out the enemy news, be sure to head over to the Akron Beacon Journal and Cleveland Plain Dealer websites. You can also check out our Bloguin brother, Burning River Baseball.
Follow Ian on Twitter @soxanddawgs. And be sure to like us on Facebook as well.
Photo credits: Getty Images, Getty Images