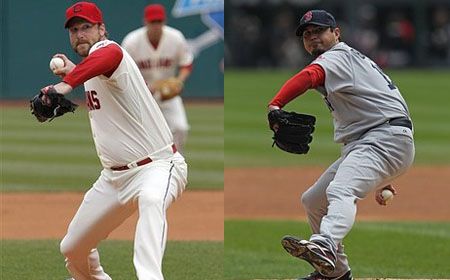 After losing two-of-three against the Kansas City Royals, the Boston Red Sox return home to the not-so friendly confines of Historic Fenway Park for a six-game homestand. They'll begin tonight with the first game of a four-game set against the AL Central leading Cleveland Indians.
First pitch is scheduled for 7:10 p.m. and the game will be broadcast on NESN in the Red Sox television market. If you live in the Indians television market, you can catch the game on SportsTime Ohio (STO). And if you don't live in either market, you're in luck as the MLB Network will coverage of the game outside of the Red Sox and Indians television markets. If you can't catch the television broadcast, you can always listen to it on the Red Sox radio network.
After allegedly going golfing with the sore lat that caused him to miss his last start, Josh Beckett returns to the hill to make his sixth start of 2012. In his previous five starts, Beckett is 2-3 with a 4.45 ERA. He made three starts against the Indians in 2011 and was 1-1 with a 3.06 ERA (6 ER/17.2 IP). Beckett's made 10 career starts and is 4-5 with a 4.84 ERA.
Former Red Sox starter and closer Derek Lowe gets the ball for the Windians tonight in his seventh start of the season. In his previous six starts, Lowe is 4-1 with a 2.39 ERA. Lowe has only faced the Red Sox once in his career and that came in 2009 when he was a member of the Atlanta Braves. In that start at the Fens, he took the loss after allowing three runs in 6.1 innings. He has made 194 career appearances (53 starts) at Fenway going 42-24 with a 3.13 and 39 saves.
Click on the read more button below to see today's lineups, batter/pitcher matchups and links from the day if you're on the home page.
Here are today's lineups:
And here is how the hitters have fared against today's starting pitchers: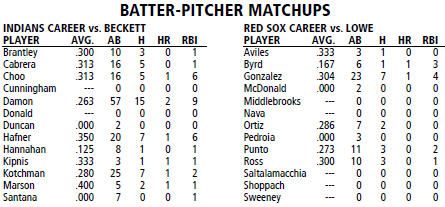 Notes: As you can see from the Red Sox starting lineup, Nava was called up from Triple-A Pawtucket. To make room on the 25-man roster, the Red Sox optioned Clayton Mortensen back to the PawSox. Also, the designated Justin Thomas for assignment to make room on the 40-man roster for Nava.
REFRESH OR CHECK BACK OFTEN AS MORE LINKS WILL BE ADDED BEFORE GAMETIME IF/WHEN THEY BECOME AVAILABLE AND WILL BE BOLDED
To open the links up in a new tab or window, use Control+click
Coming to the defense of Josh Beckett [Boston Sports Media Watch]
Bobby V: Never seen pitcher get hurt playing golf [Rob Bradford – WEEI.com]
Johnny Damon Should Be the Last Player Red Sox Fans Boo During His Latest Return to Fenway Park [Tom Caron – NESN.com]
No one seems to think Beckett and golf was a big deal [Clubhouse Insider]
Boggs lays into Boyd for racist accusations [CSN New England]
Derek Lowe's sneaky visit back to Boston [CSN New England]
Microphone will be silent in Beane's memory tonight [CSN New England]
Red Sox recall Nava, who bats sixth tonight [CSN New England]
Damon: 'I'm still the same guy' [CSN New England]
Buchholz looks to return to form [CSN New England]
Buchholz downplays significance of golf day with Beckett [CSN New England]
Melancon gets aggressive in Pawtucket [ESPN Boston]
Buchholz comes to Beckett's defense [ESPN Boston]
Youkilis: 'I'm a Sox until they say otherwise' [ESPN Boston]
Nava provides outfield depth [ESPN Boston]
Josh Beckett's golfing incident [ESPN.com]
Daniel Nava joins Red Sox [Extra Bases]
Valentine says Beckett did no harm playing golf [Extra Bases]
Time for Sox to show Beckett the door [Full Count]
Carl Beane's Excitement, Passion for Baseball and Life Permeates During 2011 Cape Cod League Game Interview (Video) [NESN.com]
Johnny Damon, Manny Ramirez Headline Most Colorful Red Sox Players of All Time (Photos) [NESN.com]
Jerry Remy 'Feeling Great,' Will Return to NESN Booth Thursday Night for Red Sox Telecast [NESN.com]
Derek Lowe Starting for Indians, Facing Josh Beckett, Red Sox in Rematch of 2009 Pitchers' Duel [NESN.com]
Josh Beckett, Red Sox Looking to Cool Down Asdrubal Cabrera As Two Clubs Open Series at Fenway [NESN.com]
Red Sox to Celebrate Carl Beane With Pregame Ceremony at Fenway Park [NESN.com]
Derek Lowe, Johnny Damon Would Really Be Valuable to Red Sox Nowadays [NESN.com]
Carl Beane Left Lasting Impression on Red Sox, As Voice Became Synonymous With Fenway Park [NESN.com]
Daniel Nava 'Happy, But Shocked' by Getting Called Up to Red Sox [NESN.com]
A Series Matter: Red Sox-Indians and Clutchness [Projo Sox Blog]
Warwick native Wheeler still finding way with Indians [Projo Sox Blog]
Youkilis still working way back, Middlebrooks to outfield "not an option at this time" [Projo Sox Blog]
Buchholz on Beckett controversy: "There's always got to be something to talk about [Projo Sox Blog]
Red Sox look to turn things around vs. Tribe [RedSox.com]
Silence tonight at Fenway to honor Beane [RedSox.com]
The talent gap: Red Sox struggles reflect state of the roster [Alex Speier – WEEI.com]
Follow Ian on Twitter @soxanddawgs. And be sure to like us on Facebook as well.
Photo credits: AP Photo, Getty Images