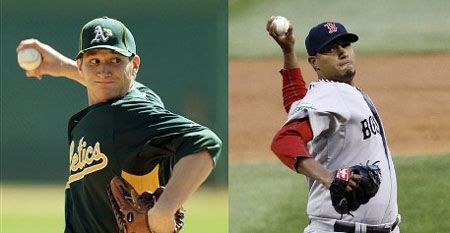 After winning 11-6 last night, the Boston Red Sox look to take the series in game two of a three-game set tonight against the Oakland A's at Historic Fenway Park.
First pitch is scheduled for 7:10 p.m. and the game will be broadcast on NESN in the Red Sox television market. If you live in the A's television market, you can catch the game on Comcast SportsNet California. And if you don't live in either market you're in luck as well as MLB Network will have coverage of the game outside of the Red Sox and A's television markets. If you can't catch the television broadcast, you can always listen to it on the Red Sox radio network.
Felix Doubront makes his fifth start of 2012 for skipper Bobby Valentine. In his previous four starts, Doubront is 1-0 with a 4.09 ERA. He has not faced the A's in his career.
Jarrod Parker is making just his third MLB start and second with the Athletics after coming over from the Arizona Diamondbacks. In his only start of 2012, Parker picked up a no decision after allowing one run in 6.1 innings against the Chicago White Sox. He has not faced the Red Sox in his career.
Click on the read more button below to see today's lineups, batter/pitcher matchups and links from the overnight and day if you're on the home page.
Here are today's lineups:
And here is how the hitters have fared against today's starting pitchers: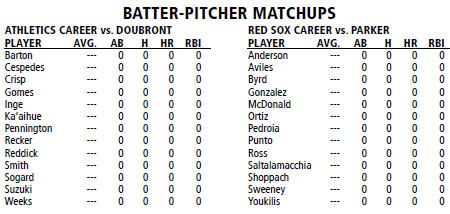 Notes: Jose Iglesias has been called up from Triple-A Pawtucket. To make room for him on the 25-man roster, Junichi Tazawa has been optioned to the PawSox.
REFRESH OR CHECK BACK OFTEN AS MORE LINKS WILL BE ADDED BEFORE GAMETIME IF/WHEN THEY BECOME AVAILABLE AND WILL BE BOLDED
To open the links up in a new tab or window, use Control+click
Roster decisions loom for Sox [Boston Herald]
Buchholz: Blister not a concern going forward [Rob Bradford – WEEI.com]
As the Red Sox' roster turns: Iglesias up, Youk/Buchholz hurting, Cook in limbo [Clubhouse Insider]
Agent: 'Yanks would jump' at Cook [CSN New England]
Bobby V's backup plan [CSN New England]
Sox recall Iglesias, send out Tazawa [CSN New England]
Valentine sees positives in Buchholz' start [CSN New England]
Iglesias up, Tazawa down, Cook on hold [ESPN Boston]
Buchholz pitched through blister issue Monday [ESPN Boston]
Family Day benefits Brookline kids charity [Extra Bases]
August saber seminar will benefit Jimmy Fund [Extra Bases]
Oil Can interview on ESPN tonight [Extra Bases]
Red Sox Podcast: Not half bad [Extra Bases]
Red Sox call up Iglesias [Extra Bases]
Marlon Byrd on his turnaround: 'Sometime you need to re-learn' hitting [Full Count]
Why the Red Sox feel Jose Iglesias has been better than his Triple-A numbers [Full Count]
David Ortiz's Tear, Albert Pujols' Struggles Both Surprising, Reflect Each Team's Offensive Ability [NESN.com]
Daniel Bard's Mental Adjustments as Important as Physical Preparations in Move to Rotation [NESN.com]
When Should the Red Sox Call Up Will Middlebrooks? [NESN.com]
Will Middlebrooks Played High School Football With LaMichael James, But Focus Has Been on Baseball Ever Since [NESN.com]
Red Sox Promote Jose Iglesias, Option Junichi Tazawa In Wake of Kevin Youkilis' Injury [NESN.com]
Wet Conditions Played Factor in Bobby Valentine's Decision to Sit 'Sore' Kevin Youkilis Third Straight Game [NESN.com]
Iglesias recalled to reinforce infield [Projo Sox Blog]
Hill happy to be back in the bigs [Projo Sox Blog]
Valentine happy with Boston's defense [Projo Sox Blog]
Red Sox look to keep rolling behind Doubront [RedSox.com]
With Youkilis ailing, Iglesias called up [RedSox.com]
Buchholz stays confident despite rocky start [RedSox.com]
Barnes' family shares in promotion [SoxProspects.com]
Sox call up Iglesias, option Tazawa [Alex Speier – WEEI.com]
Red Sox power rankings: April [Touching All The Bases]
Follow Ian on Twitter @soxanddawgs. And be sure to like us on Facebook as well.