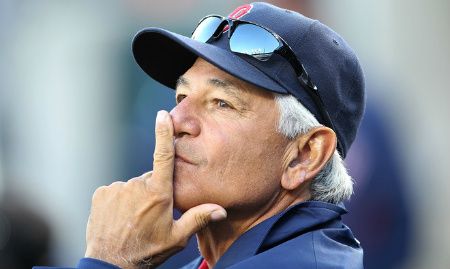 Is this a case of here we go again for the Boston Red Sox and Josh Beckett?
Last year the Red Sox started the season 0-6. So far in 2012, they are 0-2. Beckett struggled during the month of September. Beckett gave up five home runs in 4 2/3 innings in his first start of 2012.
Given that Beckett gave up those five home runs yesterday, it made you wonder if the thumb injury he's been battling through was a factor. He made sure to let the media know after the game, it had nothing to do with the way he pitched.
Beckett's fastball stunk. He clocked out at a high of 92 MPH and had some trouble hitting his spots with it as evidence by the mammoth home runs by Miguel Cabrera and Prince Fielder. He primarily relied on his cutter and by the results you can tell that it wasn't as effective as we've seen in the past.
Beckett is no longer throwing to Jason Varitek, who retired before the season started. Tek caught most of Beckett's innings last year and has struggled when Jarrod Saltalamacchia is behind the dish. He's now thrown to Salty for four games and allowed 19 runs in 22.2 innings. Sure it's only four games but if this continues, then Bobby Valentine needs to do something like maybe try Kelly Shoppach with him instead.
Speaking of Shoppach, he finally collected his first hit in a Red Sox uniform with a pinch-hit single in the 9th. He had started his career with the Red Sox in 2005 and went 0-for-15.
Offensively, this team, for the most part is in a funk.
Kevin Youkilis has now struckout four times in his first eight at-bats of the season. Mike Aviles is 0-for-6 with three strikeouts. Jacoby Ellsbury is still hitless on the season as is Cody Ross.
I'm not sure what Valentine can do to shake up this team offensively. But right now whatever he's doing isn't working. It wouldn't surprise me if we see a little different lineup this afternoon.
Click on the read more button below to see today's lineups, batter/pitcher matchups and links from the overnight and day if you're on the home page.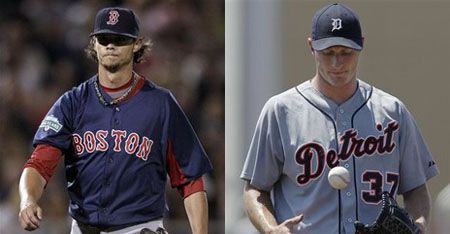 After losing the first two games, the Boston Red Sox look for their first win in the finale of a three-game set against the Detroit Tigers at Comerica Park.
First pitch is scheduled for 1:05 p.m. and the game will be broadcast in the Red Sox television market on NESN. If you live in the Tigers television market, you can catch the game on Fox Sports Detroit. If you can't catch the television broadcast, you can always listen to it on the Red Sox radio network.
Clay Buchholz looks to get the Red Sox into the win column in his first start of the season and first since June of 2011. In 14 starts last season, Buchholz was 6-3 with a 3.48 ERA before being sidelined for the rest of the season with a back injury. He made two starts against the Tigers in 2011 and had no record with a 2.08 ERA (3 ER/13 IP). He's made six career starts against the Tigers and is 1-1 with a 2.58 ERA. Three of those starts have come at Comerica Park where he is 1-0 with a 4.96 ERA (9 ER/16.1 IP).
Max Scherzer looks to complete the sweep for the Tigers in his first start of the season. In 33 starts last year, Scherzer was 15-9 with a 4.43 ERA. He made one start against the Red Sox last year on May 26th and took the loss. In that start, he went just two innings after allowing seven runs on seven hits. He's struggled in three career starts against the Red Sox as he is 0-2 with a 9.45 ERA (14 ER/13.1 IP).
Here are today's lineups:
And here is how the hitters have fared against today's starting pitchers:
REFRESH OR CHECK BACK OFTEN AS MORE LINKS WILL BE ADDED BEFORE GAMETIME IF/WHEN THEY BECOME AVAILABLE AND WILL BE BOLDED
To open the links up in a new tab or window, use Control+click
Tigers' combination clicks big time [Boston Globe]
Clay Buchholz is healthy and ready to pitch in [Boston Globe]
Kevin Youkilis scuffling after 0-for-8 start [Boston Globe]
Deep trouble [Boston Globe]
For starters, this defeat looked a lot like September [Boston Globe]
In majors, motivation has a personal twist [Boston Globe]
Josh Beckett hit for 5 HRs as Red Sox drop to 0-2 [Boston Herald]
Josh Beckett effort not 'fine' for Sox [Boston Herald]
Sox wait for hits to arrive [Boston Herald]
Lamont not lamenting [Boston Herald]
Blasts bury Becks [Boston Herald]
Pregame notes: Bobby V on Red Sox' lineup changes [Clubhouse Insider]
Sox offense 'not working' [CSN New England]
Wheels come off for Beckett [CSN New England]
Beckett run over in Motor City [CSN New England]
Sox looking for win, Valentine shakes up lineup [CSN New England]
Matt Barnes debuts Sunday [ESPN Boston]
Sox in danger of another slow start [ESPN Boston]
V on Beckett: Mentally bruised but fine [ESPN Boston]
Youkilis on sitting: 'Can't be upset' [ESPN Boston]
Olney: Growing discontent in clubhouse [ESPN Boston]
Scout on Beckett: 'Worst I've seen' [ESPN Boston]
Valentine's starts, year by year [ESPN Boston]
Valentine explains his lineup changes [Extra Bases]
Closing Time: Josh Beckett blasted as Tigers shut out Red Sox [Full Count]
Red Sox prospect Henry Owens strikes quickly [Full Count]
Jenny Dell Relives Memorable Opening Day Experience at Comerica Park [NESN.com]
Bobby Valentine Still Believes in Josh Beckett After Rough Start to Season [NESN.com]
Will Adrian Gonzalez Lead the Red Sox in Home Runs This Season? [NESN.com]
Doubront more experienced this time around [Projo Sox Blog]
Miller, Hill to pitch this week for Greenville [Projo Sox Blog]
Beckett bombed in Motown mauling [Providence Journal]
Sox bats have yet to break camp [Providence Journal]
Red Sox Journal: Defense shaky in early games [Providence Journal]
Buchholz aims to right Red Sox's ship in finale [RedSox.com]
Thumbs down for Beckett, Sox in Motor City [RedSox.com]
Back fine, Buchholz concentrating on pitching [RedSox.com]
Crawford closing in on games in Florida [RedSox.com]
Valentine will try to keep bench involved [RedSox.com]
From wait to weight: Amidst questions about Beckett, Sox need healthy Buchholz to shoulder load [Alex Speier – WEEI.com]
Follow Ian on Twitter @soxanddawgs. And be sure to like us on Facebook as well.
Photo credits: Getty Images, AP Photo, AP Photo