After falling on Opening Day on walkoff hit, the Boston Red Sox look to pick up their first win of the season in game two of a three-game set with the Detroit Tigers at Comerica Park.
First pitch is scheduled for 4:05 p.m. and the game will be broadcast to 43% of the country on FOX. If you can't catch the television broadcast, you can always listen to it on the Red Sox radio network.
After a little uncertainty about his first start due to a thumb injury, Josh Beckett will take the mound this afternoon. He made 30 starts in 2011 for the Red Sox and was 13-7 with a 2.89 ERA. Beckett made two starts against the Tigers last year and was 0-1 with a 2.25 ERA (3 ER/12 IP). Overall in his career, Beckett has made six starts against the Tigers and is 3-2 with a 2.50 ERA. Three of those starts have come at Comerica Park where he is 2-1 with a 1.31 ERA (3 ER/20.2 IP).
Doug Fister gets the ball for Jim Leyland this afternoon after going 8-1 in 11 games (10 starts) after his trade to the Tigers from the Seattle Mariners last year. Overall between the two clubs, Fister was 11-13 in 32 games (31 starts). His lone start against the Red Sox came as a member of the Mariners where he picked up the win after 5.2 shutout innings. He's made four career starts against the Red Sox, all as a member of the Mariners, and is 1-2 with a 3.33 ERA.
Click on the read more button below to see today's lineups, batter/pitcher matchups and links from the overnight and day if you're on the home page.
Here are today's lineups:
And here is how the hitters have fared against today's starting pitchers: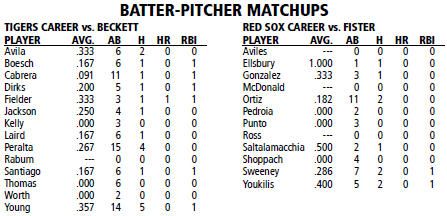 REFRESH OR CHECK BACK OFTEN AS MORE LINKS WILL BE ADDED BEFORE GAMETIME IF/WHEN THEY BECOME AVAILABLE AND WILL BE BOLDED
To open the links up in a new tab or window, use Control+click
Bailey gives thumbs up for return [Boston Globe]
Beckett has plenty to prove [Boston Globe]
Lucchino willing to up payroll [Boston Globe]
Josh Beckett drama begins [Boston Herald]
These Red Sox all new to [Boston Herald]
Andrew Bailey jinxed himself [Boston Herald]
Sluggers Adrian Gonzalez, Miguel Cabrera go way back [Boston Herald]
Pregame notes: Crawford to get minor-league at-bats 'very soon' [Clubhouse Insider]
Sox face daunting opening hurdles [CSN New England]
Bailey frustrated, but pragmatic, about injury [CSN New England]
Red Sox willing to add payroll to improve pitching [CSN New England]
Who will be the Red Sox closer in June? [CSN New England]
Where should Crawford bat when he returns? [CSN New England]
Buchholz heathy, ready to pitch in real games [CSN New England]
Rehab updates: Crawford, Hill and Miller [CSN New England]
Schilling: It's not me against Bobby V [ESPN Boston]
Boston Red Sox's Josh Beckett is long on motivation, if hazy on history [ESPN Boston]
Andrew Bailey of Boston Red Sox eager to return post surgery [ESPN Boston]
Crawford "imminent" to play spring games [ESPN Boston]
The best and the worst of the top contracts [Extra Bases]
Hill and Miller start rehab assignments tonight [Extra Bases]
Crawford close to getting in a game [Extra Bases]
Daniel Bard: Red Sox bullpen fine without Andrew Bailey (or him) [Full Count]
Video: A doctor's perspective of the Andrew Bailey injury [Full Count]
Adrian Gonzalez: 'I hope [contract] is a bargain for the Red Sox' [Full Count]
Red Sox bullpen just won't cut it [Tony Massarotti – Boston Globe]
Which Red Sox Pitcher Will Lead the Team in Wins This Season? [NESN.com]
Daniel Bard Needs to Remain in Rotation, Even Amidst Red Sox Bullpen Questions [NESN.com]
Red Sox Look to Emerge Victorious in American League East Version of 'The Hunger Games' [NESN.com]
Crawford close to action at extended spring [Projo Sox Blog]
Hill, Miller to pitch for Class A Greenville [Projo Sox Blog]
Buchholz hopes delivery tweaks prevent back issues [Projo Sox Blog]
After day off, Sox turn to Beckett vs. Tigers [RedSox.com]
Optimistic Bailey not dwelling on misfortune [RedSox.com]
Can the Red Sox find an old-school formula for bullpen success? [Alex Speier – WEEI.com]
Eckersley and Smoltz weigh in on Bard [Touching All The Bases]
Follow Ian on Twitter @soxanddawgs. And be sure to like us on Facebook as well.
Photo credits: AP Photo, Getty Images