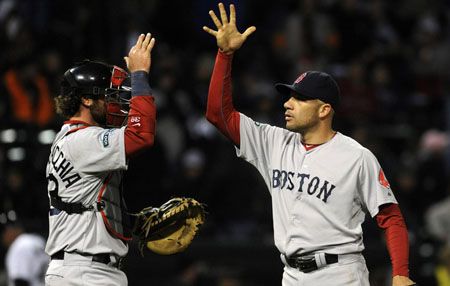 When the Boston Red Sox started this seven game road trip, their record sat at 4-10 and things were looking bleak. Not a lot was going well.
But things are different just seven days later.
After Jon Lester and the bullpen outdueled Jake Peavy last night, the Red Sox have won six straight games and now find themselves at .500 a lot earlier than some of the pundits said they would.
Peavy did shut down the white hot Red Sox offense last night though. They had been scoring runs like they were on sale at your local grocery store. But against Peavy they managed just four hits. Two of the hits turned out to be the difference in the game.
Ryan Sweeney blooped in a double to start off the 4th inning and after a Dustin Pedroia lineout, an Adrian Gonzalez single brought in Sweeney in what turned out to be the only run of the game. Sweeney also happened to be the only runner that the Red Sox got into scoring position against Peavy.
Lester did find himself in trouble in the 1st inning after he walked Adam Dunn and a Paul Konerko double. He got out of the jam when Alex Rios flew out. After that, Lester cruised right along, putting in his best outing of the season. The only other trouble he got in came in his last inning of work but he worked out of that as well.
From there, the bullpen did its job.
Franklin Morales got two of the three batters out he faced and after Vicente Padilla walked Konerko, he got Rios to ground out. Alfredo Aceves, who's had a bit of a flair for the dramatic when he pitches, left out the drama and retired the White Sox in order to pick up his fifth save of the season.
The Red Sox are playing really good baseball right now, hopefully that continues this afternoon before they head home.
Click on the read more button below to see today's lineups, batter/pitcher matchups and links from the overnight and day if you're on the home page.
After picking up their sixth straight win last night, the Boston Red Sox will go for a sweep of the road trip and the four-game series with the Chicago White Sox this afternoon at U.S. Cellular Field.
First pitch is scheduled for 2:10 p.m. and the game will be broadcast on NESN in the Red Sox television market. If you live in the White Sox television market, you can catch the game on Comcast SportsNet Chicago. If you can't catch the television broadcast, you can always listen to it on the Red Sox radio network.
Josh Beckett looks to pitch the Red Sox to the sweep of the series and road trip in his fifth start of 2012. In his previous four starts, Beckett is 2-2 with a 4.56 ERA. He did not face the White Sox in 2011. He last faced the White Sox in September 2010 when he took the loss after allowing four runs in six innings of work. Beckett has made eight career starts against the South Siders and is 4-2 with a 3.70 ERA. Six of those starts have come at U.S. Cellular Field where he is 3-2 with a 4.08 ERA.
Gavin Floyd looks to end the losing streak for the White Sox in his fifth start of 2012. In his previous four starts, Floyd is 1-3 with a 3.60 ERA. He faced the Red Sox twice in 2011 going 2-0 with a 3.29 ERA. In eight career appearances (seven starts) against the visiting nine, Floyd is 6-0 with a 3.47 ERA.
Here are today's lineups:
And here is how the hitters have fared against today's starting pitchers:
Note: Paul Konerko was scratched from the White Sox lineup with a stiff neck and replaced by Fukudome in the lineup. Kevin Youkilis was scratched from the Red Sox lineup with lower back tightness and replaced by Punto.
REFRESH OR CHECK BACK OFTEN AS MORE LINKS WILL BE ADDED BEFORE GAMETIME IF/WHEN THEY BECOME AVAILABLE AND WILL BE BOLDED
To open the links up in a new tab or window, use Control+click
Lester helps Red Sox keep up the beat [Boston Globe]
Everything is cool in Matsuzaka's second rehab start [Boston Globe]
Byrd is happy with new landing spot [Boston Globe]
Pen's new script has a happy ending [Boston Globe]
Red Sox reach .500 behind Jon Lester's gem [Boston Herald]
All is not lost [Boston Herald]
Sox 'pen makes it right [Boston Herald]
Decision looming on Cook [Boston Herald]
Starting to make sense [Boston Herald]
Valentine: Shoppach, Beckett clicking [Rob Bradford – WEEI.com]
Bobby V: With Dustin Pedroia, "seeing it is believing" [Clubhouse Insider]
Lester's gem gets Sox back to even [CSN New England]
Sox bullpen rounding into form [CSN New England]
Satisfied Lester records first win [CSN New England]
Rapid Reaction: Red Sox 1, White Sox 0 [ESPN Boston]
Valentine: Jon Lester 'pitched like an ace' [ESPN Boston]
Cook excelling in Triple-A; Sox decision looms [ESPN Boston]
Birthday boy Shoppach catching Beckett again [ESPN Boston]
Pre-game notes from Chicago [Extra Bases]
Why Paul Konerko's home run was a foreign feeling for Daniel Bard [Full Count]
Closing Time: Jon Lester outduels Jake Peavy in another Red Sox win [Full Count]
Nuggetpalooza: Nuggets from the Red Sox' 1-0 win [Full Count]
Bobby Valentine has been reminded Dustin Pedroia is really good [Full Count]
Jon Lester Shakes Off Early Struggles, Returns to Winning Ways With Gem [NESN.com]
Red Sox Bullpen Earns Some Redemption After Protecting One-Run Lead Against White Sox [NESN.com]
Red Sox' Bullpen, Pitching, Bats All Working Together Now, But That Doesn't Mean Problems Solved [NESN.com]
Red Sox Legends, Fenway Park's 100th Anniversary Bring to Mind Grantland Rice's Famous Poem 'Game Called' [NESN.com]
Valentine blown away by what he's seen from Pedroia [Projo Sox Blog]
Shoppach catching Beckett — but not Beckett's personal catcher, Valentine says [Projo Sox Blog]
Beckett, Red Sox try to complete perfect road trip [RedSox.com]
Valentine loving the Pedroia experience [RedSox.com]
Shoppach, Beckett forming a working tandem [RedSox.com]
For more slices of Red Sox goodness, head over to the Boston Globe, Boston Herald, CSN New England, ESPN Boston, NESN, Providence Journal, RedSox.com and WEEI websites.
And if you must check out the enemy news, be sure to head over to the Arlington Heights Daily Herald, Chicago Sun-Times, Chicago Tribune and ESPN Chicago websites.
Follow Ian on Twitter @soxanddawgs. And be sure to like us on Facebook as well.
Photo credits: Getty Images, AP Photo, AP Photo