After picking up their fourth straight win last night, the Boston Red Sox look to make it five straight tonight in the second game of a four-game set with the Chicago White Sox at U.S. Cellular Field on south side of the Windy City.
First pitch is scheduled for 8:10 p.m. and the game will be broadcast on NESN in the Red Sox television market. If you live in the White Sox television market, you can catch the game on WCIU. If you can't catch the television broadcast, you can always listen to it on the Red Sox radio network.
Daniel Bard makes his fourth appearance (third start) of 2012 tonight. In his previous three appearances (two starts), Bard is 1-2 with a 4.38 ERA. His lone win of the season came out of the bullpen last Monday against the Twins. Bard made two appearances against the South Siders last year and had no record with a 0.00 ERA (0 ER/3 IP). He's made eight career appearances against them and is 1-0 with a 2.08 ERA (2 ER/8.2 IP). Bard's made three of those appearances at U.S. Cellular Field where he has no record with a 3.38 ERA (1 ER/2.2 IP).
John Danks will make his fifth start of 2012 for new manager Robin Ventura. In his previous four starts, Danks is 2-2 with a 5.11 ERA. He did not face the Red Sox in 2011 and last faced them in 2010 when he went 2-0 with a 2.08 ERA in two starts. Overall in his career, Danks has made seven career starts against the Red Sox and is 3-4 with a 4.14 ERA. Four of those starts have come at home where he is 1-3 with a 4.84 ERA.
Click on the read more button below to see today's lineups, batter/pitcher matchups and links from the overnight and day if you're on the home page.
Here are today's lineups:
And here is how the hitters have fared against today's starting pitchers: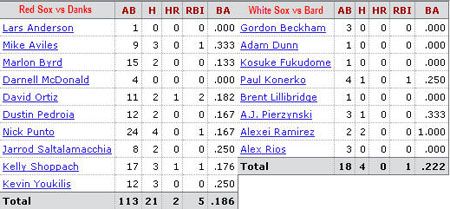 Notes: After missing most of last season after undergoing Tommy John surgery, Rich Hill has been recalled from Triple-A Pawtucket. To make room on the 25-man roster for Hill, Justin Thomas has been optioned to the PawSox.
REFRESH OR CHECK BACK OFTEN AS MORE LINKS WILL BE ADDED BEFORE GAMETIME IF/WHEN THEY BECOME AVAILABLE AND WILL BE BOLDED
To open the links up in a new tab or window, use Control+click
Red Sox Offense Hitting Stride at Perfect Time As Pitching Staff Still Tries to Find Its Way [Tom Caron – NESN.com]
The loss of Carl Crawford has been a gain for Ryan Sweeney, Red Sox [Clubhouse Insider]
Rich Hill set to be activated from disabled list [Clubhouse Insider]
Box Score Bank: The Big Hurt [CSN New England]
Rehab complete, Hill returns to majors [CSN New England]
Random Red Sox thoughts from Chicago [Extra Bases]
After Joel Ward incident, Darnell McDonald talks about his own run-in with racism [Full Count]
Carl Crawford isn't aging well [Tony Massarotti – Boston Globe]
Red Sox pitchers making noticeable progress holding runners [Projo Sox Blog]
Rich Hill reinforces beleaguered bullpen [Projo Sox Blog]
Bard looks to push Boston's winning streak to five [RedSox.com]
Middlebrooks earns Player of Week nod [RedSox.com]
The case of phenoms vs. incumbents [Touching All The Bases]
Follow Ian on Twitter @soxanddawgs. And be sure to like us on Facebook as well.
Photo credits: AP Photo, Getty Images