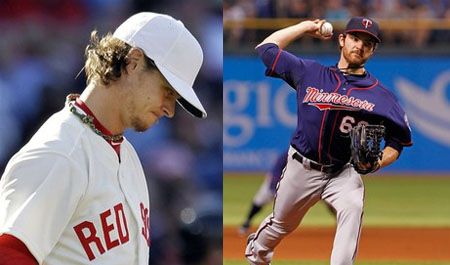 After winning for the second straight game last night, the Boston Red Sox go for the sweep of the Minnesota Twins tonight in the finale of a three-game set at Target Field in Minneapolis, MN.
First pitch is scheduled for 8:10 p.m. and the game will be broadcast on NESN Plus in the Red Sox television market. If you live in the Twins television market, you can catch the game on Fox Sports North. If you can't catch the television broadcast, you can always listen to it on the Red Sox radio network.
Clay Buchholz looks to rebound from his three terrible starts in his fourth start of 2012. In his previous three starts, Buchholz is 1-1 with a 9.00 ERA (17 ER/17 IP). In his only start of 2011 against the Twins back on May 7th, he picked up the win after throwing five scoreless innings. In his career, Buchholz has made three starts and is 2-1 with a 4.67 ERA. Tonight marks his first start at Target Field. In his only appearance at the Metrodome in 2008, he was tagged with the loss after allowing seven earned runs in 4.1 innings of work.
Rookie Liam Hendriks makes his third start of 2012 for the reeling Twins. In his previous two starts, Hendriks has no record with a 3.86 ERA (5 ER/11.2 IP). He has not faced the Red Sox in his short career.
Click on the read more button below to see today's lineups, batter/pitcher matchups and links from the overnight and day if you're on the home page.
Here are today's lineups:
And here is how the hitters have fared against today's starting pitchers: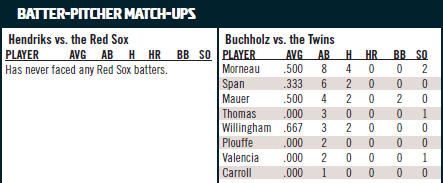 REFRESH OR CHECK BACK OFTEN AS MORE LINKS WILL BE ADDED BEFORE GAMETIME IF/WHEN THEY BECOME AVAILABLE AND WILL BE BOLDED
To open the links up in a new tab or window, use Control+click
Valentine: Bard available in relief Wednesday [Rob Bradford – WEEI.com]
Marlon Byrd on quick start with Red Sox: 'I can hit' [Clubhouse Insider]
'Lingering soreness' in Crawford's elbow prompts visit with Andrews [Clubhouse Insider]
Sox, Cook have decisions to make [CSN New England]
Bard not available for relief work Wednesday [CSN New England]
Crawford's visit to orthopedist a 'fact-finding mission' [CSN New England]
Carl Crawford of Boston Red Sox to see Dr. James Andrews about sore elbow [ESPN Boston]
Buchholz's struggles have been twofold [ESPN Boston]
Valentine: Bard available tonight [ESPN Boston]
Radio daze: Bard not in bullpen after all [ESPN Boston]
Lineup daze: Lefty is not right [ESPN Boston]
Crawford visit to Andrews 'fact-finding mission' [ESPN Boston]
Crawford to see Andrews about elbow [Extra Bases]
Sadly, there's no statue of Ted Baxter [Extra Bases]
Red Sox waiting to hear about Crawford [Extra Bases]
Rich Hill getting close to a return [Extra Bases]
Nuggetpalooza: Stats nuggets from Tuesday's Red Sox and MLB games [Full Count]
Marlon Byrd Taking Advantage of Fresh Start With Boston, Confident He Can Regain Timing at Plate [NESN.com]
Marlon Byrd: "I wasn't going to hit .087 for the rest of the season" [Projo Sox Blog]
Hill looks good again on second leg of back-to-back [Projo Sox Blog]
Bard throws side session Wednesday, set to start Friday [Projo Sox Blog]
Carl Crawford going on "fact-finding mission" with Andrews [Projo Sox Blog]
Spears clears waivers, outrighted to Pawtucket [SoxProspects.com]
Follow Ian on Twitter @soxanddawgs. And be sure to like us on Facebook as well.
Photo credits: AP Photo, Getty Images