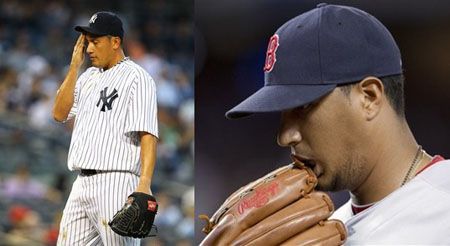 After falling yesterday 6-2 on the 100th Anniversary of Fenway Park, the Boston Red Sox look to get back on the winning side of things in the second game of a three-game set with their AL East rivals, the New York Yankees.
First pitch is scheduled for 4:05 p.m. and the game will be broadcast to 91% of the country on FOX. If you can't catch the television broadcast, you can always listen to it on the Red Sox radio network.
Felix Doubront looks to keep his pitch count under control in his third start of 2012. In his previous two starts, Doubront has no record with a 5.40 ERA (6 ER/10 IP). He made three appearances out of the bullpen last year against the Yankees and had no record with a 4.91 ERA (2 ER/3.2 IP). Overall in his career, Doubront has made four appearances against the Yankees and has no record with a 3.86 ERA (2 ER/4.2 IP).
Freddy Garcia also makes his third start of the season this afternoon. In his previous two starts, Garcia is 0-1 with a 6.97 ERA (8 ER/10.1 IP). The 12-year veteran made five appearances (four starts) against the Red Sox in 2011 and was 1-2 with a 4.74 ERA. Garcia has made 21 career appearances (20 starts) against the local nine and is 9-4 with a 4.45 ERA. Nine of those appearances (eight starts) have come at the century old ballpark where he is 3-1 with a 4.32 ERA.
Click on the read more button below to see today's lineups, batter/pitcher matchups and links from the overnight and day if you're on the home page.
Here are today's lineups:
And here is how the hitters have fared against today's starting pitchers:
REFRESH OR CHECK BACK OFTEN AS MORE LINKS WILL BE ADDED BEFORE GAMETIME IF/WHEN THEY BECOME AVAILABLE AND WILL BE BOLDED
To open the links up in a new tab or window, use Control+click
Fenway's 100th:Sox players awed by ceremony [CSN New England]
Fenway's 100th:'A terrific event' [CSN New England]
Video: Peter Abraham on Fenway party, Red Sox-Yankees opener [Extra Bases]
Sox and Cubs talking about a deal for Marlon Byrd [Extra Bases]
Mike Lowell: Future Red Sox Manager? [Surviving Grady]
Follow Ian on Twitter @soxanddawgs. And be sure to like us on Facebook as well.
Photo credits: Getty Images, AP Photo