After falling last night, the Boston Red Sox look to get back on track this afternoon in the second game of a four-game set with the Baltimore Orioles at Fenway Park.
First pitch is scheduled for 1:35 p.m. The game will be broadcast on NESN in the Red Sox television market. If you live in the Orioles market, you can catch the game on MASN.  And if you can't catch the game on television, you can always listen on the 2014 Red Sox Radio Network.
Felix Doubront makes his fourth start of 2014 for the Red Sox. In his previous three starts, Doubront is 1-2 with a 6.75 ERA (11 ER/14.2 IP). He picked up the win back on April 3 against the O's after allowing three runs in 5.1 innings of work. He's made 10 career appearances (six starts) against them and is 2-2 with a 4.61 ERA.
Bud Norris makes his third start of 2014 for the Orioles. In his two previous starts, Norris is 0-1 with a 3.75 ERA (5 ER/12 IP). He was 0-1 with a 3.18 ERA (4 ER/11.1 IP) in two starts against the Red Sox in 2013. Those two starts are also his only ones at the Fens. He's made three career starts against them and is 0-1 with a 4.15 ERA (8 ER/17.1 IP)
NOTES:
Here is how the hitters have fared against the starting pitchers during the regular season over their careers.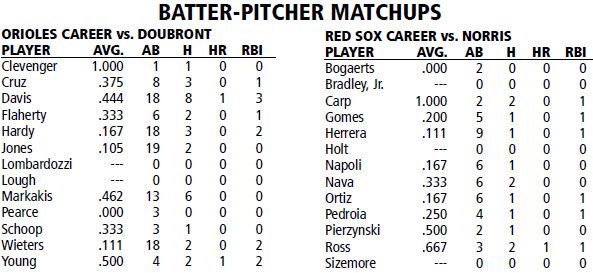 More links will be added if/when they become available so please check back often.
To open the links up in a new tab or window, use Control+click
Doubront seeks more success against Orioles [red sox]
D-Ficiency: Leaky Red Sox defense a key ingredient to early struggles [alex speier – weei]
photo credits: getty images, getty images