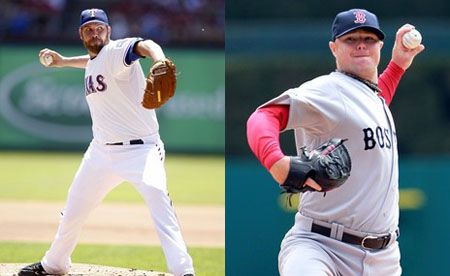 After taking three-of-four from the Tampa Bay Rays, the Boston Red Sox welcome the two-time defending American League champions the Texas Rangers to historic Fenway Park for a two-game set.
First pitch is scheduled for 7:10 p.m. and the game will be broadcast in the Red Sox television market on NESN. If you live in the Rangers television market, you can catch the game on Fox Sports Southwest. And if you don't live in either market, you can watch the game on the MLB Network. If you can't catch the television broadcast, you can always listen to it on the Red Sox radio network.
Jon Lester makes his third start of the season for the outspoken Bobby Valentine. In his previous two starts, Lester is 0-1 with a 2.40 ERA. In his only start against the Rangers in 2011 on Opening Day, he picked up a no decision after allowing five runs in 5.1 IP. He's made eight career starts against them and is 3-1 with a 3.48 ERA.
Colby Lewis also is making his third start of the season. In his previous starts, Lewis is 1-0 with a 1.42 ERA. He faced the Red Sox three times in 2011 and was 1-2 with an 8.22 ERA. Overall in his career, he's made 11 appearances (seven starts) and is 2-3 with a 5.01 ERA. Lewis has made four appearances (three starts) at the Fens and is 1-1 with a 6.48 ERA.
Click on the read more button below to see today's lineups, batter/pitcher matchups and links from the overnight and day if you're on the home page.
Here are today's lineups:
And here is how the hitters have fared against today's starting pitchers: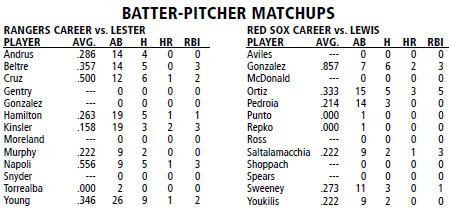 REFRESH OR CHECK BACK OFTEN AS MORE LINKS WILL BE ADDED BEFORE GAMETIME IF/WHEN THEY BECOME AVAILABLE AND WILL BE BOLDED
To open the links up in a new tab or window, use Control+click
What to make of Bobby V [Boston Herald]
Crawford gets at-bats in Florida, Ellsbury diagnosis confirmed [Clubhouse Insider]
Back to baseball for Bobby V. and the Red Sox [Clubhouse Insider]
Youkilis: 'It's always good when your teammates have your back' [Clubhouse Insider]
Lesson learned for Bobby V. [CSN New England]
Crawford 'feels great' after spring debut [CSN New England]
Youkilis in lineup, ready to move forward [CSN New England]
Morning report: Lester faces Rangers [ESPN Boston]
Lester faces Rangers looking for his 1st win [ESPN Boston]
Sox: Rehab, not surgery, for Ellsbury [ESPN Boston]
Youkilis: 'We've moved on' [ESPN Boston]
Sox: Rehab, not surgery, for Ellsbury [ESPN Boston]
The prescient words of Al Leiter on Bobby Valentine [Extra Bases]
Orioles claim Exposito on waivers [Extra Bases]
Youkilis squashes Valentine chatter [Extra Bases]
Fenway at 100: Park holds special memories for oldest living former Red Sox employee Al Rocci [Full Count]
No, Ron Washington and the Rangers did not work on the slash play [Full Count]
Bobby Valentine Gets Crash Course in Managing in Boston and Other Thoughts From the Week in Baseball [NESN.com]
Dustin Pedroia Shows Again Why He Deserves to Be Named Red Sox Captain in Defending Kevin Youkilis [NESN.com]
Fenway Park Adds Bird-Watching to List of Possible Ballpark Experiences (Photo) [NESN.com]
What Is Your Favorite Baseball Superstition? [NESN.com]
Kevin Youkilis Doesn't Expect Issues with Bobby Valentine to Linger, Hopes Team is 'One Big Happy Family' [NESN.com]
Red Sox to Let Off 100 Balloons With Tickets Inside on April 18 to Celebrate Fenway's 100th Anniversary [NESN.com]
Red Sox Won't Be Able to Replace Jacoby Ellsbury, But Have Depth to Weather Storm in His Absence [Don Orsillo – NESN.com]
MLB announces order for draft June 4-6 [Projo Red Sox Blog]
A Series Matter: Red Sox-Rangers and Statistical Anomalies [Projo Red Sox Blog]
Exposito claimed by Orioles [Projo Sox Blog]
Youkilis back in the lineup, looking ahead [Projo Sox Blog]
Ellsbury still waiting [Projo Sox Blog]
Crawford gets PAs in extended [Projo Sox Blog]
Lester looks to shut down dangerous Rangers [RedSox.com]
In Boston, words carry great deal of weight [RedSox.com]
O's claim catcher Exposito off waivers [RedSox.com]
The Book: Chris Hernandez [SoxProspects.com]
Valentine's motives remain a mystery [Touching All The Bases]
Follow Ian on Twitter @soxanddawgs. And be sure to like us on Facebook as well.
Photo credits: Reuters Pictures, Getty Images