When the Tampa Bay Rays got four runs in the 1st inning against Clay Buchholz, it seemed as though it was going to be a long day for him and the Boston Red Sox. It turned out that was not the case at all.
In fact, it ended up being a long day for the Rays after the Red Sox rallied for a 13-5 win.
With the Rays holding a 5-2 lead after the top of the 3rd inning and his pitch count quickly getting higher, Buchholz settled down and kept his team in the game. And while he was doing this, the offense was gradually wearing down Rays starter Jeremy Hellickson and getting the Red Sox back into the game.
Once he got command of his cutter, changeup and curveball, Buchholz was pretty much untouchable, he retired 12 of the final 14 batters he faced after the 3rd inning. Only Jose Molina (single in the 4th) and Matthew Joyce (single in the 5th) reached base for the Rays the rest of the game.
After the slow start, Buchholz ended up going seven innings, allowing five runs on six hits and three walks while striking out five. Franklin Morales and Alfredo Aceves were perfect in their inning of work each with Morales striking out one and Aceves two. For Buchholz, it was his first win since June 16, 2011 which happened to be his last start before going on the shelf with the back injury.
The most important thing right now is that his back is healthy. Everybody is going to have a start like Buchholz did once in a while. It was the second straight game that he had given up four runs in the first inning. But it's not how you start, it's how you finished. And I think we can all say that he did a great job of finishing up the game.
The Red Sox offense once again stole the show. Like in the home opener, they used a big 8th inning to put away a close game. This time though, they only got five runs.
We all know chicks dig the long ball, so the chicks must have really dug the Red Sox on Saturday afternoon. All told on the day, they ended up with five home runs, one each by Jarrod Saltalamacchia (2nd inning), Dustin Pedroia (3rd inning), David Ortiz (5th inning), Mike Aviles (7th inning) and Cody Ross (8th inning).
Salty's two run homer in the 2nd got the Red Sox to within 4-2. After the Rays got a run in the top half of the 3rd, Pedroia's solo blast got them back to within two runs at 5-3. Big Papi's two-run shot into the Red Sox bullpen in the 5th tied the game and Aviles home run off the top of the monster gave them the lead for good at 6-5. Ross' two run johnson in the 8th provided the final margin of 13-5.
Despite the fact they are without Jacoby Ellsbury for what most likely will be the next 6-8 weeks, people thought the Red Sox might struggle without their offensive catalyst. But that was far from the case, as Aviles took over the leadoff duties and went 3-for-5 with an RBI on his solo home run. Pedroia backed him up with two hits.
Big Papi had the biggest day on offense for the Red Sox which saw only Darnell McDonald go without a hit. Papi ended up going 4-for-5 with five RBIs. Ross also had a nice day with two hits and four RBIs. He had a big two run double in the 7th after the Aviles home run and the Red Sox had loaded up the bases.
So far, Fenway has been good to the Red Sox. Nothing like a little home cooking and time with the family that makes thing all the better. Hopefully that'll continue this afternoon.
To see today's lineups, as well as the batter/pitcher matchups as well as links from the day, please click on the read more button below if you're on the home page.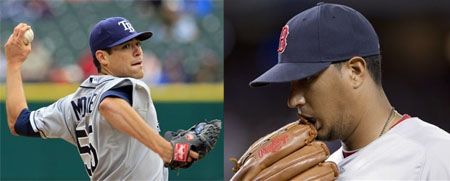 After picking up their second straight win, the Boston Red Sox look for their third straight win in the third game of a four-game set against their AL East rivals the Tampa Bay Rays.
First pitch is scheduled for 1:35 p.m. and the game will be broadcast in the Red Sox television market on NESN. If you live in the Rays television market, you can catch the game on Sun Sports. And if you don't live in either market you're in luck as well as TBS will have national coverage of the game (not in Red Sox or Rays television markets) of the game as well. If you can't catch the television broadcast, you can always listen to it on the Red Sox radio network.
Felix Doubront looks for his first win of the season after picking up a no decision (2 ER/5 IP) in his first start. Doubront faced the Rays twice last season out of the bullpen and had no record with a 3.86 ERA (1 ER/2.1 IP). In four career appearances (one start) against the Rays, he is 0-1 with a 3.12 ERA (3 ER/8.2 IP).
Matt Moore is also looking for his first win of 2012 after picking up a no decision (2 ER/6.2 IP) in his first start. He's made one career appearance against the Red Sox and that came last year on September 17th at Fenway Park when he allowed one run in three innings.
Here are today's lineups:
And here is how the hitters have fared against today's starting pitchers: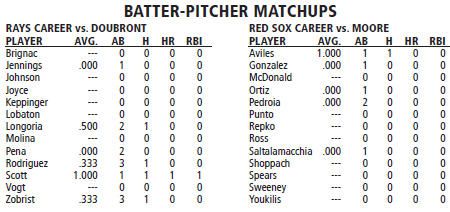 Che-Hsuan Lin was optioned to Pawtucket to make from for Repko on the 25-man. Luis Exposito was designated for assignment to make room for Repko on the 40-man roster.
Nate Spears was called up from Pawtucket. To make room on the 25-man and 40-man roster, Michael Bowden was designated for assignment.
REFRESH OR CHECK BACK OFTEN AS MORE LINKS WILL BE ADDED BEFORE GAMETIME IF/WHEN THEY BECOME AVAILABLE AND WILL BE BOLDED
To open the links up in a new tab or window, use Control+click
Power ball pays off in a big way for Sox [Boston Globe]
Ellsbury on DL; no timetable for return [Boston Globe]
Put on the spot, Aviles leads way [Boston Globe]
Lin picked as outfield fill-in [Boston Globe]
Long-term deals are a game of risk and reward [Boston Globe]
The choice for our bambino [Boston Globe]
Finally, Red Sox can smile [Boston Herald]
Franklin Morales in a groove [Boston Herald]
Clay Buchholz battles back to win [Boston Herald]
No timetable for Jacoby Ellsbury [Boston Herald]
Have the Red Sox figured out the secret to beating Tampa Bay? [Rob Bradford – WEEI.com]
Bowden designated [Clubhouse Insider]
Red Sox take sting out of Rays, 13-5 [CSN New England]
Red Sox offense kicks into overdrive [CSN New England]
Ross enjoys Fenway digs [CSN New England]
Buchholz starts slow, finds groove [CSN New England]
Aviles delivers in leadoff spot [CSN New England]
Sox call up Repko and Spears, designate Bowden [CSN New England]
Ellsbury to be examined soon; Crawford hitting [CSN New England]
Valentine on Robinson: Baseball needed him [CSN New England]
Repko starting in centerfield for Red Sox [CSN New England]
Rapid Reaction: Red Sox 13, Rays 5 [ESPN Boston]
Offense comes to life at Fenway [ESPN Boston]
Aviles gets first look as leadoff man [ESPN Boston]
Sox call up Jason Repko to start in CF [ESPN Boston]
Notes: Crawford close, Lackey plays catch [ESPN Boston]
Valentine pays tribute to Jackie Robinson [Extra Bases]
Rays make some roster moves [Extra Bases]
Before hitting home run, Luke Scott clarifies Fenway Park comments [Full Count]
Closing Time: David Ortiz, Mike Aviles pace Red Sox to another win over Rays [Full Count]
There is a new closing song for the Red Sox closer [Full Count]
Kelly Shoppach Picks 'The Stop, Shop and Roll' as Winning Name for Unconventional Slide Into Second Base [NESN.com]
Clay Buchholz Changed Mental Approach, Improved Location to Rebound From Tough Start [NESN.com]
Johnny Pesky's Debut at Fenway Park in 1942 a Highlight in Red Sox History [NESN.com]
Clay Buchholz 'Didn't Give Up,' and Neither Have Red Sox [NESN.com]
Mike Aviles Proves Capable of Hitting Leadoff for Red Sox During Jacoby Ellsbury's Absence [NESN.com]
David Ortiz Ready to Lead Red Sox Offense, Says 'It's Time to Produce' [NESN.com]
Fenway Park Still Shines As Red Sox Fans Enjoy 100th Anniversary of 'America's Most Beloved Ballpark' (Photos) [NESN.com]
Carl Crawford Anxious To 'Help As Much As Possible' In Wake Of Jacoby Ellsbury's Injury [NESN.com]
Crawford likely to play in first minor-league games Tuesday [Projo Sox Blog]
Repko getting to know Fenway [Projo Sox Blog]
Valentine reflects on Robinson [Projo Sox Blog]
A fresh start or a rude awakening awaits for Michael Bowden [Projo Sox Blog]
Lin's first stay in Majors could be short-lived [RedSox.com]
Red Sox honor Pesky and longtime fan [RedSox.com]
Green first to break color barrier with Sox [RedSox.com]
Aviles makes transition into leadoff spot [RedSox.com]
Doubront takes aim at first win against Rays [RedSox.com]
Red Sox add Spears and Repko to roster [RedSox.com]
Once swelling subsides, more tests for Jacoby [RedSox.com]
Crawford close to getting some game action [RedSox.com]
Red Sox workout former Cub Mark Prior [SoxProspects.com]
For more slices of Red Sox goodness, head over to the Boston Globe, Boston Herald, CSN New England, ESPN Boston, NESN, Providence Journal, RedSox.com and WEEI websites.
And if you must check out the enemy news, head over to the Tampa Bay Times and Tampa Tribune websites.
Follow Ian on Twitter @soxanddawgs. And be sure to like us on Facebook as well.
photo credits: Getty Images, AP Photo, AP Photo