After taking the home opener 12-2 yesterday, the Boston Red Sox look for another win in game two of a four-game set with their AL East rivals the Tampa Bay Rays at Historic Fenway Park this afternoon.
First pitch is scheduled for 4:05 p.m. and the game will be broadcast in the Red Sox television market on NESN. If you live in the Rays television market, you can catch the game on Sun Sports.If you can't catch the television broadcast, you can always listen to it on the Red Sox radio network.
After picking up a no decision in his first start after allowing seven runs in four innings of work against the Detroit Tigers, Clay Buchholz looks for his first win in his first home start of the year. Buchholz faced the Rays once last year on June 16th, picking up the win after allowing one run in five innings of work. He's made eight career starts against the Rays and is 4-2 with a 1.81 ERA (10 ER/49.2 IP).
Jeremy Hellickson had a little scare this week when he was hit by a ball in the head during batting practice but is okay to make his second start of the season for the Rays. He picked up the win his first start against the Yankees after throwing 8.2 innings of three-hit shutout baseball. Hellickson made four starts against the Red Sox in 2011 and was 2-1 with a 3.38 ERA (9 ER/24 IP). Overall in his career, he's made five appearances (four starts) against the local nine and is 2-1 with a 4.21 ERA. Three of those appearances (two starts) have come at the Fens where he is 2-0 with a 4.26 ERA (6 ER/12.2 IP).
Click on the read more button below to see today's lineups, batter/pitcher matchups and links from the overnight and day if you're on the home page.
Here are today's lineups:
And here is how the hitters have fared against today's starting pitchers: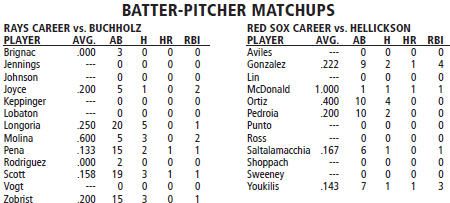 REFRESH OR CHECK BACK OFTEN AS MORE LINKS WILL BE ADDED BEFORE GAMETIME IF/WHEN THEY BECOME AVAILABLE AND WILL BE BOLDED
To open the links up in a new tab or window, use Control+click
Lin for Ellsbury [Clubhouse Insider]
Ellsbury fallout [Clubhouse Insider]
Red Sox call up Lin [CSN New England]
Ellsbury placed on DL with 'subluxed shoulder' [CSN New England]
Aviles to bat leadoff [CSN New England]
Crawford taking BP; Ellsbury injury roster shuffle [CSN New England]
The Baseball Show: Assessing Jacoby's injured right shoulder [CSN New England]
Outfielder Lin gets call from Pawtucket [ESPN Boston]
Aviles moves into leadoff spot — for now [ESPN Boston]
Sox try to build momentum against Rays [ESPN Boston]
Ellsbury: No timetable for return [Extra Bases]
Ellsbury may avoid surgery on shoulder [Extra Bases]
Jacoby Ellsbury Diagnosed With Subluxed Shoulder, Placed on 15-Day Disabled List [NESN.com]
Che-Hsuan Lin Called Up to Big Leagues From Pawtucket to Replace Injured Jacoby Ellsbury [NESN.com]
Scott Atchison's Strong Performance Out of Bullpen Leads to Amica Pitcher of the Week Honors [NESN.com]
Doubront making adjustments after first start [Projo Sox Blog]
Why the Red Sox still have 13 pitchers [Projo Sox Blog]
Lin's defensive reputation has preceded him [Projo Sox Blog]
Aviles taking aggressive approach to top of lineup [Projo Sox Blog]
Buchholz looks to notch first win facing Rays [RedSox.com]
Ellsbury placed on DL with subluxed shoulder [RedSox.com]
Follow Ian on Twitter @soxanddawgs. And be sure to like us on Facebook as well.
Photo credits: Getty Images, AP Photo