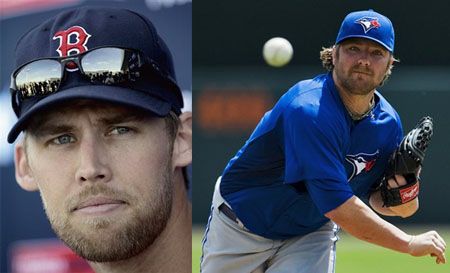 After rallying for a 4-2 win last night, the Boston Red Sox look to make it two in a row in the second game of a three-game set with the Toronto Blue Jays at Rogers Centre in Toronto, Ontario, Canada.
First pitch is scheduled for 7:07 p.m. and the game will be broadcast in the Red Sox television market on NESN. If you live in the Blue Jays television market, you can catch the game on Rogers SportsNet. If you can't catch the television broadcast, you can always listen to it on the Red Sox radio network.
24 of the 25 players on the Red Sox roster have played. Tonight, Daniel Bard makes it 25 of 25 in his first MLB start after 192 appearances out of the bullpen. In 70 appearances in 2011, Bard was 2-9 with a 3.33 ERA and one save. He made nine appearances against the Jays last year and was 0-2 with a 7.71 ERA (8 ER/9.1 IP). He's made 21 career appearances against them and is 0-2 with a 4.07 ERA. 11 of Bard's appearances against Toronto have come at the Rogers Centre where he is 0-1 with a 5.40 ERA.
After splitting last season between Triple-A and Toronto, Kyle Drabek makes his first start of 2012 for former Red Sox pitching coach John Farrell. In 18 appearances (14 starts) in 2011, Drabek was 4-5 with a 6.06 ERA. He made two starts against the Red Sox in 2011, which also marks his career appearances against them. In those two starts, Drabek was 0-1 with a 12.00 ERA (12 ER/9 IP).
Click on the read more button below to see today's lineups, batter/pitcher matchups and links from the overnight and day if you're on the home page.
Here are today's lineups:
And here is how the hitters have fared against today's starting pitchers: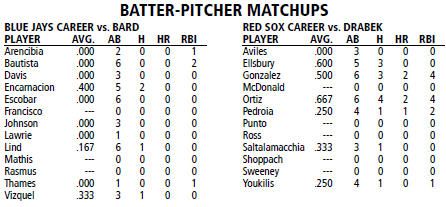 REFRESH OR CHECK BACK OFTEN AS MORE LINKS WILL BE ADDED BEFORE GAMETIME IF/WHEN THEY BECOME AVAILABLE AND WILL BE BOLDED
To open the links up in a new tab or window, use Control+click
The Fenway Years: Carl Yastrzemski (1961-1983) [Boston Herald]
Pedroia, Ortiz: Clubhouse not a problem [Rob Bradford – WEEI.com]
David Ortiz on Red Sox' first win: 'No more crying' [Clubhouse Insider]
Why Daniel Bard sleeps better at night as a starting pitcher [Clubhouse Insider]
Bard making first ML start tonight [ESPN Boston]
What to watch for with Bard tonight [ESPN Boston]
Of comebacks, rallies and resiliency, then and now [ESPN Boston]
Daniel Bard speaks bullpen's language [ESPN Boston]
Podcast: Seeking the positive in a 1-3 start [Extra Bases]
Bryce Brentz on his path through the minors [Extra Bases]
So why did David Ortiz try and steal that base? [Full Count]
No rest for relievers: Mark Melancon isn't losing sleep over losing sleep [Full Count]
PawSox pitcher Germano still employing lessons learned from Greg Maddux [Projo Sox Blog]
Iglesias on furor over Guillen remarks: "It is a big deal" [Projo Sox Blog]
With assist from Beckett, Ohlendorf adds cutter to repertoire [Projo Sox Blog]
Bard prepared for first big league start [RedSox.com]
Bradley aiming for fast start [SoxProspects.com]
Follow Ian on Twitter @soxanddawgs. And be sure to like us on Facebook as well.
Photo credits: AP Photo, Reuters Pictures