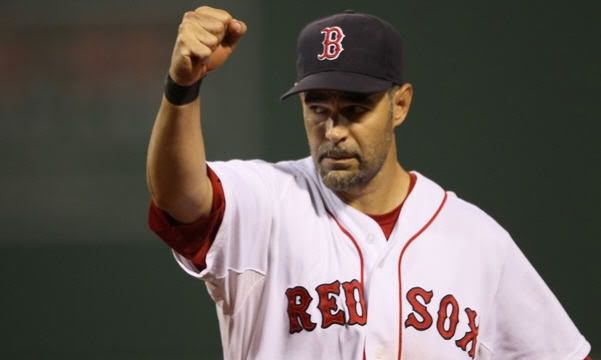 From the sounds of what Boston Red Sox first baseman Mike Lowell said after the game on Sunday night, it sure seems like he's going to retire after the 2010 season.
Here's what he told reporters after the game:
"I'm pretty much set in knowing what I'm going to do after this year," Said Lowell. "It will be fun. It will be fun enjoying my kids."
Lowell had broached the subject back in April when it looked like he was man without a country. And given everything that's happened this season, you really can't blame him at all.
Originally a throw-in aka salary dump by the Florida Marlins in the Josh Beckett deal, Lowell's done nothing but produced in a Red Sox uniform.
In 2006, he played 153 games and hit .284 with 20 home runs and 80 RBIs. During the 2007 season that ultimately saw him becoming the World Series MVP, Lowell hit .324 with 21 homers and 120 RBIs. He battled injuries in 2008 and 2009 and we all know the story of Lowell's 2010.
In five seasons total with the Red Sox, Lowell has played in 586 games with 79 home runs and 367 RBIs.
If he did decide to come back, it's highly unlikely he'd be back in a Red Sox uniform. But no matter what happens, Mikey LOL as I like to call him will be truly missed.
He'll definitely be remembered for one thing too and that's being the ultimate consummate professional. You may never meet a nicer person than him.
If you have the honor of attending the last Red Sox game this season whether it be in the regular season or postseason be sure to give Lowell the ovation that he so truly deserves. And maybe just maybe, he'll pay you back with another home run.
Photo credits: Getty Images