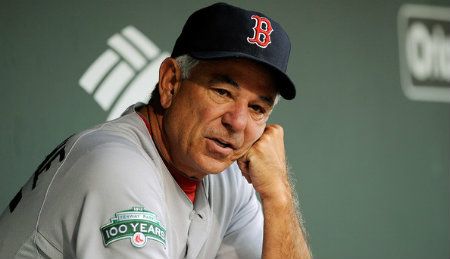 On September 1, 2011 the Boston Red Sox were 83-52 that's a .615 winning percentage and they were playing the best baseball in the majors since their slow start in April.
Then came the epic collapse of September when they went 7-20 (.259). We know all about the beer and chicken club, what happened to manager Terry Francona and that Vice President and General Manager Theo Epstein ran away to take over one of the saddest franchises in all of pro sports.
Ben Cherington was named as Epstein's replacement and was given the task of selecting the replacement for Francona. Cherington had some candidates that he interviewed all very good baseball men in Sandy Alomar Jr., Gene LaMont, Torey Lovullo; Pete Mackanin and Dale Sveum.
Many had ties to the organization or Boston in some form and anyone of those guys would have made a great manager. Personally I felt Lovullo was the guy for the job and he would be leading the Red Sox in 2012. Cherington felt Sveum was the better choice and brought it to ownership for their blessing.
John Henry, Tom Werner and Larry Lucchino along with Cherington had a breakfast meeting with Sveum. It was presumed after this meeting that Cherington told "The Trio" that the former Red Sox third base coach was his choice as manager.
Somewhere in that breakfast meeting something either went wrong or Cherington and Sveum never stood a chance against Lucchino and notorious meddling ways. Shortly there after Lucchino just happened to run into Bobby Valentine at a winter baseball hot stove function in Hartford CT and invited the former Texas Rangers and New York Mets field boss to Boston to interview for the managerial post.
In a very short time period the 2012 Red Sox went from possibly being Sveum's team (he was hired by Epstein to manage in Chicago) to being Valentine's.
When this little back room power play happened at the hands of Lucchino, most of, if not all of, Red Sox Nation started to scream foul. I know of not one Red Sox fan that is a Valentine fan or that pimped him to other fans for the job.
In fact most Red Sox fans I know felt as soon as his name was mentioned it had disaster written all over it. And the few Red Sox fans that I know who have no real feelings about Valentine, even they can look back to December 2011 and think this wasn't such a hot idea.
So what Lucchino did, was take a team that was fairly unstable after the collapse and team that saw its longtime manager lose his job and instead of trying to find someone who could manage the players, the clubhouse, the media, the fans and everything that being the manager of the Boston Red Sox entails, he threw jet fuel on a fire.
Now you have a volatile personality mixed with head strong athletes, a manager who was force fed half of his coaching staff and who didn't have a pitching coach until late in the offseason and then he got one he never really talked to.
Now throw in the aftermath of last year and the fans and media looking to the involved players for explanations. Instead of the players manning up like Jon Lester or Clay Buchholz you had players like Josh Beckett cop an attitude. Adrian Gonzalez, when asked by Hannah Storm on ESPN about the beer and chicken said, "people have to eat." Was he trying to be funny? Was he trying to diffuse a situation? Even though Gonzalez had only been in Boston a year, should have realized how that comment would play.
Then after all that drama the team came out of the gate and stumbled badly. And while everyone from the players to the manager to the front office to the media and the fans waited for them to have a run and correct that bad start it never really happened.
To continue reading, please click on the read more button below if you're on the home page.
Now here we sit nearly a full year after the collapse the team is 63-76 (.453) they are out of playoff contention, their manager is melting down before our eyes and the season is a smoldering pile of horse shit.
Since last September 1, the Boston Red Sox are 70-96 (.422 winning percentage) in one calendar year they went from 31 games above .500 to 26 games below .500, that a 57 game swing.
So who is too blame? Francona has to bear responsibility for anywhere from some to a majority of the September fade. Valentine has a hand in this debacle too but even though I have felt that all along he wasn't the guy that was needed here it's not fair to say it's all on him but he is far from faultless.
Injuries have played a large factor in the season. The team lost a lot of games to injuries from Jacoby Ellsbury, David Ortiz, Daisuke Matsuzaka, John Lackey, Andrew Bailey, Carl Crawford and Will Middlebrooks. Then there was the awful starting pitching, the untimely hitting, the ill-advised bullpen meltdowns and the crazy or non-existent in game managerial decisions.
The trade with the Los Angeles Dodgers freed the team of some burdensome contracts. With the Dodgers eating most of the money on the contracts of Beckett, Crawford and Gonzalez it will allow the team some financial freedom.
While I am thrilled Beckett is gone; I was disappointed to see Crawford and Gonzalez leave. I felt the "Texas Toughguy" should have been sent packing after the 2011 season along with a few others. If the management team had stood up for the manager last year instead of allowing some of the lunatic fringe to run the clubhouse this team would have been very different this season.
I believe if that had been done Francona would have not been fired, Epstein might have stayed and you wouldn't have had the poisonous clubhouse situation that has permeated the team the entire season.
When the trade was made and even as and after Epstein left, both he and Cherington have mentioned how the team, the front office staff had lost its way. It seemed they were spending money to get names like Gonzalez, Crawford and Lackey not really envisioning how they would have fit in with the other components of the team.
While I loved Crawford, I felt that off season that Jayson Werth may have been a better way to go but I never envisioned that Washington would give him that large of a contract. If he would have signed a more reasonable contract he would have been a better outfield fit.
A few days ago I tweeted "how different would this Red Sox team be if they had been able to re-sign Victor (Martinez) and Adrian (Beltre) and maybe Jason Bay?" If that had happened you wouldn't have had Crawford or Gonzalez and Kevin Youkilis would most likely still be playing first base.
Just having two of those three players would have made a huge difference in clubhouse both this year and last. They were respected and had a voice and I believe would have done the right thing when it needed to be done. I'm still disappointed in how the team leaders failed to step up at the end of last season.
Now nearly a full year later the Red Sox, winners of two World Series Championships since 2004, are now a huge laughingstock. Most of this team has quit, the manager has quit and the ownership quit. Valentine won't be here in 2013 unless he has compromising pictures of the owners.
So who manages this sad excuse for a team in 2013?
A change needs to be made it's evident to anyone who is watching or reading about this club but who makes the decision?
Henry is on record in the last week or two of saying that he believes "Ben is the right guy to make the final decisions for the team." If that is so why was he over ruled and Lucchino allowed to operate his managerial power play?
There are many rumors out there. One has Francona returning but that is far fetched and wishful thinking after the way he and his family were treated on his way out last fall. Stranger things have happened, like Phil Jackson returning to the Lakers, but for Francona to comeback it would take an act of God.
Another is that the Los Angeles Angels would allow their World Series winning manager Mike Scoiscia to walk away and he comes to Boston to manage. Scoiscia would be an interesting choice as I look at him as a blend of Francona's leadership and Valentine's no-nonsense. He is highly respected in the game and the pitching staff would probably be better.
The most intriguing choice to me continues to be if John Farrell were to comeback from Toronto. Unless the Blue Jays fire him, which is unlikely, Farrell would come with a price tag. It wouldn't be the first time a manager was traded for a player(s). But what do you give up to get Farrell?
While his record in Toronto isn't lighting the world on fire, to me Farrell is the guy for the job. He is a known commodity in both the clubhouse and front office and he has the respect of the players and the ownership. And let's face it this pitching staff has not been the same since he left after the 2010 season.
But what would it take to get Farrell? Money on the contract isn't an issue. The Red Sox could overpay Farrell much more that Toronto ever could. It would be what the Blue Jays would want as compensation? Buchholz is too high a price to pay but I am sure they could work out some sort of package of a low-level major leaguer with a minor leaguer or two for Farrell.
Then once a new manager is in place this roster needs to be reshaped badly. On the current active roster I see them keeping only 13 or 14 guys with others walking in free agency or being traded away.
There's a lot of work to be done on Yawkey Way before the first pitch of the 2013 season. And there is no guarantee that the team that's assembled in 2013 will make the playoffs but as long as they can contend and play with some fire anything will be better than what we have suffered through this season.
Follow Steve on Twitter @SteveMichaelsII
photo credit: getty images