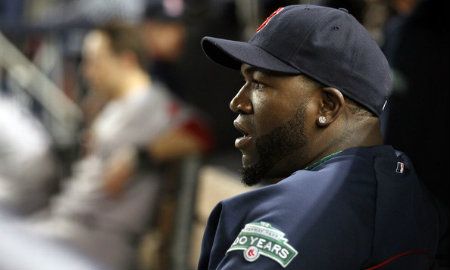 Former Boston Red Sox douchebag manager Bobby Valentine told Bob Costas a few weeks ago that David Ortiz quit on the team. Well it's obvious the team didn't think so otherwise, they wouldn't have agreed to keep him in Boston.
According to multiple media reports, the Red Sox and Big Papi have agreed to a two-year deal worth $26 million with a chance to make up to $30 million with incentives.
Earlier on Friday, the Red Sox had given him a qualifying offer of $13.3 million to ensure themselves of draft picks had they not reached a deal and Ortiz decided to sign elsewhere. While it didn't seem like that would happen, the Red Sox had to protect themselves.
Honestly, $13 million a year sounds like a lot for someone that will turn 37 years old in 16 days. But given his production before hurting his Achilles in 2012, the Red Sox will need him to repeat that again next year.
Papi was hitting .318 with 23 home runs and 60 RBIs before the injury shut him down for the season.
This is just the first step of many Ben Cherington and John Farrell have to do as they build the 2013 version of the Red Sox.
And while I don't expect the Red Sox to be major players with the big names in free agency (which begins at 12:01 a.m. on Saturday), I would expect them to at least be active. They still need a first baseman, at least one outfielder, maybe two and some starting pitching.
So it's time to buckle and enjoy the ride of what continues to be yet another interesting offseason for the Red Sox.
Follow Ian on Twitter @soxanddawgs. And be sure to like us on Facebook as well.
photo credit: getty images