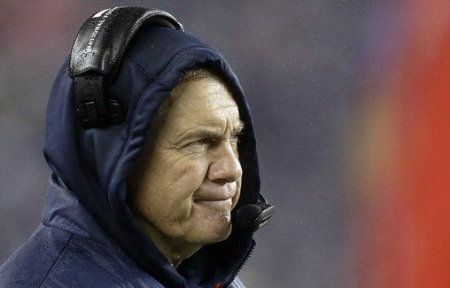 The San Francisco 49ers came into Foxboro to face the New England Patriots in a much anticipated Sunday Night Football game between two of the NFL's dynasty teams.
What we witnessed looked like it came out of a Pop Warner league on a Sunday morning in more ways than one.
Playing in a driving New England rainstorm early on it was a sloppy game on both sides. In just the first quarter alone New England had two fumbles, one was ruled down, and an interception of Tom Brady. S Carlos Rogers returned the pick all the way to the 5-yard line before Brady threw the first hip check of the season to make the touchdown saving tackle.
San Francisco wasn't much better as they had three fumbles (two by QB Colin Kaepernick), losing only one (by RB Delaney Walker), and a missed field goal but they still managed to take a 7-0 lead on a Kaepernick pass to former Patriots WR Randy Moss.
The 2nd quarter didn't start any better for the Niners, on a 4th down conversion Kaepernick had his 3rd fumble of the half (he retained them all) and San Francisco turned the ball over on downs in Patriots territory.
New England was able to march down field and come away with a 32-yard field goal by K Stephen Gostkowski to cut the lead to 7-3.
San Francisco responded by moving the ball through the rain and drove down field with the help of a pass interference penalty on Patriots CB Aqib Talib. They capped the 80-yard drive with a Kaepernick TD pass to Walker to increase their lead to 14-3.
After an extremely confusing explanation of a possible muffed punt that also included a penalty (eventually assessed on the Niners) Kaepernick once again led a drive down field using both his arm and his legs. He had a big pass to WR Michael Crabtree, RB Frank Gore had a couple of good runs and then Kaepernick himself tore off a 19 yard run as the clock wound down on the half.
After Gore got stopped on 2nd and goal with just 3 ticks left on the clock San Francisco settled for a 20-yard field goal by David Akers the lead to 17-3 at the half.
The Niners ended up jumping out to a 31-3 lead midway through the third quarter when they tacked on TD's by Gore on a recovery of Kaepernick's 4th fumble of the night. They added another after Brady was intercepted for the 2nd time in the ensuing drive. On the very first play post turnover Kaepernick threw his third TD pass of the game to Crabtree and it was 31-3 San Francisco.
New England though didn't stay down they climbed back into the game with a 6-yard Danny Woodhead TD run, a Brady one-yard sneak, a TD pass from Brady to Hernandez and then another short run by Woodhead and suddenly it was 31-31.
With it looking like a game of Madden 2013 had broken out at Gillette Stadium, 49ers KR LaMichael James got a big return for the Niners into Patriots territory. Kaepernick then hit Crabtree along the sideline and he went all the way into the end zone as San Francisco regained a 7-point lead.
After getting the ball back on a punt the Patriots ended up going four and out deep in the their own territory. And after a wild comeback to tie the game the Patriots fell short in the end as they lost to San Francisco, 41-34.
Niners at Patriots Gamebook includes the box score, all the stats, play by play, drive charts and more.
Niners at Patriots Game Recap.
To continue reading, hit the read more button below if you're on the home page.
Turning Point of the Game
LaMichael James runs back a kickoff into Patriots territory after New England had tied the game. San Francisco scored on the next play.
Offensive Player of the Game
Niners WR Michael Crabtree had 7 catches for 107 yards and 2 TD's.
Defensive Player of the Game
San Francisco LB NaVorro Bowman had 12 tackles (8 solo, 1 special team); 1 tackle for loss and a forced fumble.
Game Notes
Starters for the Patriots were:
On Offense:
LT Solder
LG Mankins
C Wendell
RG Connolly
RT Vollmer
TE Hernandez
TE Hoomanawanui
WR Welker
WR Lloyd
QB Brady
RB Ridley
On Defense:
DE Ninkovich
DT Wilfork
DT Deaderick
DE C. Jones
LB Mayo
LB Rivera
LB Hightower
CB Talib
CB Dennard
S Gregory
S McCourty
Inactives for the Game:
Patriots
1. TE Rob Gronkowski (forearm/hip)
2. S Derrick Martin
3. LB Tracy White
4. DE Ron Brace (back)
5. OL Markus Zusevics
6. DE Jake Bequette
Niners
1. S Trenton Robinson
2. RB Jewell Hampton
3. LB Tavares Gooden
4. G Joe Looney
5. WR Mario Manningham
6. NT Ian Williams
The spread (Patriots MINUS 5) WAS NOT covered. The over/under (46.5) WAS COVERED. I GAVE the points (Patriots) and took the OVER. I am now 3-11 vs. the spread and 10 of 14 calling the under/over.
The Patriots are 18-16 all-time on Sunday Night Football, 11-6 as the home team and 6-4 at Gillette Stadium.
This was the 12th meeting between the Patriots and the 49ers since the merger in 1970.
The Patriots had won the last three meetings between the teams before Sunday night's loss.
This was the second meeting between the teams at Gillette Stadium and 7th overall in Foxboro.
The Niners lead the overall series 8-4.
New England is 3-4 as the home team in the series.
Since 1999 the Patriots have the best record in the NFL at 157-65.
New England had its 7-game winning streak snapped.
Since 2001 the Patriots are 72-17 in games played on Thanksgiving or later.
Since 2001 New England is 43-6 in December games.
The Patriots are now a combined 21-1 in the second half of the season since 2010. It was their first second half loss since Week 17 in 2010.
The Patriots lost their first December home game since December 22, 2002 when they were beaten by the New York Jets, 30-17.
The Patriots are 23-2 in December home games since 2002.
The Patriots had a 13 game December win streak snapped dating back to 2009.
Since Gillette Stadium opened in 2002, the Patriots are 72-15 at home in the regular season.
They are 18-4 vs. the NFC at Gillette Stadium. The Packers (2002), Giants (2011) Cardinals (2012) and now the 49ers are the only NFC teams to have beaten the Patriots at home since 2002.
The New England defense has forced a turnover in 25 consecutive games dating back to Week 6 in 2011.
Bill Belichick is now 202-108 including playoffs in his career.
Belichick's 202 wins are good for 7th all-time.
Bill Belichick is 3-1 vs. the San Francisco in his career (2-1 with the Patriots).
Tom Brady is 1-1 against San Francisco in his career. Overall including playoffs he is 150-44.
He became the 5th QB in NFL history to throw for 4,000+ yards in a season five times joining Peyton Manning (12x), Drew Brees (7x), Dan Marino (6x) and Brett Favre (6 x).
Brady had his career high 4 rushing TD of the year.
Brady has 330 TD passes in his career he is now 5th all-time. Hall of Famer Fran Tarkenton is 4th with 342.
He has thrown 30+ TD passes for the 4th time in his career.
Brady has thrown at least 1 TD pass in 46 consecutive games.
WR Wes Welker now has catches in 115 consecutive games including playoffs, 98 as a Patriot. The last time Welker did not have a catch in a game was 12/24/05 as a Dolphin.
Welker went over 100 catches for the season for the 5th time in his career.
RB Danny Woodhead had 12 carries for 61 yards and 2 TD's.
TE Mike Hoomanawanui's 41-yard grab in the 3rd quarter was the longest of his career.
WR Brandon Lloyd had 10 catches for 190 yards with a long of 53 yards. It is the highest single game total for a Patriots receiver in 2012.
S Devin McCourty had his team leading 5th INT when he picked Kaepernick on the opening drive of the second half.
CB Aqib Talib had his first fumble recovery of the season.
S Steve Gregory forced a fumble.
LB Jerod Mayo had a team high 12 tackles (5 solo).
DE Rob Ninkovich had a sack he now has a career high 7.5.
LB Dont'a Hightower and Ninkovich each had 2 tackles for loss.
Hightower, Gregory and McCourty all had a pass defensed.
WR Matthew Slater had 2 special teams tackles.
Roster moves this week:
WR Donte Stallworth was placed on IR.
TE Visanthe Shiancoe was released.
WR Deion Branch was re-signed by the team.
Signed WR/PR Tony Logan to the practice squad.
The Patriots sacked San Francisco QB Colin Kaepernick 1 time, while Brady was sacked 3 times.
New England is PLUS 22 in turnover differential, 1st in the NFL. The offense has given up 7 INT and 7 fumbles, while the defense has 16 INTs and 20 fumble recoveries.
The Patriots were 4 for 5 (100%) in the red zone. They had 4 TDs and 1 FG.
New England was 2 for 15 (13%) on third down conversions and 5 for 6 (83%) on 4th down attempts.
The Niners also had the NFL's best record in the 1990's going 122-54.
San Francisco is 4-3 all-time at New England and is 1-1 in Gillette Stadium.
The Niners snapped a three game series losing streak.
San Francisco is 13-9 on Sunday Night Football games, they are 4-4 as the road team.
San Francisco head coach Jim Harbaugh, is in his 2nd season, he is 23-6-1 in the regular season and 1-1 in the post season for an overall record of 24-7-1.
He is 1-0 vs. the Patriots.
49ers QB Colin Kaepernick is in his 2nd NFL season. He is 4-1 in the regular season and 1-0 vs. New England.
Kaepernick had four fumbles and San Francisco lost none of them.
San Francisco was 5 for 14 (36%) on 3rd down conversions and 1 for 2 (50%) on 4th down attempts.
The Niners were 1 for 4 (%) in the red zone. They had 1 TD, 2 FG's and a fumble.
San Francisco is PLUS 8 in turnover differential, tied for 11th in the NFL. The offense has given up 7 INT and 7 fumbles, while the defense has 12 INTs and 10 fumble recoveries.
Ed Hochuli was the game referee. The temp at kickoff was 34, cold and raining.
Attendance – 68,756 at Gillette Stadium in Foxboro MA.
Post Game Interviews
Patriots head coach Bill Belichick and Patriots QB Tom Brady post game press conference via patriots.com
This Week in the AFC East
Seahawks ripped the Bills, 50-17
Dolphins beat the Jags, 24-3
Jets face the Titans on Monday night.
AFC East Standings
Patriots 10-4/5-0
Jets 6-7/2-3
Dolphins 6-8/1-3
Bills 5-9/1-3
Next Week
The Patriots visit the Jacksonville Jaguars on Sunday at Ever Bank Field in Jacksonville FL. Kick off is at 1 p.m. on CBS.
Follow Steve on Twitter @SteveMichaelsII
photo credit: ap photo