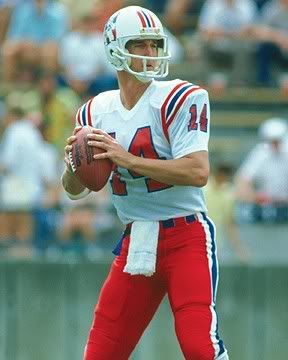 The New England Patriots have announced that they will wear 1985 replica uniforms in two games in the upcoming 2010 NFL season. The team, which has officially dropped the alternate silver jersey, will wear the alternate uniforms commemorating the 1985 Super Bowl XX team that was crushed in New Orleans by the Chicago Bears, 46-3.
The uniforms, which will feature the red jersey with Pat Patriot on the white helmet, are very similar to AFL 50th Anniversary throw backs the team wore last season. The team is allowed to wear them twice during the NFL season and will wear them at home on October 31 against the Minnesota Vikings and on the road November 25 in Detroit on Thanksgiving Day.
On that day I'd expect to see the white jersey with the red pants that was the road uniform for the club.
Photo credit: AP