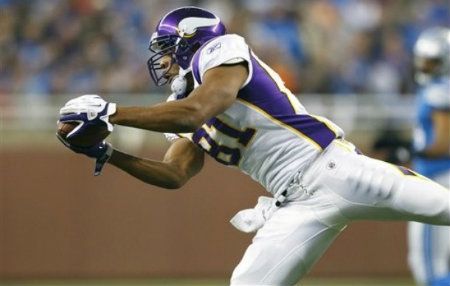 On Tuesday, just a day before players are scheduled for their first training camp exercises, the New England Patriots have signed veteran TE Visanthe Shiancoe (vi-sahn-TAY SHANK-oh).
Shiancoe, 32, a 3rd round pick of the New York Giants in the 2003 NFL Draft out of Morgan State was an unrestricted free agent. In addition to the Giants where he played from 2003-2006, he has spent the last five years playing for the Minnesota Vikings where at one time he was a favorite target of former quarterback Brett Favre.
Shiancoe, who was born in England but grew up in Maryland, is expected supply additional depth against injury and is an exceptional blocker and solid pass catcher. He also gives them several options in the no huddle with three tight ends on the field it create huge mismatches for Tom Brady to exploit.
His contract is for one season and is worth $1.2 million with $400,000 guaranteed.
The team also announced that it signed defensive lineman Tim Bulman, a native of Milton MA.
Bulman, 29, has played 7 seasons in the NFL with Arizona (2005) and Houston (2006-11) he was an undrafted free agent out of Boston College in 2005.
In order to make room on the roster, the Patriots released RB Joseph Addai, who they signed as a free agent in May after 6 seasons with the Indianapolis Colts.
Addai was a first round pick by Indianapolis in the 2006 NFL Draft out of LSU.
Follow Steve on Twitter @SteveMichaelsII
photo credit: ap photo