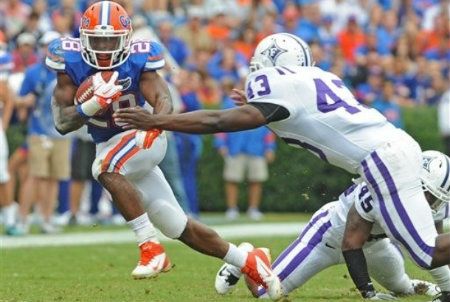 Jeff Demps wanted to represent his country in the 2012 London Olympics as a sprinter before pursuing his NFL career and he got to do that. In doing so, the former University of Florida running back/kick returner went undrafted this past April but it didn't mean he was unwanted,
At one time all 32 NFL teams made contact with Demps, 26 of them stayed in constant contact through out the Olympics and as many as 8 teams were still in on him today before he agreed to a 3 year contract with the New England Patriots.
The 5'7" native Floridian, who won a Bronze medal in the Olympics in the 4x100m relay, played his college ball at Florida under Urban Meyer where he was a National Championship winning team in 2009. In his four-year college career, he gained 2470 yards on 367 carries and scored 23 touchdowns.
He is expected to give the Patriots some unbridled speed in the backfield and possibly be used to return kicks and/or punts and is seen as a poor man's Percy Harvin in the return department.
Follow Steve on Twitter @SteveMichaelsII
photo credit: ap photo