With the injury to TE Aaron Hernandez, the New England Patriots have signed former Pro Bowl TE Kellen Winslow Jr. to a one-year contract.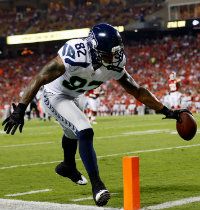 Winslow, who at one time, was considered one of the best tight ends in the game prior to suffering some injuries, including a knee injury, that derailed a potentially great career.
Originally drafted by the Cleveland Browns out of the University of Miami in the 2004 NFL Draft he was the 6th overall pick that year. At "The U" Winslow was a Mackey Award winner and an All-American.
In 2007 he made the Pro Bowl when he had 82 catches for 1,106 yards and 5 TD's. In 2009 the Browns traded him to the Tampa Bay Buccaneers where he showed he was still very productive and went on to lead the team in receptions in all three seasons he played there (2009-11).
This past offseason he was dealt by Tampa Bay to Seattle and was released at the end of camp when he refused to reduce his salary for cap reasons.
As part of his deal with the Patriots it is expected that he also signed an injury waiver in regards to his knees. This is pretty common in the NFL when it comes to pre-existing physical conditions.
Follow Steve on Twitter @SteveMichaelsII
photo credit: getty images