The New England Patriots made a bunch of roster moves today and one about a week ago that I was holding onto for a time like this.
Last week the Patriots released WR Anthony Gonzalez who they had signed this off season as a free agent hoping that he'd be healthy enough to play. Apparently that wasn't the case, as it looked like he still needed some more time to get ready to play and wouldn't be able to fully compete in camp and in preseason games.
Gonzalez made his name catching balls for Peyton Manning in Indianapolis but has been injury plagued the last few seasons and has only played sparingly.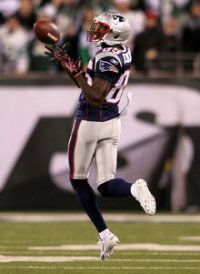 Today a league source has told the media that New England will be releasing former Pro Bowl WR Chad Ochocinco who was acquired in a trade last July from Cincinnati. Ochocinco had hoped to revive his career in Foxboro but he hardly saw the field even though his teammates and coaches defended him as a hard worker.
Reports are that the team tried all of Thursday to trade Ochocinco but were unable to find a compatible or possibly even a willing trade partner.
Ochocinco probably saw the writing on the wall when New England signed an entire fleet of new wide receivers this offseason including Brandon Lloyd, Jabar Gaffney and Donte Stallworth. Ochocinco and Gonzalez are now free agents and able to sign with any of the NFL teams.
The team also confirmed today that they released DE Markell Carter, TE Nick Melillo and OL Jon Opperud. Melillo and Opperud were recently signed undrafted free agents. Melillo played his college ball at Kentucky while Opperud attended Montana.
The big surprise was the release of Carter who just recently was given a big practice squad contract that was going to pay him about $375,000 this season. He was highly thought of in the organization and the team seemed to want to make some sort of commitment to him. He spent all of last season on the practice squad after being taken in the 6th round of the 2011 draft out of Central Arkansas.
In addition to the cuts the team also signed veteran free agent tight end Bo Scaife. He spent the last six seasons with the Tennessee Titans after the club drafted him in the sixth round of the 2005 draft out of Texas.
Follow Steve on Twitter @SteveMichaelsII
photo credit: Getty Images