When the rookies reported to Gillette Stadium earlier this week they were subjected to their team physical and five of the 1st year players failed according to the team.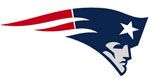 Failing the physical on Thursday were WR Jeremy Ebert, WR Matt Roark, DE Justin Francis, OL Jeremiah Warren and OL Markus Zusevics.
Ebert was placed on the Active/PUP list as he is still suffering from a leg injury suffered during minicamp.
The others were placed on the Active/Non-Football injury list. Players can be removed from those lists at anytime prior to the start of the season.
On Friday the team decided to release Roark, who was a long shot to begin with. There is no word if the failed physical resulted in the release or if the player asked to be released.
Follow Steve on Twitter @SteveMichaelsII