The NFL has announced the opponents for the New England Patriots 2012 NFL season.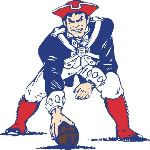 New England will go on the road to face their divisional foes Miami, Buffalo and New York plus have additional road games against the AFC South with Jacksonville and Tennessee as well as the winner of the AFC North, either Baltimore or Pittsburgh. They also have road contests against NFC West foes St. Louis and Seattle, where they will face former head coach Pete Carroll.
In 2012 the Patriots will play host to division rivals New York, Buffalo and Miami as well as AFC South opponents Indianapolis and Houston and the AFC West winner, either Denver or Oakland. NFC West teams making an appearance at "The Razor" in 2012 are Arizona and San Francisco.
Dates and times for all of the 2012 schedule will be announced at a later date.
Follow Steve on Twitter @djstevem