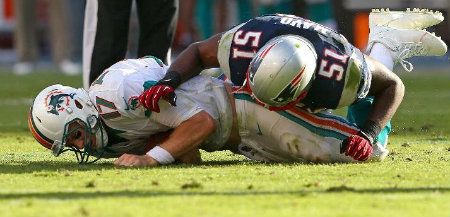 That headline speaks volumes about the domination the New England Patriots have within their division. While they have run wild in the AFC East in the Belichick era and have an unbelievable division record of 60-19 in that span sometimes the individual games don't always come that easy.
And that was the case once again in Miami in December. They should move Halloween to this month because it certainly is the Patriots personal house of horror when it comes to late season football.
In Brady's 13 year career he is just 1-3 in December games in Miami. The lone win was today's.
The Miami Dolphins are a different team and look like they are on track for the first time in a long time. Sure they had that one good year under Tony Sporano but they eventually reverted back.
This time they look for real, at least they did today when it came to facing the division rival New England Patriots in sunny, warm Miami.
It didn't looks so good for the Fish out of the gate when their first possession ended in a fumbled and botched punt that resulted in the Patriots starting 1st and 10 from Miami's 12 yard line. That led to a TD by RB Stevan Ridley and a quick 7-0 lead and it looked like the potential for a high scoring blow out.
But alas that was not to happen. In fact I can honestly say with a straight face that the Patriots bend but don't break defense saved the day. Missing some key defensive lineman with injuries or suspensions the rest of the crew and the no-names stood up especially DE Trevor Scott.
The Oakland Raiders reject had his best game in a Patriots uniform, making his presence felt at every turn.
While it was far from a dominant defensive effort on the part of the Patriots it was good enough to lead them to a win on a day when the offense looked sluggish in the Miami warmth.
QB Tom Brady was the one who struggled greatly but he has always been hit or miss in Sun Life Stadium or what ever it was called at it's different points. Brady clearly had a tough day he was just 24 of 40 for 238 yards with 1 TD pass and 1 INT and got sacked four times tying a season's high.
That pick by Miami's Reshad Jones was just first for Brady in his last 202 opportunities, it was the current longest streak in the NFL until that point. It was his first pick since he threw two in Seattle in Week 6.
Ridley did most of his work on the final drive when he notched 46 yards on 10 carries. He was nearly the entire 16 play, 77 yard drive that ate up a huge 7:18 in clock time and culminated with a Stephen Gostkowski field goal and a ten point, two possession lead.
Patriots at Dolphins Gamebook includes the box score, all the stats, play by play, drive charts and more.
Patriots at Dolphins Game Recap.
To continue reading, hit the read more button below if you're on the home page.
Turning Point of the Game
The Patriots final drive in which RB Stevan Ridley took over and ran the clock down. Ridley had 46 rushing yards in the final drive leading to a Stephen Gostkowski field goal that made it a two possession game with 1:15 to play.
Offensive Player(s) of the Game
RB Stevan Ridley had 19 carries and gained 71 yards to go over 1,000 yards rushing on the season. He also scored his 9th rushing TD of the season.
Defensive Player of the Game
DE Trevor Scott had 3 tackles (3 solo), 2 sacks, 1 tackle for loss, 1 QB hit and 1 forced fumble.
Game Notes
Starters for the Patriots were:
On Offense:
LT Solder
LG Thomas
C Wendell
RG Connolly
RT Vollmer
TE Hernandez
WR Edelman
WR Welker
WR Lloyd
QB Brady
RB Ridley
On Defense:
DE Ninkovich
DT Wilfork
DT Love
DE Deaderick
LB Mayo
LB Spikes
LB Hightower
CB Talib
CB Wilson
S Gregory
S McCourty
Inactives for the Game:
Patriots
1. TE Rob Gronkowski (forearm/hip)
2. S Derrick Martin
3. RB James Develin
4. G Mitch Petrus
5. DE Chandler Jones (foot)
6. TE Visanthe Shiancoe
7. G Logan Mankins (ankle/calf)
Dolphins
1. QB Pat Devlin (hip)
2. S Jonathon Amaya
3. LB Josh Kaddu
4. T Will Yeatman
5. TE Michael Egnew
6. TE Kyle Miller
7. DT Kheeston Randall
The spread (Patriots MINUS 9) WAS NOT covered. The over/under (51.5) WAS NOT COVERED. I GAVE the points (Patriots) and took the OVER. I am now 3-9 vs. the spread and 8 of 12 calling the under/over.
The Dolphins lead the all-time series 50-44. This includes 3 meetings in the playoffs (1982, 1985, 1997) with the Patriots holding a 2-1 post season edge.
With the win at Miami the Patriots clinched their 12th consecutive winning season and their 10th AFC East Championship since 2000 and 4th in a row.
This is the franchise's 15th AFC East title breaking the tie for most division crowns with Miami.
Since 1999 the Patriots have the best record in the NFL at 156-64.
New England now has a 6-game winning streak after starting the season 3-3.
Since 2001 the Patriots are 71-16 in games played on Thanksgiving or later.
Since 2001 New England is 42-5 in December games.
New England is 58-15 vs. the AFC East since 2001 in the regular season.
The Patriots are now a combined 20-0 in the second half of the season since 2010.
Their last loss in the second half was in 2009 in the season finale at Houston.
An AFC East rival has not swept the Patriots in a season series since 2000 when Miami and New York swept them.
The Patriots all-time in Miami are 15-33.
The Patriots have swept the Dolphins 8 times in the series history including 5 times in the Belichick era (2003-04, 07, 10-11).
Bill Belichick is now 201-107 including playoffs in his career.
Belichick's 201 wins are good for tie for 7th all-time with Former Broncos, Giants and Falcons head coach Dan Reeves.
Bill Belichick coached teams are 16-11 vs. Miami. Belichick is 16-9 as Patriots head coach and he was 0-2 as the head coach of the Cleveland Browns.
Tom Brady is 15-6 vs. the Dolphins. Overall including playoffs he is 149-44.
Brady has 325 TD passes in his career he is now 5th all-time. Hall of Famer Fran Tarkenton is 4th with 342.
Brady has thrown at least 1 TD pass in 44 consecutive games.
He is the first starting QB in NFL history to have won 10 division titles breaking his tied with Joe Montana.
He is now 9th all-time for most completions.
Brady's INT was the first he had thrown in 202 attempts it was the longest current streak in the NFL and it dates back to Week 6 in Seattle.
WR Wes Welker now has catches in 113 consecutive games including playoffs, 96 as a Patriot. The last time Welker did not have a catch in a game was 12/24/05 as a Dolphin.
Welker went over 1,000 receiving yards for the season and now has 1,064.
WR Julian Edelman was seen post game with a walking boot on and crutches.
RB Stevan Ridley leads the team in rushing with 1009 yards on 225 carries. He is the 12th Patriot to rush for 1,000 yards in a season and first since BenJarvis Green-Ellis in 2010.
He also scored his 9th rushing TD of the season.
LB Jerod Mayo (4th), DE Trevor Scott (1st) and DL Brandon Deaderick (2nd) all forced fumbles.
Mayo (3rd) and Scott (1st, 2nd) each had sacks Sunday.
Mayo (3rd), Scott (2nd) and DB Kyle Arrington (1st) all had QB hits.
DT Vince Wilfork had a fumble recovery it was his 4th of the season.
LB Brandon Spikes defensed two passes vs. Miami they were his 6th and 7th passes defensed this season.
WR Matthew Slater made 2 special teams tackles He leads the team with 16 special teams tackles this year.
Roster moves this week:
Signed WR Jeremy Ebert to the practice squad. Ebert was a 7th round pick of the team that was released after the preseason.
Promoted RB James Develin to 53-man roster from practice squad.
NFL suspended DE Jermaine Cunningham on Monday for 4 games for violation of the performance enhancing drug policy.
Announced that DB Sterling Moore was signed off the practice squad by the Dallas Cowboys.
The Patriots sacked Miami QB Ryan Tannehill 3 times, while Brady was sacked 4 times tying a season high.
New England's defense held Miami to just 15 first downs (7 rushing, 7 passing, 1 by penalty) and 277 total yards.
New England is PLUS 24 in turnover differential. The offense has given up 4 INT and 5 fumbles, while the defense has 14 INTs and 19 fumble recoveries.
The Patriots were 2 for 4 (100%) in the red zone. They had 2 TDs and 2 FGs.
New England was 7 for 15 (47%) on third down conversions and 0 for 0 on 4th down attempts.
Miami head coach Joe Philbin in his 1st season as an NFL head coach; he is 5-7 since taking over.
He is 0-1 against New England in his career.
Ryan Tannehill is 0-1 vs. the Patriots.
Miami has lost the last 5 meetings between the teams.
Miami has swept the season series from the Patriots 13 times. The last time was in 2000.
The Dolphins hold a 33-15 series advantage over the Patriots at home and they have a 15-10 series lead at Sun Life Stadium (formerly known as Joe Robbie Stadium, Pro Player Park/Stadium, Dolphins/Dolphin Stadium and Land Shark Stadium) since it opened in 1987.
Miami was 3 for 13 (23%) on 3rd down conversions and 1 for 2 (50%) on 4th down attempts.
The Dolphins were 1 for 2 (50%) in the red zone. They had 1 TD and 1 FG.
Miami fumbled the ball four times but only lost one (Tannehill).
Miami is MINUS 10 in turnover differential. The offense has given up 12 INT and 10 fumbles, while the defense has 9 INTs and 3 fumble recoveries.
Ron Winter was the game referee. The temp at kickoff was 77 and cloudy.
Attendance – 72,114 at Sun Life Stadium in Miami Gardens FL.
Post Game Interviews
Patriots head coach Bill Belichick and Patriots QB Tom Brady post game press conference via patriots.com
This Week in the AFC East
Buffalo whipped Jacksonville, 34-18
NY Jets edged Arizona, 7-6
AFC East Standings
Patriots 9-3/5-0
Dolphins 5-7/1-3
Bills 5-7/1-3
Jets 5-7/2-3
Next Week
The Patriots host the Houston Texans next Monday at Gillette Stadium in Foxboro MA. Kick off is at 8:30 p.m. on ESPN.
Follow Steve on Twitter @SteveMichaelsII
photo credit: getty images