New England Patriots offensive tackle Matt Light is apparently calling it quits after 11 seasons all in Foxboro. According to a report on ESPN the Patriots have placed Light on the "Reserve/Retired" list, effectively ending his NFL career.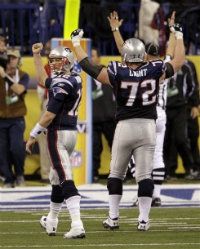 And what a career it was. The 33-year old Light was the team's second round draft pick (48th overall) in the 2001 NFL Draft out of Purdue University.
In his college career with the Boilermakers, Light was Second Team All-Big Ten (1999) and First Team All-Big Ten (2000) and played on an offensive line that in his senior year allowed only seven sacks of quarterback Drew Brees.
As a Patriot he started 12 of the 14 games he dressed for in his first season and was the starting left tackle in the teams Super Bowl XXXVI win over St. Louis as a rookie. He went on to earn members ship on the Football News 2001 All-Rookie Team.
Overall in New England, Light started 153 of the 155 games he played in. He was a 2007 All-Pro, a 4-time Pro Bowl selection, is a three-time Super Bowl champion, a five-time conference champion, won the Madden Most Valuable Protectors award and is a member of the Patriots All-2000's team and 50th Anniversary team.
Last June he signed a two-year contract with New England and he will leave with one-year remaining on the pact.
Always engaging and personable expect Light to find a job talking about football with some television network in the near future.
Light was third on the team in seniority behind only Kevin Faulk and Tom Brady and they are the last active players to have been on all three Super Bowl championship teams.
Expect second year players Nate Solder and Marcus Cannon to compete for the Light's old job on the offensive line.
Update: Light made his retirement official on May 7, 2012.
this article originally ran on April 25, 2012 when the news of Light's retirement came about.
Follow Steve on Twitter @SteveMichaelsII
photo credit: AP Photo