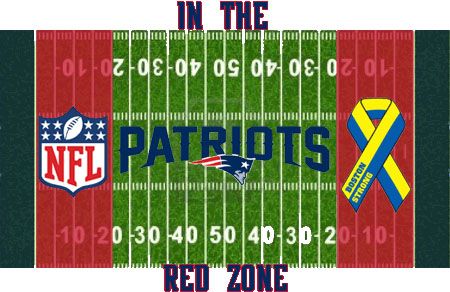 Last week the New England Patriots earned their playoff spot. This week they had to win to earn their bye week.
With miserable weather and facing a good passing defense head coach Bill Belichick decided to roll out the run game, you remember that don't you?
Belichick decided to unleash Stevan Ridley and LeGarrette Blount and the two combined for 253 rushing yards on 36 carries but it was Blount who did the heavy lifting. The pair each averaged well over 6 yards per rush in the game to lead the team to a 34-20 win over Buffalo Sunday at Gillette Stadium.
He ran off a career high 189 rushing yards and added another 145 in kickoff returns for a total of 334 total yards which set a Patriots single game record. He also became the first player in NFL history to have 140+ yards in kickoff returns and rush for over 100 yards in the same game.
I don't know what was better the constant pounding Blount gave the Bills defense or the two kick off returns. Watching him run those kicks back I noticed two things. First he has an initial burst I never realized he possessed. Second he gets winded around 60 yards, I think he needs a conditioning run today.
Overall though it was a great victory but watching the game there were several players who limped off. Among them were G Logan Mankins and LB Brandon Spikes but with the bye week and some needed time off I'm sure they will both be out there for the Division Round Playoff Game.
Speaking of the game the NFL announced that it will be on Saturday January 11 at 8:15 p.m. at Gillette Stadium and will be on CBS. I do not understand why they put the Boston market (Eastern Time zone) into a time slot that will run well into 11:30 p.m. Then turn around and give Denver, a team in the Mountain Time slot, a 2:40 p.m. local kickoff time (4:40 p.m. on East Coast for those of you who are time zone challenged).
If you give the Patriots the 4:40 p.m. kickoff and Denver the 8:15 p.m. kickoff (6:15 p.m. Mountain) doesn't it work out better for everyone? Plus it puts their precious Peyton into prime time.
===
My playoff picks for the NFL Wild Card Weekend:
AFC
Cincinnati 30, San Diego, 17
Kansas City 27, Indianapolis, 21
NFC
San Francisco 34, Green Bay, 28
Philadelphia 35, New Orleans, 31
If my picks pan out that would mean Cincinnati comes to New England, Kansas City goes to Denver, Philadelphia travels to Carolina and San Francisco visits Seattle.
===
I want to take a moment to wish you all a Happy New Year. I hope you and yours have a great and safe holiday season. And if you can it is the season of giving help someone out less fortunate than you I promise it will make their day and yours.
Game Notes
The spread was Patriots MINUS 9 and the teams were OVER the under/over line of 47. I took the Bills and the over so I hit on the over and missed on the cover.
I am now 5-11 vs. the spread in 2013 and 9 for 16 on calling the under/over.
The Patriots lead the series 66-41-1 vs. Buffalo.
The 66 wins are the most the Patriots have over any opponent.
New England is 35-19 all-time in home games vs. Buffalo and 12-0 at Gillette.
Patriots have won 20 of the last 21 meetings with Buffalo's only win coming in Week 3 of the 2011 season.
Since 2002 the Patriots are 31-5 at Gillette Stadium vs. the AFC East.
With the win Sunday the Patriots earned a first round playoff bye and the #2 seed in the AFC.
With the win Sunday the Patriots finish 8-0 at home for the 6th time in franchise history. They also were 8-0 in 2003, 2004, 2007, 2009 and 2010.
Since 2001 the Patriots are a NFL best 49-7 in December.
Since 2000 under Bill Belichick the team is 89-23 in the second half.
Since 2003 the Patriots have the NFL's best record at 138-38. The Indianapolis Colts are second 15 games behind.
Bill Belichick coached teams are 25-4 vs. Buffalo. Belichick was 0-1 against the Bills as the head coach of the Cleveland Browns.
Overall in his NFL career Belichick is 217-113. The 217 wins are good for 5th all-time in NFL history.
Buffalo head coach Doug Marrone finished 6-10 in his first season as a NFL head coach.
He is 0-2 in his career vs. New England.
This is Tom Brady's 14th NFL season he is 21-2 vs. Buffalo in his career. He is 82-13 at home in his career.
Overall he is 148-43 as a starting QB and is 17-7 in the playoffs for an overall record of 165-50.
148 regular season career wins ties him with John Elway for 3rd all-time.
359 TD passes in his career make him 5th all-time he is 3 behind Drew Brees of New Orleans.
Brady hasn't had a multiple INT game in 2013.
The Patriots Inactives were: S Devin McCourty; CB Alfonzo Dennard; LB Steve Beauharnais; OL Chris Barker; DT Isaac Sopoaga; WR Josh Boyce and DE Jake Bequette.
RB LeGarrette Blount led the Patriots running backs with 189-yards on 24 carries and he had 2 TD's.
Blount also had 145 in kickoff return yards with two returns one was 83 yards the other was 62 yards.
Set team record for most total yards in a game with 334.
WR Julian Edelman had 9 catches and 65-yards receiving to lead the Patriots.
Edelman eclipsed 100-catches and 1,000-yards on the season. He joins Troy Brown and Wes Welker as the only Patriots to do so.
New England was 4 for 13 for 31% on 3rd down conversions.
The Pats were 1 for 4 in the red zone and 1 for 1 on goal to goal efficiency.
New England won the time of possession having the ball for 32:47.
Patriots had 24 first downs to 19 for the Bills.
DT Sealver Siliga had 9 tackles to lead the team.
The New England defense allowed Buffalo 393 yards of total offense. The Patriots had 382 yards for the game.
The Patriots had 4 sacks and 7 QB hits.
Buffalo QB Thad Lewis is in his 3rd season and he is 2-4 in his career.
He is 0-1 vs. New England.
The Bills were 4 for 13 for 31% on 3rd down conversions and 0 for 3 on fourth down.
Buffalo was 2 for 4 in the red zone and 1 for 1 on goal to go.
Ed Hochuli was the referee for the game.
68,756 attended the game at Gillette Stadium in Foxboro MA. It was cloudy, raining and 39 degrees with a windchill of 29 degrees.
Offensive Player of the Game: Patriots RB LeGarrette Blount had 189-yards on 24 carries with 2 TD's. He also had 145 yards in kickoff returns and set a franchise record with 334 total yards.
Defensive Player of the Game: Patriots DT Sealver Siliga led the team with 9 tackles, had 1 sack for a 13 yard loss, 1 tackle for loss, 1 QB hit and a forced fumble.
Next Week
Up next: either #3 Cincinnati, #4 Indianapolis or #5 Kansas City
Location: Gillette Stadium, Foxboro MA
Date/Time: Saturday January 11 at 8:15 p.m.
TV Network: CBS