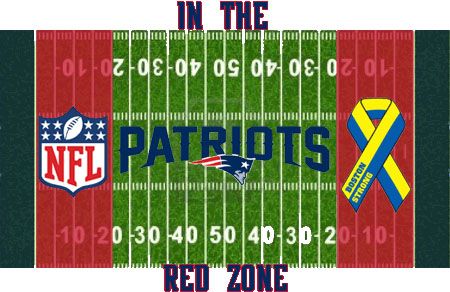 Do you remember this line from last week?
"Someone care to tell me how do you follow up the comeback win at home against Denver? Why you go on the road and pull out another come from behind win against Houston, 34-31 at Reliant Stadium."
So let's say the New England Patriots spot the Cleveland Browns 12 points at half in Foxboro in December. Not good enough? Okay how about 19-3 with 16:25 remaining in the game? We've got no Rob Gronkowski, the defense is a sieve but we have possibly the best kicker in the game, the smartest coach and the greatest quarterback.
Game on. Game over. New England comes out on top 27-26.
What the hell is next??? How many points are they spotting Miami on Sunday???
I've watched a lot of football, college, professional, high school you name it but these games are just bananas. But it's not just the halftime deficits that they overcome it's the whole don't leave you seat until the clock strikes zero mentality.
A few weeks back we had it here in "In The Red Zone" about the close games they've been in. Right now the count is 13 games played and 9 have had a dramatic ending. That has to be a record doesn't it?
This weeks craziness was two touchdowns in :30 seconds highlighted by a pass interference penalty that finally went their way and the nutso onside kick that was touched by of all people a guy named Fozzy.
Fozzy Whittaker tried to field the ball at the 40-yard line for Cleveland but a combination of a bouncing ball and K Stephen Gostkowski being in his face to attempt a recovery, the ball was booted and ended up in the hands of CB Kyle Arrington.
Want more crazy? Sure you do why not? That was the first successful onside kick by New England in the Bill Belichick era. Yes you read that correctly in the 244th game Belichick coached as Patriots head coach the team finally had a successful onside kick.
The last time a Patriots team had a successful onside kick prior to Sunday was January 1, 1995 at Cleveland when a Bill Parcells team pulled it off in an AFC Wild Card game loss at Cleveland against a Belichick coached team.
In case you wondered per Elias Sports Bureau the Patriots tied an NFL record with three consecutive comebacks from double-digit halftime deficits. The other teams that rallied to win from 10 points down in the third or fourth quarter in three straight games were the 1975 Cardinals, 1980 Dolphins, 1986 Colts and 1993 Eagles.
Look out Miami the Patriots are coming and they're giving you a halftime lead for Christmas then like Scrooge they're taking it back and going home.
Game Notes
The Patriots did not cover the spread (PLUS 11.5) and the teams were OVER the under/over line of 44.5. I gave the Brown the points and took the over so I hit on both. Finally!
I am having a brutal season picking games I am now 4-9 vs. the spread in 2013 and 7 for 13 on calling the under/over.
Cleveland leads the overall series 13-10 including playoffs.
New England has won 5 of the last 6 and 7 of the last 9 meetings between the teams.
With the win on Sunday the Patriots have 11 consecutive 10-win seasons.
Overall New England is 39-36 against the teams that make up the AFC North and they are 17-6 vs. the AFCN since the 2002 realignment including 4-1 vs. Cleveland in that time span.
Since 1994 the Patriots are PLUS 153 in turnover differential best in the NFL by a wide margin.
Since 2010 the Patriots are 27-2 in the second half of the season. Since 2000 under Belichick the team is 86-22 in the second half.
Since 2001 the Patriots are a NFL best 47-6 in December.
Since 2003 the Patriots have the NFL's best record at 136-37. The Indianapolis Colts are second 15 games behind.
Since 2001 the Patriots are a NFL best 47-6 in December.
Bill Belichick is 5-2 vs. the Browns in his career including playoffs.
Overall in his NFL careerBelichick is 215-112. The 215 wins are good for 5th all-time in NFL history.
Cleveland head coach Rob Chudzinski is 4-9 in his first season.
Chudzinski is 0-1 vs. New England.
This is Tom Brady's 14th NFL season he is 5-1 vs. the Browns in his career. He is 82-13 at home in the regular season.
Overall he is 146-42 as a starting QB and is 17-7 in the playoffs for an overall record of 163-49.
146 regular season career wins are 5th all-time. Dan Marino is 4th with 147.
355 TD passes in his career make him for 5th all-time. He is one behind Drew Brees of New Orleans.
Brady credited with his 5th comeback win of 2013. This season he has done in Buffalo (Week 1); New Orleans (Week 6); Denver (Week 12); Houston (Week 13) and now Cleveland (Week 14).
The Patriots Inactives were: LB Steve Beauharnais; TE Mike Hoomanawanui; WR Aaron Dobson; RB Brandon Bolden; WR Kenbrell Thompkins, T Marcus Cannon and DE Jake Bequette.
RB LeGarrette Blount led the Patriots running backs with 42-yards on 8 carries.
RB Shane Vereen had 12 catches and 153-yards receiving to lead the Patriots.
New England was 6 for 15 for 40% on 3rd down conversions. They were 1 for 1 on 4th down.
The Pats were 3 for 4 in the red zone and 3 for 3 on goal to goal efficiency.
Patriots scored on their last 5 possessions 2 field goals and 3 TD's. All the drives except the final one were long. They started at the NE 17 (FG), NE 28 (TD), NE 19 (FG), NE 18 (TD) and CLE 40 (TD). They only used 13:01 in clock time to score all 27 of their points.
Cleveland won the time of possession having the ball for 31:40.
Patriots had 30 first downs to 24 for the Browns.
LB Dont'a Hightower had 11 tackles to lead the team.
The New England defense allowed Cleveland 494 yards of total offense. The Patriots had 484 yards for the game.
The Patriots had 1 sack and 5 QB hits.
Cleveland QB Jason Campbell is in his 9th season and he is 32-44 overall (1-4 with Browns).
He is 0-1 vs. New England.
The Browns were 7 for 15 for 47% on 3rd down conversions.
Cleveland was 1 for 2 in the red zone and 1 for 1 on goal to go.
Jerome Boger was the referee for the game.
68,756 attended the game at Gillette Stadium in Foxboro MA. It was cloudy and cold 30 degrees with wind chill of 25.
Offensive Player of the Game: Browns WR Josh Gordon has 7 catches for 151 yards and 1 TD.
Defensive Player of the Game: Patriots DE Rob Ninkovich had 7 tackles, 1 sack, 2 tackles for loss and 2 QB hits.
Next Week
Up next: Miami Dolphins
Location: SunLife Stadium, Miami FL
Date/Time: Sunday December 15 at 1 p.m.
TV Network: CBS