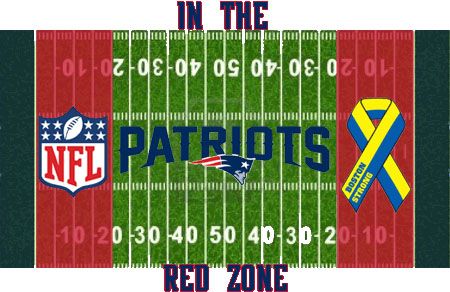 At one point on Sunday night I was trying to comprehend what I was watching and trying to wrap my head around how I was going to write about it. One thing about the 2013 version of the New England Patriots is do not form your final opinion until the games final play.
The following games this year have all had dramatic endings:
At Buffalo Week 1: a Stephen Gostkowski's 35-yard field goal with 5 seconds left wins it, 23-21.
New York Jets Week 2: Aqib Talib intercepts Geno Smith near midfield with 38 seconds to play and Patriots win 13-10.
At Atlanta Week 4: Talib knocks down a pass in the end zone intended for Roddy White with 41 seconds left and Patriots win 30-23.
New Orleans: Week 6 rookie WR Kenbrell Thompkins catches a 17-yard pass from Tom Brady with 5 seconds remaining and Patriots win 30-27.
At New York Jets Week 7: after a Gostkowski 44-yard field goal with 19 seconds remaining sends the game to OT. The Jets win in OT after an unusual penalty call gives them a second life and Nick Folk kicks a 42-yard field goal and the Jets win 30-27.
At Carolina Week 11: the refs pick up the flag in the end zone on the game's final play and Patriots lose 24-20.
Denver Week 12: Gostkowski's 31-yard field goal with 1:56 left in OT wins it 34-31.
That's 7 games out of the 11 they've played so I guess it's safe to say do not turn off the TV at any point when this team is around.
Down 24-0 at halftime, after one of the worst halves of football I have ever seen any team, much less a Bill Belichick coached team, play the New England Patriots resurrected themselves with some hot cocoa and a verbal ass kicking. They then went on to stun the Denver Broncos on Sunday night in Foxboro in overtime, 34-31.
In a span of 6:57 the Broncos burst out to a 17-0 first quarter lead after 3 costly fumbles by the Patriots.
First up was RB Stevan Ridley who with the team driving deep into Denver territory tried his spin-o-rama ala Patrick Kane (Google him) and was hot by LB Wesley Woodyard and the ball shot out to LB Von Miller who returned it 60-yards untouched for a touchdown.
After the ensuing kickoff Brady was strip sacked at the New England 21 by Broncos LB Von Miller and the ball was recover by Broncos DL Terrance Knighton of Windsor CT, and returned to the Patriots 10-yard line where Denver quickly scored and it was 14-0.
Then the capper was usually sure handed RB LeGarrett Blount got crushed by S Duke Ihenacho and LB Danny Trevathan recovered the ball. On the play it appeared Blount was knocked monetarily unconscious and did not return to the game. This fumble was turned into a 27-yard Matt Prater field goal and like that it was 17-0 and TV's all over New England were being switched to watch Brian die on "Family Guy".
Turnovers were a huge part of this game played in very cold and windy weather. In addition to the three fumbles the Patriots lost they also saw sure handed return man Julian Edelman fumble not once but twice on the same punt and Brady even put a second ball on the turf but those were recovered by New England.
Denver also had a case of the dropsies but there's came in the second half as the Patriots overcame the largest halftime deficit in team history.
After an opening 3rd quarter drive that saw Brady find Edelman with a back corner fade that cut the lead to 24-7. Then on the subsequent drive Mike Ball was hit by LB Dane Fletcher and booted the ball and it was recovered by LB Brandon Spikes at the Denver 32 leading to a one yard run by Brandon Bolden and it was 24-14.
New England wasn't finished as Brady found TE Rob Gronkowski to cap the next drive. All of a sudden the people who left were trying to get back in and others stopped crying over Brian long enough to switch the channel back because we had a ball game at 24-21 Denver as the third quarter ended.
It didn't take long into the games final quarter for Denver to get sloppy again as Logan Ryan picked off a Peyton Manning pass and the Patriots converted that into a second Edelman from Brady TD strike and a 28-24 lead. In just 17:39 the Patriots erased at 24-point half time deficit and turned it into a 4-point lead.
After a Gostkowski field goal and a Manning led drive with just over 3 minutes to play knotted the game at 31-31 the teams settled for OT. Here Belichick extended his coaching legend and made Patriots fans everywhere wonder, was he drunk? Is his brain frozen? Someone warm him up he just decided to let Manning have the ball to start OT!
Belichick decided that having the wind at their backs for the 15 minute OT period was better that letting Peyton Manning have the ball. Holy shi* Batman, Bill has to be crazy right? Yes he is, like a fox.
In another coaching decision that makes the average man say "what the hell?" Belichick uses uncanny logic, reasoning, cunning and experience from a 1986 playoff game in the wind when he was a Giants assistant.
And the best part was that Manning looked mortal all night and at times, even less than mortal, and in the OT the Broncos moved the ball a bit but the rag tag Patriots defense held them. Then two former Patriots, Wes Welker and Tony Carter, combined to muff a punt deep in Denver territory with 3:01 left in the game.
Rookie P Ryan Allen had a nice 42-yard punt and as the punt dropped Welker gave the poison signal but Carter never saw or heard it and the ball hopped off of him making it live and it was recovered by S Nate Ebner at the Broncos 13-yard line.
One minute later Gostkowski had his second game winning field goal of the season and the Patriots got a great win and the Broncos suffered a crushing defeat.
Game Notes
The Patriots did cover the spread (PLUS 2.5) and the teams were OVER the under/over line of 54. I missed on the points and but hit on the over.
I am having a brutal season picking games I am now 3-8 vs. the spread in 2013 and 5 for 11 on calling the under/over.
Denver still leads the series 25-19 in the regular season and 2-1 in the playoffs for overall series lead of 27-20.
This was the fourth meeting since December 2011 and New England has won all four.
Since 1994 the Patriots are PLUS 155 in turnover differential best in the NFL by a wide margin.
Since 2010 the Patriots are 25-2 in the second half of the season. Since 2000 under Belichick the team is 84-22 in the second half.
Since 2003 the Patriots have the NFL's best record at 134-37. The Indianapolis Colts are second 15 games behind.
Patriots are 20-16 on SNF. They are 12-6 as the home team (7-4 at Gillette Stadium).
Since 2000 the Patriots have a winning record against all 31 teams in the NFL.
Since November 2001 the Patriots are a NFL best 37-14 in November games.
Bill Belichick is 7-10 vs. the Broncos in his career. 7-6 with New England including 1-1 in the playoffs and 0-4 with Cleveland.
Overall in his NFL career Belichick is 213-112. The 213 wins are good for 5th all-time in NFL history.
John Fox is in his third season as the head coach in Denver he is 30-13 in the regular season and 1-2 in the playoffs for an overall record of 31-15. For 9 seasons in Carolina he had a record of 73-71 in the regular season and 8-5 in the playoffs. Combined between Denver and Carolina he is 103-84 in the regular season and 9-7 in the playoffs for an overall mark of 112-91.
Fox is 1-7 vs. New England as a head coach including 0-2 in the post season combined between Denver and Carolina.
Interim head coach Jack Del Rio does not get win/loss credit for filling in per Elias Sports Bureau. As the interim head coach the team is 2-1.
This is Tom Brady's 14th NFL season he is 5-6 vs. the Broncos in his career including 1-1 in the playoffs. He is 81-13 at home in the regular season.
Overall he is 144-42 as a starting QB and is 17-7 in the playoffs for an overall record of 161-49.
144 regular season career wins are 5th all-time. Dan Marino is 4th with 147.
351 TD passes in his career make him for 5th all-time.
The Patriots Inactives were: S Steve Gregory; LB Steve Beauharnais; TE Mike Hoomanawanui; WR Josh Boyce; DL Marcus Forston; OL Chris Barker and DE Jake Bequette.
RB Brandon Bolden led the Patriots running backs with 58-yards on 13 carries.
WR Julian Edelman had 9 catches for 110-yards and 2 TD's to lead the Patriots.
New England was 6 for 14 for 43% on 3rd down conversions. They were 0 for 1 on 4th down.
The Pats were 4 for 6 in the red zone and 3 for 3 on goal to goal efficiency.
Denver won the time of possession having the ball for 38:58.
Patriots had 27 first downs to 28 for the Broncos.
DE Rob Ninkovich had 13 tackles to lead the team.
The New England defense allowed Denver 412 yards of total offense. The Patriots had 440 yards for the game.
The Patriots had 2 sacks and 4 QB hits.
Peyton Manning in his 16th NFL season has a 163-75 regular season record and is 9-11 in the post season for an overall mark of 172-86.
He is 7-14 vs. New England in his career including playoffs.
The Broncos were 9 for 18 for 50% on 3rd down conversions.
Denver was 3 for 4 in the red zone and 1 for 2 on goal to go.
Gene Steratore was the referee for the game.
68,756 attended the game at Gillette Stadium in Foxboro MA. It was clear, windy and cold and 22 degrees with a wind chill of 6 degrees.
Offensive Players of the Game: Broncos RB Knowshon Moreno had 224 rushing yards and 1 TD on 37 carries and had 1 catch for 6 yards. Patriots QB Tom Brady was 36 of 50 for 334 yards with 3 TD's and 0 INT's.
Defensive Players of the Game: Patriots DE Chandler Jones had 6 tackles, 1 sack, 1 tackle for loss and 2 QB hits. Broncos LB Von Miller had 8 tackles, 2 sacks, 2 tackles for loss, 3 QB hits, 1 forced fumble, 1 recovered fumble for a TD.
Next Week
Up next: Houston Texans
Location: Reliant Stadium, Houston TX
Date/Time: Sunday December 1 at 1 p.m.
TV Network: CBS
Follow Steve on Twitter @SteveMichaelsII