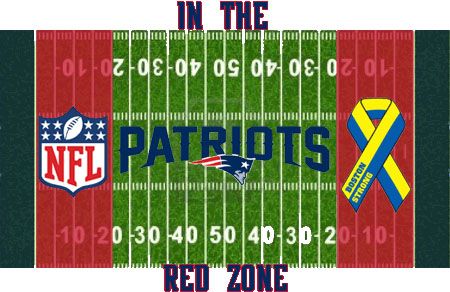 Sunday's game, a 30-27 overtime loss to the New York Jets, was one of those games where as a New England Patriots fan you felt they should have won.
They just didn't play up to their potential and they let the Jets hang around and it ended up doing them in.
After jumping out to a nice lead at the half after a poor opening drive on defense I really thought that Tom Brady and the boys would get it done. But when you open the second half by throwing a pick six you kind of new at that point the football Gods were not with us.
For the second time in three games Brady did not throw a TD pass and he was under a 50% completion rate while being sacked four times and throwing the costly interception.
The good news was the return of Rob Gronkowski who had 8 catches for 114 yards and nearly had a game-winning touchdown with a one handed grab in games waning moments but couldn't hold onto the ball.
Other than that the offense seemed kind of sluggish and they were horrid again on third down going 1 for 12. This team is punting way too much, 8 more times on Sunday they had to kick the ball away.
I'm not a football coach and I'm not quite sure what this offense needs but I find hard to believe that 7 games into a season they are still sputtering. Hopefully with Gronkowski back he will elevate the unit.
Also hopefully the returns of WR Danny Amendola who missed another game Sunday and RB Shane Vereen will boost. I expect Amendola to be day to day and Vereen has been out six weeks after breaking his wrist so I would imagine he is close to a return as well.
Defensively you can't lose your two best interior lineman, your best linebacker and best cover corner and expect to win, not missing the best players at all three levels of your defense.
The Jets were pretty much able to run whenever they wanted racking up 177 yards on the ground with RB Chris Ivory getting 104 yards on 34 carries and carrying the bulk of the weight.
WR Jeremy Kerley also had a career high 8 catches for 97 yards and 1 TD and was Geno Smith's go to target all afternoon. WR David Nelson was also a thorn in the side of the New England defense with 4 catches for 80 yards.
The biggest monkey in the room though was the flag in OT on the missed field goal attempt by the Jets that gave them a first down and more life. The rule was changed this season where you can not push a teammate into the line of scrimmage. While Chris Jones was a standup guy and took the blame it turns out that according to Bill Belichick he was only doing was he was coached to do.
Belichick said the staff takes the blame for that one for failing to coach the rule correctly. In fact they did it just last week against the Saints and many feel Rex Ryan or someone on the staff saw it and alerted the officials to it.
Teams are going to lose games it's just a fact, but to lose because the coaching staff misread the rule or how ever you want to say it, is a bad break. I also don't want to hear how Belichick think he is above the rules because I can guarantee you that there were 31 other coaches prior to Sunday teaching a similar technique and now that they've it cost New England a game every team in the NFL will now giving a heads up to the field goal team.
Thanks for following and reading and enjoy the season. If you have any questions I am on Twitter or leave a comment.
Game Notes
The Patriots did not cover the spread (MINUS 3.5) and the teams were OVER the under/over line of 43.5. I missed on the points and hit on the over.
I am having a brutal season picking games I am now 1-6 vs. the spread in 2013 and 2 for 7 on calling the under/over.
The Patriots lead the series between the teams 56-53-1.
New York won for the first time in 6 games.
Patriots are now 26-28 as the road team in the series.
The Patriots have forced a turnover in 34 consecutive games.
Since 1994 the Patriots are PLUS 152 in turnover differential best in the NFL by a wide margin.
Since October 2003 the Patriots are an NFL best 36-9 in October games including a road record of 15-8
They have won 27 of their last 33 October games.
Since Robert Kraft purchased the team in 1994 the Patriots are 27-15 vs. the Jets.
New England is 61-16 vs. the AFC East since 2001 in the regular season.
The Patriots had a 12-game division win streak snapped.
Bill Belichick is 21-11 vs. the Jets in his career. He is 20-10 against them as the head coach in New England and that includes two playoff games (1-1).
Overall in his NFL career Belichick is 210-111. The 210 wins are good for 5th all-time in NFL history.
Ryan is 38-33 in his 5th season as a head coach. He is 4-2 in the playoffs for an overall record of 42-35.
He is 4-7 vs. New England in his career including playoffs.
This is his 14th NFL season he is 19-6 vs. the Jets in his career (18-5 in the regular season). He is 63-27 on the road in the regular season.
Overall he is 141-41 as a starting QB and is 17-7 in the playoffs for an overall record of 158-48.
141 regular season career wins are 5th all-time. Dan Marino is 4th with 147.
342 TD passes in his career tie him for 4th all-time with Hall of Famer Fran Tarkenton.
The Patriots Inactives were: CB Aqib Talib; RB Leon Washington; WR Danny Amendola; OL Chris Barker; WR Josh Boyce; DT Tommy Kelly and S Tavon Wilson.
RB Stevan Ridley led the Patriots running backs with 50-yards on 11 carries and 1 TD.
TE Rob Gronkowski had 8 catches for 114-yards to lead the Patriots.
New England was 1 for 12 for 8% on 3rd down conversions. They were 1 for 1 on 4th down.
The Pats were 2 for 2in the red zone and 1 for 1 on goal to goal efficiency.
New York won the time of possession having the ball for 46:13
Patriots had 21 first downs to 27 for the Jets.
DB Logan Ryan had his first INT of the season.
DE Chandler Jones, LB Dont'a Hightower and LB Brandon Spikes had 11 tackles each to lead the team.
The New England defense allowed New York 383 yards of total offense. The Patriots had 295 yards for the game.
The Patriots had 4 sacks and 7 QB hits, DE Chandler Jones and DT Chris Jones had 2 sacks and 2 QB hits each.
New York QB Geno Smith improves to 4-3 in his career in the regular season.
He is 1-1 vs. New England in his career.
The Jets were 11 for 21 for 52% on 3rd down conversions.
New York was 2 for 4 in the red zone and 1 for 1 on goal to go.
Jerome Boger was the referee for the game and it was 63 and sunny.
76.957 attended the game at MetLife Stadium in East Rutherford NJ.
Offensive Player of the Game: Jets RB Chris Ivory had 104 yards on 31-carries and helped the Jets keep Brady and the offense off the field as the New York had the ball for a remarkable 46:13.
Defensive Player of the Game: Jets DL Muhammad Wilkerson had 5 tackles, 1 sack, 1 QB hit and a tackle for loss.
The Patriots released DT Andre Neblett on Monday to make room for DL Marcus Folston on the 53-man roster.
Next Week
Up next: Miami Dolphins
Location: Gillette Stadium, Foxboro MA
Date/Time: Sunday October 27 at 1 p.m.
TV Network: CBS
Follow Steve on Twitter @SteveMichaelsII