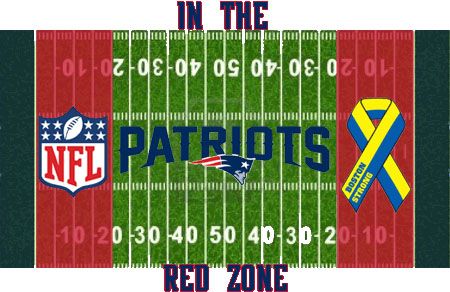 In 2004, the New England Patriots went out and got a running back in a trade. They gave up a second round pick to the Cincinnati Bengals for Corey Dillon the Bengals franchise leader in rushing yards. In three seasons in Foxboro, Dillon rushed for over 3,100 yards and had 39 TD's (37 rushing, 2 receiving). Dillon gave the Patriots something they lacked a big, bruising, clock killing running back.
Dillon had never played in a playoff game before coming to New England. In three seasons of post season play he added 4 TD's and 508 rushing yards in helping the Patriots win their third Super Bowl and brought them to another AFC Championship game.
In 2013 the Patriots went out and got a running back in a trade. They swapped a 7th round pick and RB/KR Jeff Demps with the Tampa Bay Buccaneers for LeGarrette Blount. They got something they lacked a big, bruising, clock killing running back.
While not nearly as accomplished as Dillon was when he came to the Patriots, Blount fits the same mold. In the season finale and the AFC Divisional Game this past Saturday you saw why people thought Blount would be a serious Heisman candidate in his senior season at Oregon.
For those who don't know, Blount turned into a disciplinary problem of the highest magnitude. After a tough game a 19-8 loss in which he was held to negative rushing yards he punched a defenseless Boise State player on the field after the game and then went at it with the Broncos students in their own stadium. Oregon suspended him for the season.
He went from 1,002 rushing yards and 17 TD's in 2008 in 13 games to just 3 games played as a senior in 2009 with 82 rushing yards and 2 TD's. Quite the fall for a Heisman hopeful but after being given a second chance by Oregon coach Chip Kelley he was able to play in the final regular season game against Oregon State and in the Rose Bowl against Ohio State.
After three seasons in Tampa Bay in which he ran for over 1,900 yards and 13 TD's he became expendable with the emergence of Doug Martin and was dealt to the Patriots. And such a minor move by Bill Belichick has proven to be the defining force of this team after injuries have taken down most of the teams proven players.
In his first career playoff game Blount was absolutely amazing. In the 43-22 win over the Indianapolis Colts he rushed for 166 yards on 24 carries with 4 TD's and he topped it off with a back breaking, dagger to the heart 73-yard TD on the Patriots first offensive play in the fourth quarter.
In the fourth quarter alone he rushed for 114-yards and a TD. He had 103 of those yards on just two carries, he set a franchise record for most rushing TD's in any game, regular or post season and tied the franchise record for most rushing yards in a playoff game (Curtis Martin, vs. Pittsburgh January 5, 1997).
Blount is sure to be a force once again against Denver in the AFC Championship Game. The Broncos defense gave up 399 points this season and 5,700 yards (4,000 in the air, 1,700 on the ground) and hopefully it bodes well for Blount to continue on this tremendous roll.
Another impact player from Saturday was rookie linebacker Jamie Collins who was taken in the second round of the draft from Southern Mississippi. While in school Collins played linebacker and defensive back his first two seasons and then in his junior and senior years was primarily a defensive lineman.
We saw first hand those DB cover skills on Saturday a few times he first made a nice play along the sideline to bat away a pass from Indianapolis TE Coby Fleener. Then late in the game when the Patriots rushed three and dropped eight Collins came up with a pick. His first NFL interception came in a playoff game and once again he was on Fleener this time over the middle and he ended a drive before it even gained momentum.
The INT was huge, there was nearly 13 minutes to play and it was still a two score game at that point and it occurred on the first play after the 73-yard Blount TD. The turnover also gave the Patriots great field position, which they turned into a Stevan Ridley TD. In a two minute span the game went from 7 points to 21 points because of two huge plays.
The end of the Colts season happened that fast.
Game Notes
The spread was Patriots MINUS 7.5 and the teams were OVER the under/over line of 53. I gave the points (Patriots) and took the under. I missed on the under and hit on the cover.
I am now 6-11 vs. the spread in 2013 and 9 for 17 on calling the under/over.
The Patriots lead the playoff series with the Colts, 3-1. Overall they lead the series 46-28 including the postseason.
New England has won the last four games against Indianapolis all at Gillette Stadium.
The Patriots are now 25-17 all-time in the playoffs.
They are 11-6 in the Divisional Round of the playoffs and they are 8-2 as the home team in the Divisional Round including 6-1 at Gillette Stadium.
They are 11-3 in playoff games at Gillette Stadium they are 15-4 at home overall.
They have a home winning percentage in the postseason of .789 that is second best behind Oakland's .792 among teams with at least 10 home playoff games
With the win they tied the Oakland Raiders for the 5th most playoff wins in NFL history with 25.
Patriots are first team since 2001-04 Eagles to advance to three consecutive conference championship games.
Set franchise record with 6 rushing TD's most in any game, regular season or playoffs.
Tied franchise record with 4 INT's in a playoff game.
Bill Belichick coached teams are 14-8 vs. the Colts. He is 12-6 with New England and 2-2 with Cleveland including playoffs.
Overall in his NFL career Belichick is 218-113. The 218 wins are good for 5th all-time in NFL history.
Chuck Pagano is in his 2nd year as head coach of the Colts and he has a record of 22-10 in the regular season and he is 1-2 in the post season for an overall record of 23-12.
Pagano is 0-2 vs. New England in his career including postseason.
This is Tom Brady's 14th NFL season he is 11-4 vs. the Colts in his career including playoffs. He is 83-13 at home in his career in the regular season and 12-3 in the post season for a combined record of 95-16.
Overall he is 148-43 as a starting QB and is 18-7 in the playoffs for an overall record of 166-50.
He made his 25th career playoff start most in NFL history.
His 18 postseason wins are most in NFL history.
Had streak of throwing a TD pass in 18 consecutive postseason games broken.
Patriots are 4-0 all-time in postseason when Brady has no TD passes.
The Patriots Inactives were: WR Aaron Dobson; LB Steve Beauharnais; OL Chris Barker; DT Isaac Sopoaga; DE Jake Bequette and DB Justin Green.
RB LeGarrette Blount led the Patriots running backs with 166-yards on 24 carries and he had 4 TD's.
WR Julian Edelman had 6 catches and 84-yards receiving to lead the Patriots.
New England was 11 for 18 for 61% on 3rd down conversions. They were 0 for 1 on 4th down.
The Pats were 5 for 6 in the red zone and 5 for 5 on goal to goal efficiency.
New England won the time of possession having the ball for 35:00.
Patriots had 23 first downs to 16 for the Colts.
LB Dont'a Hightower had 8 tackles to lead the team.
The New England defense allowed Indianapolis 386 yards of total offense. The Patriots had 419 yards for the game.
The Patriots had 3 sacks and 10 QB hits.
Indianapolis QB Andrew Luck is 22-10 in his 2nd NFL season he is 1-2 in the playoffs for an overall record of 23-12.
He is 0-2 vs. New England in his career including playoffs.
The Colts were 6 for 15 for 40% on 3rd down conversions and 1 for 1 on fourth down.
Indianapolis was 0 for 2 in the red zone and 0 for 1 on goal to go.
Pete Morelli was the referee for the game.
68,756 attended the game at Gillette Stadium in Foxboro MA. It was cloudy, raining, windy and 57 degrees.
Offensive Player of the Game: Patriots RB LeGarrette Blount had 166-yards on 24 carries with 4 TD's. Set franchise record with 4 rushing TD's in a game and tied franchise record for 166-yards rushing in a playoff game.
Defensive Player of the Game: Patriots LB Jamie Collins had 6 tackles, 1 sack, 2 tackles for loss, 3 QB hits, 1 INT and 1 pass defensed.
Next Week
Up next: Denver Broncos
Location: Mile High Stadium at Sports Authority Field, Denver CO
Date/Time: Sunday January 19 at 3 p.m.
TV Network: CBS