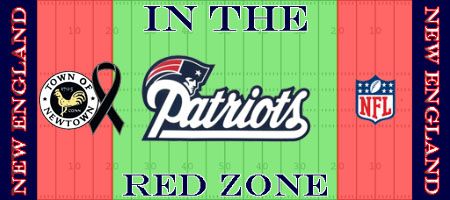 Patriots Look to Improve Playoff Standing
This Sunday is the final week of the NFL regular season and the Patriots (11-4/5-0) host their long-time rival the Miami Dolphins (7-8/2-3) at Gillette Stadium. It is an important game for New England so don't expect head coach Bill Belichick to be resting or protecting any players by sitting them unless the game is out of control either way.
With a Patriots win on Sunday they could possibly improve the playoff seeding. A win clinches the 3rd seed but more importantly when you couple that with losses by Houston and/or Denver it will improve the teams playoff seed and give them a bye.
If the Patriots win and either Houston loses at Indianapolis or Denver loses at home to Kansas City, New England is the 2nd seed in the AFC. That's because the Patriots own head-to-head wins over both the Texans and the Broncos.
If the Patriots win and BOTH Houston and Denver lose then New England is the 1st seed in the AFC and home field advantage through the AFC Playoffs.
Either scenario gives the Patriots a bye week and at least one home game against a winner of one of the wild card games in the divisional round of games.
If all three teams win on Sunday then the seeds stay as they are and the Patriots finish third and will open at home against a wild card team, either Indianapolis or Cincinnati, who ever is seeded 6th in the AFC.
Should the unthinkable happen and the Patriots lose to Miami on Sunday and the Baltimore Ravens win at Cincinnati then they are the 4th seed in the AFC. This is because the Ravens own the tiebreaker with the Patriots by virtue of the Week 3 win in Baltimore. If the Patriots finish 4th they would also play on wild card weekend against the 5th seed at Gillette Stadium.
If the Patriots finish 3rd or 4th and advance past the wild card team they would then go on the road to face either Houston or Denver in the divisional round and possibly have to play one or the other on the road in the AFC Championship game as well.
To continue reading, please click on the continue reading button below if you're on the home page.
News and Notes
This Sunday's game has been flexed from 1 p.m. to 4:25 p.m. in order to avoid all the AFC Seeds from being set after the early games.
Offensive snaps by skill players vs. Jacksonville (ESPN Boston)
Defensive snaps played vs. Jaguars (ESPN Boston)
Vince Wilfork gladly took the 4th quarter personal foul, he was protecting a teammate (ESPN Boston)
Five takeaways from the Patriots win over the Jaguars (Boston Globe)
Tom Brady ripped the team in the locker room. (Boston Globe)
DE Jermaine Cunningham is eligible to return to the team. He was activated to the 53-man roster on Monday will be able to play on Sunday.
WR Kamar Aiken and RB James Develin were released and WR Tony Logan and OL Jeremiah Warren were released from the practice squad.
The AFC Playoff teams are set. Right now they are seeded:
Houston
Denver
New England
Baltimore
Indianapolis
Cincinnati
But that could change, depending on results next week the Patriots can finish in any of the top four spots.
Currently the NFC Playoff seeds are:
Atlanta
San Francisco
Green Bay
Washington
Seattle
Minnesota
Offensive Coordinator Josh McDaniels is rumored to be in consideration for some of the potential head coach openings for 2013 but he will be very careful about his next step and it will take a lot for him to leave the Patriots right now. I've heard his name attached to Cleveland and San Diego.
Patriots tied a NFL record with 416 first downs in a season on Sunday.
Since 1999 the Patriots have the best record in the NFL at 158-65.
New England is 81-47-1 against teams in the AFC South.
Since 2001 the Patriots are 73-17 in games played on Thanksgiving or later.
Since 2001 New England is 44-6 in December games.
The New England defense has forced a turnover in 26 consecutive games dating back to Week 6 in 2011.
The Patriots lead the all-time series 9-1 including playoffs.
Bill Belichick is now 203-108 including playoffs in his career.
Bill Belichick is 6-2 vs. the Jags in his career including playoffs. He is 6-0 with New England.
Tom Brady is 6-0 vs. the Jags including 2-0 in the playoffs. Overall including playoffs he is 151-44.
Brady has 332 TD passes in his career he is now 5th all-time. Hall of Famer Fran Tarkenton is 4th with 342.
WR Wes Welker now has catches in 115 consecutive games including playoffs, 98 as a Patriot. The last time Welker did not have a catch in a game was 12/24/05 as a Dolphin.
He leads the team in receiving with 110 catches for 1260 yards and is 2nd on the team with 5 receiving TD's.
RB Stevan Ridley was back into the game with 84 yards on 18 carries. He leads the team in rushing with 270 attempts for 1189 yards and 10 TD's.
RB Danny Woodhead had another TD on Sunday on a pass from Brady. It was his 7th TD of the year, second on the team behind Ridley and TE Rob Gronkowski (10 each). It was his 3rd receiving TD of the season.
LB Jerod Mayo continues to lead the team with 176 tackles (110 solo). The team usually adjusts the counts based on coaches film study so in the Friday game preview we will have Mayo's official total.
S Patrick Chung had his first 2 INT's of the season.
CB Marquis Cole had his 1st INT of the season as well. He had a solid all-around game and we named him the Sox and Dawgs Defensive Player of the Game. Cole had 5 tackles, 1 tackle on special teams, 1 pass defensed and 2 tackles for loss in addition to the INT.
CB Kyle Arrington had a team high 7 tackles (7 solo) against Jacksonville.
LB Dont'a Hightower had the lone sack for the Patriots it was his 4th of the year.
Cole (2), Arrington and Hightower all had tackles for loss on Sunday.
DE Trevor Scott (3rd), DE Chandler Jones (12th) and Hightower (8th) all got QB Hits vs. the Jags.
Chung (3rd and 4th), Hightower (3rd), Cole (3rd), LB Tracy White (1st) and DT Brandon Deaderick (1st) each had a pass defensed.
S Nate Ebner (16th, 17th) led the team with 2 tackles on special teams. Cole (7th), White (4th), Scott (4th), LS Danny Aiken (1st), LB Niko Koutouvides (9th), RB Brandon Bolden (3rd) and LB Mike Rivera (8th) all had one as well.
New England scored 2 TD's on 12 possessions. They also had 3 FG's, 5 punts and 2 INT's.
Jacksonville had 13 possessions. 1 TD, 3 FG's, 1 missed FG, 4 punts, 3 INT's and end of half clock expired.
Jacksonville scored on their first possession for the first time in 25 games.
The Patriots sacked Jacksonville QB Chad Henne 1 time, while Brady was sacked 3 times.
New England is PLUS 23 in turnover differential, 1st in the NFL. The offense has given up 9 INT and 7 fumbles, while the defense has 19 INTs and 20 fumble recoveries.
The Patriots were 2 for 3 (66.6%) in the red zone. They had 2 TDs and 1 FG.
New England was 4 for 12 (33.3%) on third down conversions and 0 for 0 on 4th down attempts.
Jacksonville has never beaten New England in the regular season, they are 0-6.
The Jaguars finished with only 1 win at home the fewest in the 17 seasons on the franchise.
Mike Mularkey is 2-13 in his first season with Jacksonville. He was 14-18 in two seasons with Buffalo for an overall record of 16-31.
He is 0-5 vs. New England in his career.
Jags QB Chad Henne is 1-5 vs. New England in his career, 1-4 with Miami. Overall he is 14-22 (1-4 with Jacksonville).
Jacksonville was 4 for 15 (27%) on 3rd down conversions and 1 for 2 (50%) on 4th down attempts.
The Jags were 1 for 4 (%) in the red zone. They had 1 TD, 1 FG and 2 INT's.
Jacksonville is EVEN in turnover differential. The offense has given up 14 INT and 9 fumbles, while the defense has 12 INTs and 11 fumble recoveries.
Next Week
The Patriots host the Miami Dolphins next Sunday at Gillette Stadium in Foxboro MA. Kick off is at 4:25 p.m. on CBS it was flexed from it's original 1 p.m. start.
Follow Steve on Twitter @SteveMichaelsII