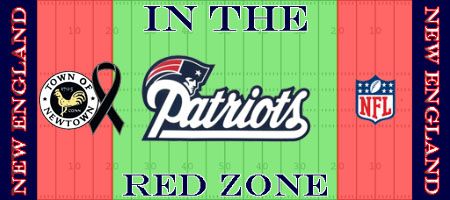 The Sunday night game in Foxboro was certainly a roller coaster for both teams and their fanbases but it was San Francisco fans who got to enjoy the last ride at the fair when they came away with a 41-34 win over New England at Gillette Stadium.
A few things stand out from loss to the 49ers.
► The weather. It was miserable for both sides and it had a definite effect on the game but it was the Niners who were hurt less by what Mother Nature threw down.
► The weather did lead to several miscues, both teams had a tough time hanging onto the ball, but while San Francisco had 6 fumbles they only lost one. A second fumble led to the Patriots taking over on downs when it resulted in a loss of yards on a 4th down conversion attempt. New England only managed 3 points off the miscues. Colin Kaepernick, the Niners QB, also threw an interception.
►The Patriots on the other hand had two fumbles and lost both and a pair of Tom Brady interceptions. San Francisco turned the 4 turnovers into 14 points.
► Lack of a pass rush by the Patriots as they gave Kaepernick too much time to throw and allowed him to look for his second and third options on pass plays. While people are mad at the play of the secondary and in some cases there was poor coverage or tackling, you can only cover someone for so long before they break free.
► San Francisco's six biggest yardage plays led directly to four 49ers touchdowns, all on passes from Kaepernick. 24-yards to Randy Moss, 27-yards to Michael Crabtree, 34-yards to Delaney Walker and 38-yards to Crabtree for the game winning TD.
► The Patriots lack of quit. They came off the canvas and with the heart of champion the rallied back. In a game clock span of 18:38 they made a 28-point deficit disappear like a David Copperfield trick. Danny Woodhead had two TD runs, Brady ran for one and threw to Aaron Hernandez for another and what just a short time before looked like game, blouses was turned into a dog fight.
► New England's special teams which are usually so good let them down. They got caught on a fake punt on 4th and 10 that went for a 31-yard gain. Out of 7 kickoffs only one result in touchback despite four going into the endzone. LaMichael James killed them on the other kickoff returns running out 4 for 133 yards including a long one of 63 yards that set up the game-winning touchdown.
To continue reading, please click on the continue reading button below if you're on the home page.
News and Notes
Patriots head coach Bill Belichick had his weekly day after conference call with the media on Monday. (patriots.com)
Offensive snaps by skill players vs. San Francisco (ESPN Boston)
Defensive snaps played vs. Niners (ESPN Boston)
Confused by Ed Hochuli's long-winded call following the punt? Try this for an explanation (ESPN Boston)
Patriots family honors Newtown victims (Boston Herald)
Belichick says loss doesn't look any better after film review (Boston Globe)
Five takeaways from the Patriots loss to the 49ers (Boston Globe)
Ridley: I have to do better holding onto the football (Boston Globe)
The Patriots are 18-16 all-time on Sunday Night Football, 11-6 as the home team and 6-4 at Gillette Stadium.
The Patriots have eclipsed 500 points for the season for the 4th time. (NFL RECORD)
The Niners lead the overall series 8-4.
New England is 3-4 as the home team in the series.
Since 1999 the Patriots have the best record in the NFL at 157-65.
New England had its 7-game winning streak snapped.
Since 2001 New England is 43-6 in December games.
The Patriots are now a combined 21-1 in the second half of the season since 2010. It was their first second half loss since Week 17 in 2010.
The Patriots lost their first December home game since December 22, 2002 when they were beaten by the New York Jets, 30-17.
The Patriots are 23-2 in December home games since 2002.
They are 18-4 vs. the NFC at Gillette Stadium. The Packers (2002), Giants (2011) Cardinals (2012) and now the 49ers are the only NFC teams to have beaten the Patriots at home since 2002.
The New England defense has forced a turnover in 25 consecutive games dating back to Week 6 in 2011.
Bill Belichick is now 202-108 including playoffs in his career.
Bill Belichick is 3-1 vs. the San Francisco in his career (2-1 with the Patriots).
Tom Brady is 1-1 against San Francisco in his career. Overall including playoffs he is 150-44.
He became the 5th QB in NFL history to throw for 4,000+ yards in a season five times joining Peyton Manning (12x), Drew Brees (7x), Dan Marino (6x) and Brett Favre (6 x).
Brady had his career high 4 rushing TD of the year.
Brady has 330 TD passes in his career he is now 5th all-time. Hall of Famer Fran Tarkenton is 4th with 342.
He has thrown 30+ TD passes for the 4th time in his career.
WR Wes Welker now has catches in 114 consecutive games including playoffs, 97 as a Patriot. The last time Welker did not have a catch in a game was 12/24/05 as a Dolphin.
He went over 100 receptions for the season for the 5th time in his career. (NFL RECORD)
He leads the team in receiving with 100 catches for 1172 yards and is tied for 2nd with Brandon Lloyd with 4 receiving TD's.
Lloyd had 10 catches for 190 yards with a long of 53 yards. It is the highest single game total for a Patriots receiver in 2012.
TE Aaron Hernandez also had 10 catches on Sunday night for 92 yards and 1 TD.
RB Stevan Ridley saw limited action but still leads the team in rushing with 252 attempts for 1105 yards and 10 TD's.
RB Danny Woodhead ran for two TD's. He had 61 yards on 12 carries.
S Devin McCourty had his team leading 5th INT when he picked Kaepernick on the opening drive of the second half.
CB Aqib Talib had his first fumble recovery as a Patriot after S Steve Gregory knocked the ball loose from Delaney Walker.
LB Jerod Mayo continues to lead the team with 170 tackles (105 solo). The team usually adjusts the counts based on coaches film study so in the Friday game preview we will have Mayo's official total.
DE Rob Ninkovich had a sack it was Ninko's 7.5 sack of the season he leads the team and it's a career high.
LB Dont'a Hightower and Ninkovich each had 2 tackles for loss.
Hightower, Gregory and McCourty all had a pass defensed.
WR Matthew Slater had 2 special teams tackles.
CB Alfonzo Dennard (knee) and LB Mike Rivera (ankle) suffered injuries.
New England scored 4 TD's on 16 possessions. They also had 2 FG's, 5 punts, 2 INT's, 2 fumbles and loss of downs.
San Francisco had 17 possessions. 5 TD's, 2 FG's, 1 missed FG, 5 punts, 1 fumble, 1 INT, lost ball on downs and end of game clock expired.
The Patriots sacked San Francisco QB Colin Kaepernick 1 time, while Brady was sacked 3 times.
New England is PLUS 22 in turnover differential, 1st in the NFL. The offense has given up 7 INT and 7 fumbles, while the defense has 16 INTs and 20 fumble recoveries.
The Patriots were 4 for 5 (100%) in the red zone. They had 4 TDs and 1 FG.
New England was 2 for 15 (13%) on third down conversions and 5 for 6 (83%) on 4th down attempts.
San Francisco is 4-3 all-time at New England and is 1-1 in Gillette Stadium.
The Niners snapped a three game series losing streak.
San Francisco is 13-9 on Sunday Night Football games, they are 4-4 as the road team.
San Francisco head coach Jim Harbaugh, is in his 2nd season, he is 23-6-1 in the regular season and 1-1 in the post season for an overall record of 24-7-1.
He is 1-0 vs. the Patriots.
49ers QB Colin Kaepernick is in his 2nd NFL season. He is 4-1 in the regular season and 1-0 vs. New England.
Kaepernick had 4 TD passes and 4 fumbles (0 lost).
San Francisco was 5 for 14 (36%) on 3rd down conversions and 1 for 2 (50%) on 4th down attempts.
The Niners were 1 for 4 (%) in the red zone. They had 1 TD, 2 FG's and a fumble.
San Francisco is PLUS 8 in turnover differential, tied for 11th in the NFL. The offense has given up 7 INT and 7 fumbles, while the defense has 12 INTs and 10 fumble recoveries.
Next Week
The Patriots visit the Jacksonville Jaguars on Sunday at Ever Bank Field in Jacksonville FL. Kick off is at 1 p.m. on CBS.
Follow Steve on Twitter @SteveMichaelsII