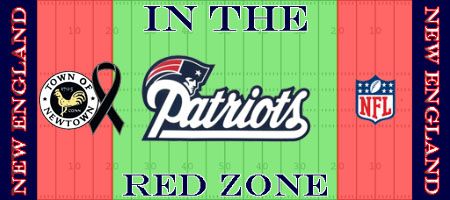 Effort Gets Your Everywhere
Do you remember your parents telling you I wish would you tried harder? I do. There were things I excelled at like sports and remembering my favorite player's statistics. While other things like my chores needed more effort.
Well it may be safe to say that Devin McCourty's and Kyle Arrington's parents and coaches have never had to ask for extra effort after watching the way they ran down the Houston Texans Danieal Manning on Sunday.
If you didn't pay attention to the replay or get to see an overhead coach's view what McCourty and Arrington did was pretty special and it doesn't happen every day.
Manning, who is no slouch in the speed department, took the kickoff 6 yards deep in the end zone and ran it out. He was almost immediately over run my McCourty, Arrington and Jackie Slater and Manning was in all purposes ticketed for the end zone.
But what happened was Arrington took one angle coming across the field, while McCourty ran straight down field. Arrington who had taken the angle most likely would have gotten to Manning as well but when he saw McCourty he pulled up so he wouldn't cut him off and next thing you know McCourty has him from behind and he is down at the 12 yard line.
Granted the Patriots gave up a 94 yard kick off return but there was no touchdown scored as a result of the kickoff.
Now it was up to the defense.
Arian Foster ran the ball to the 9-yard line on first down. Then on 2nd down Matt Schaub went to J Casey at the goal line but the pass was dropped. On 3rd and 7 Schaub over threw All-World WR Andre Johnson in the back of the endzone and the Patriots defense escaped by only allowing a field goal.
That few minutes of effort by the defense and McCourty and Arrington set the tone for the game. You could see from the outset that with that effort the Patriots wanted it more than the Texans. From that point on I had no doubt that New England would win.
It's like your parents told you it's all in the effort.
To continue reading, please click on the continue reading button below if you're on the home page.
News and Notes
According to sources, TE Rob Gronkowski re-fractured his arm and will need more surgery he is out for the remainder of the playoffs.
RB Danny Woodhead hurt his thumb early in the first quarter he never returned but could have according to Bill Belichick. He will get looked at again during the week but at this time he is expected to be able to play on Sunday against Baltimore.
The Patriots have re-hired former WR's coach Brian Daboll. He had left to go to the jets with Eric Mangini in 2006 to be the QB's coach. He also has been with the Dolphins, Browns and Chiefs as an offensive coordinator. He will join the staff in a capacity similar to Josh McDaniels last year.
Offensive snaps by skill players vs. Houston (ESPN Boston)
Defensive snaps played vs. Texans (ESPN Boston)
Five takeaways from the Patriots win over the Texans (Boston Globe)
Best and Worst of the Patriots-Texans. (Boston Herald)
The winning team as always, it's Brady and Welker. (Hartford Courant)
The Patriots now are 10-2 at Gillette Stadium in the post season, 14-3 overall as the home team.
All-time in the post season the franchise is 24-16.
When the Patriots have a positive turnover ratio in a playoff game they are 18-1 on Sunday they were PLUS 1.
Bill Belichick is now 205-108 including post season.
He is 18-7 in the playoffs, 17-6 as head coach of the Patriots in the post season.
His 18 playoff wins are the third most all-time behind only Don Shula (19) and Tom Landry (20).
Tom Brady is 17-6 in the playoffs and has an overall record of 153-45.
His 17 playoff wins are the most all-time for any quarterback.
Brady is 3rd all-time in postseason TD passes with 41. Brett Favre is 2nd with 44 and Joe Montana leads with 45.
He was 25 of 40 for 344 yards, 3 TD's 0 INT's and 1 sack against Houston. His passer rating for the game was 115.0
WR Wes Welker now has catches in 118 consecutive games including playoffs, 101 as a Patriot. The last time Welker did not have a catch in a game was 12/24/05 as a Dolphin.
Welker is the all-time franchise leader with 61 playoff receptions.
Welker led the team with 8 catches for 137 yards including a long sideline bomb from Brady that went for 47 yards.
The Patriots had four veterans WR Brandon Lloyd (10 yrs.), CB Aqib Talib (5), DE Trevor Scott (5) and G Donald Thomas (5) play in their first NFL playoff game.
RB Shane Vereen, RB Stevan Ridley and Lloyd all had their first NFL playoff touchdowns.
Vereen was the Sox and Dawgs Offensive Player of the Game he had 124 yards from scrimmage. 83 yards receiving on 5 catches and 41 yards rushing on 7 carries. He had 3 TD's 1 on the ground and two off of Tom Brady passes.
P Zoltan Mesko was fantastic on Sunday. He had a 52.8 average on 5 punts. His net was 49.4 and his longest kick was good for 64 yards. He had 2 punts inside the 20 and 0 touchbacks.
Rookie CB Alfonzo Dennard had a forced fumble.
DE Rob Ninkovich was the Sox and Dawgs Defensive Player of the Game he had 4 tackles, 1 tackle for loss, 1 QB hit, 1 INT and 2 passes defensed.
LB Jerod Mayo had 2 tackles for loss to led the team.
CB Aqib Talib (9 solo and 1 assisted) and S Steve Gregory (6 solo and 4 assisted) led the Patriots with 10 tackles each.
New England was credited with a "team sack" when Houston QB Matt Schaub fumbled and recovered the ball for a loss of yards. It was their only sack of the game.
The Patriots had 3 QB hits 1 each for Ninkovich, LB Dont'a Hightower and DE Justin Francis.
The Texans won the first down battle 25-24. Houston had 5 rushing, 19 passing and 1 by penalty while New England had 8 by rushing, 15 passing and 1 by penalty.
The Patriots were 6 of 13 (46%) on 3rd down conversions while they held the Texans to 4 for 15 (27%).
New England did not attempt a 4th down play while Houston was 3 for 4 (75%).
The Texans had 3 fumbles and lost none. And that is not counting the one that was clearly a fumble but the officials claimed forward progress had stopped.
The Patriots were 4 for 6 in the red zone with 4 TD's and 2 FG's.
Houston won the time of possession 31:24 to 28:36.
The longest play allowed by the New England defense was 28 yards on a screen pass from Schaub to Arian Foster in the 3rd quarter.
The Patriots had 4 plays for more yardage (30, 33, 40, 47) than the Texans longest play (28).
The Texans had 2 plays for 25 yards or more while the Patriots had 5 plays over 25 yards.
Next Week
The Patriots will host the Baltimore Ravens at Gillette Stadium in the AFC Championship Game on Sunday January 20th at 6:30 p.m.
Follow Steve on Twitter @SteveMichaelsII