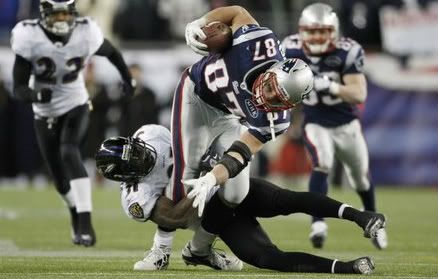 New England Patriots TE Rob Gronkowski rolled his ankle during the team's 23-20 win over Baltimore in the AFC Championship Game on Sunday. It happened late in the game when Ravens S Bernard Pollard tackled Gronkowski after a pass and Gronk's ankle got tangled up with Pollard and he rolled it.
He was taken from the field to the dressing room, had it re-taped and returned to play. He was on the field when Tom Brady scored the go ahead touchdown on a one yard dive.
Every Patriot fan should remember Pollard. He was with the Kansas City Chiefs in 2008 and he hit Tom Brady in the knee in Week 1 tearing his ACL. In 2009 while with the Houston Texans he was covering Wes Welker and was about to him when Welker tried to cut and tore up his ACL. Now Gronkowski, I think Bill Belichick needs to sign this guy and soon before he kills the whole team.
Generally injured players do not speak with the media after the game, including an attempted bilingual interview with ESPN Deportes but Gronkowski was allowed to although he did avoid the media on Monday while at the team facility.
According to a league source, his ankle will be fine and it should not affect his availability for Super Bowl XLVI in Indianapolis on February 5.
Follow Steve on Twitter @SteveMichaelsII
Photo credit: Reuters Pictures