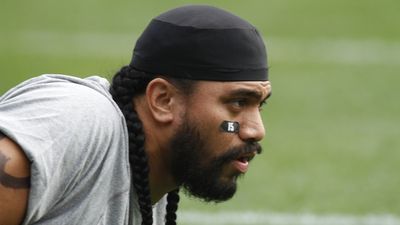 Back in mid March the New England Patriots signed former Cincinnati Bengals defensive end Jonathan Fanene to a contract for 3 years and $12 million with a signing bonus of just under $4 million.
After taking part in some offseason conditioning, minicamp and OTA's Fanene came to training camp and reportedly hurt his knee. The 6-foot-4, 290 lbs. defensive end hadn't practiced since late July and on Tuesday had his contract terminated.
Head coach Bill Belichick has repeatedly over the last two days said, "it just didn't work out" which we New England know is code for "I'm not totally happy with the situation".
Then earlier on Wednesday SiriusXM NFL Radio's Ross Tucker tweeted:
According to NFL source, Pats cut Fanene under "Failure to Disclose Physical Condition". Likely going after that $3.85M SB he got.

— Ross Tucker (@RossTuckerNFL) August 22, 2012
Seems that even though Fanene passed two physicals given by the team, one at the time of the signing and one before training camp, it appears as though Fanene hid this injury from the team, an injury that now will require surgery.
This is seemingly a case of an injured player trying to allegedly defraud a team for a long-term contract and a decent signing bonus. You have to wonder if other teams didn't sign Fanene because they had an inkling to the injury.
It really doesn't much matter at this point because the team seems to feel it was bilked out of nearly $4 million dollars. You can bet that the Kraft's and Belichick will pursue this matter legally and try to get a majority of that signing bonus back. I believe because he took part in earlier activity that he should be allowed to keep a portion of the bonus but that some where in the 65-80% range should come back to the team.
Because the Patriots terminated Fanene's contract, after he recovers from surgery, he will be eligible to sign with any NFL team. It's a shame that this situation took this road, Fanene was expected to add some serious depth along the New England defensive line. He was looked at as a legit run-stuffing end that could rush the passer from either inside or outside. He was projected to help replace Mark Anderson, who signed with Buffalo, and Andre Carter, who is still a free agent and making visits after recovering from an ACL injury he suffered against Denver late last season.
In 2011 with Cincinnati, he had 6.5 sacks in 2011 and 6 sacks in 2010.
Follow Steve on Twitter @SteveMichaelsII
photo credit: nesn.com