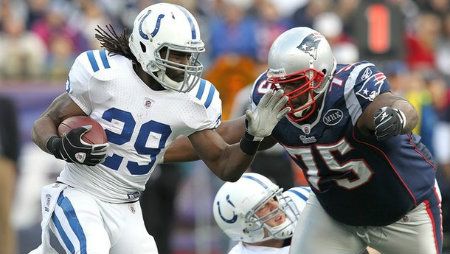 We've found out about the New England Patriots roster moves in a variety of ways in the Bill Belichick era. They've come from the team via release or website, sometimes Belichick will announce the roster moves during a press briefing, players sometimes will tweet they have signed and then there's the good old agent calls the media route. But never in the time Belichick has run the team have we gotten roster information from Peyton Manning, until now.
Seems Manning during a chat with some media let it out that his former Indianapolis Colts teammate RB Joseph Addai will sign with New England.
The Patriots had a shot at Addai once before in the first round of the 2006 NFL Draft but decided to take RB Laurence Maroney with the 21st pick and pass on the LSU running back.
Addai was then taken 30th by Indianapolis and has gone on to rush for 4,453 yards and 39 touchdowns in six seasons with the Colts. He was released on March 9 by Indianapolis along with TE Dallas Clark, S Melvin Bullitt and LB Gary Bracket all former mainstays of the very good Colts teams of the 2000's.
He is expected to compete for time with 2nd year running backs Stevan Ridley and Shane Vereen, as well as Danny Woodhead. With fullbacks Eric Kettani, Spencer Larson and Tony Fiammetta on the roster New England now has 7 running backs on the roster plus a decision to make on long time Patriot Kevin Faulk, who is a free agent.
Follow Steve on Twitter @SteveMichaelsII
photo credit: Getty Images