On Thursday night, the NFL will hold their annual draft when it conducts the first round at Radio City Music Hall in New York City under the watchful eye of NFL Commissioner Roger Goodell.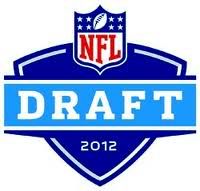 Rounds Two and Three will be held on Friday night and Rounds Four through Seven will be held on Saturday afternoon and you can watch each and every selection on ESPN and the NFL Network.
Heading into the draft the New England Patriots hold the following draft picks:
Round/Pick Notes
1/27 – via New Orleans
1/31
2/48 – via Oakland
2/62
3/93
4/126
5/166 – traded to Cincinnati for WR Chad Ochocinco
6/200 – traded to Philadelphia for LB Tracy White
7/223 – via Philadelphia traded to Minnesota with WR Randy Moss
7/238 – traded to Kansas City for S Jarrad Page
In 2013, the Patriots have their picks in Rounds 1-4 and 7. They have already traded their 5th round pick to Washington for DT Albert Haynesworth and their 6th round pick to Cincinnati for WR Chad Ochocinco.
As in years past, expect Bill Belichick to work some deals to build the draft not only for the remainder of the weekend but for next year as well. Some of Belichick's best picks lately have been in the mid (3-4-5) to late (6-7) rounds and right now he only has two picks in that area this year and three next year and I fully expect that to change.
Follow Steve on Twitter @SteveMichaelsII