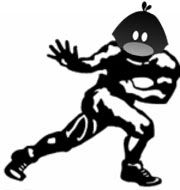 Each week a group of Bloguin college football bloggers get together and put our votes in for the top Heisman Trophy candidates. Then after the votes are tabulated by Kevin over at College Football Zealots, the poll is released on Wednesday.
Here are the results for week eight of the 2011 college football season. Be sure to head over Crystal Ball Run for a full look at the results for the week for more insight on the poll.
Andrew Luck (QB-Stanford) – 22 Points, 25.88%, 4 1st Place Votes
Brandon Weeden (QB-Oklahoma State)- 20 Points, 23.53%, 5 1st Place Votes
Trent Richardson (RB-Alabama) – 16 Points, 18.82%, 1 1st Place Vote
Case Keenum (QB-Houston)- 11 Points, 12.94%, 2 1st Place Votes
Also Receiving Votes: Robert Griffin III (QB- Baylor) 5 pts, Justin Blackmon (WR- Oklahoma State) 3 pts, Colin Klein (QB- Kansas State) 3 pts, Montee Ball (RB- Wisconsin) 2 pts, Kellen Moore (QB- Boise State) 1 pt, Matt Barkley (QB- USC) 1 pt, David Wilson (RB- Virginia Tech) 1 pt
Dropped Out: Ryan Broyles (WR- Oklahoma)
In case you were wondering, this is how I voted:
1. Brandon Weeden, QB, Oklahoma State – In a what have you done for me lately world, Weedon has simply been getting the job done. He has Okie State team at 10-0 after another impressive performance. In his team's 66-10 win over Texas Tech, he completed 31-of-37 passes for 423 yards and five touchdowns. Solid performances in his final two games against Iowa State and Oklahoma could give the Heisman voters someone else to think about.
2. Andrew Luck, QB, Stanford – Luck drops in my poll (just because I didn't vote the past two weeks doesn't mean I wasn't paying attention) partly because Stanford lost and partly because he wasn't all that great against the Oregon Ducks. Sure he threw for 271 yards and three touchdowns. But he also threw two interceptions that resulted in 15 points for the Ducks.
3. Case Keenum, QB, Houston – Keenum seems to be in the Heisman race every year. He was there early on last year before an injury derailed his season. But in his sixth year with the Cougars, he's putting up stellar numbers again. He put up three of his 37 touchdown passes in their 73-17 win over Tulane. He's also took good care of the ball throwing just three interceptions all season. Despite his numbers, you have to wonder how serious voters will take him because of the schedule the Cougars play in Conference USA
Follow Ian on Twitter @soxanddawgs. And be sure to like us on Facebook as well.